Timothée Chalamet, a man-boy whose face I love, appears to be dating Lily-Rose Depp, which makes sense because they are both French-American and that is how love works.
According to E!, the two were spotted at the coffee shop Mud in New York over the weekend, where "an onlooker said they looked like they were 'enjoying themselves.'" They also walked through Central Park, though were they "enjoying themselves" then too? Inconclusive. Depp is definitely "enjoying" her phone. I am also "enjoying" their contrasting pants. In addition to being French-American, corresponding pant fabrics is another sign that your love is meant to last anywhere from two weeks to 142 years. Mark my words!
A more verbose onlooker told Us that the real juicy stuff happened when they were walking down the street:
"They were walking down the street and he stopped her and pulled her close," the eyewitness tells Us about their 10 a.m. outing in downtown NYC. "They started making out for a while, for over a minute."
G/O Media may get a commission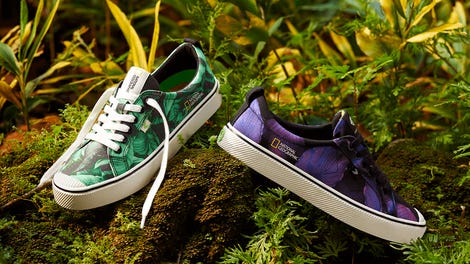 New New New
Cariuma + National Geographic
A minute is a truly ridiculous period of time to spend making out with someone on a street. Make out time is like dog years! A minute of make out time is like three hours in actual time. If you make out with someone for more than a minute, you're common-law married. That seems like something Chalamet definitely knows, because even though he's only 22, he's incredibly worldly. 
I look forward to following this relationship with creepy, prurient interest.