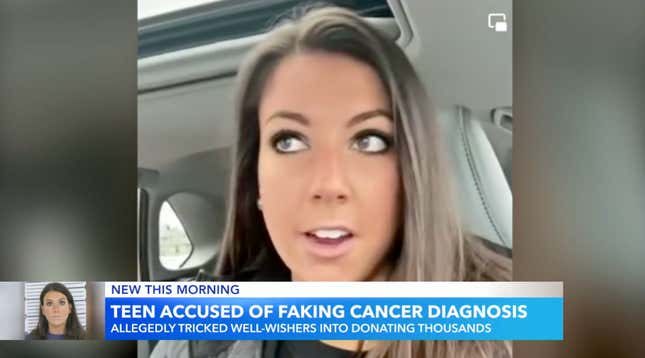 Madison "Maddie" Russo pled guilty to felony theft on Wednesday in Iowa after she was accused of stealing more than $37,000 from GoFundMe donors who thought they were giving it to her for pancreatic cancer treatment.

Jennifer Aydin Had Women DMing Her After Relatable Cheating Scandal
Her (what we now know to be fake) story, which she shared with North Scott Press, was harrowing. In February 2022, Russo was in her college accounting class when she got the news she'd be diagnosed with pancreatic cancer. She was 19. "Life has been crazy," Russo told the local paper who covered her diagnosis and fundraising in October 2022. "It's like a Catch-22. I can't win for losing. I feel like I've been rocked to my soul, and right now, everything is kind of uncertain. I just want to know my game plan, and right now, I don't know what that is."
But it wasn't just her pancreas. Three months later, after rounds of chemotherapy and radiation, Russo said that pancreatic tumor was shrinking but that she had been diagnosed with leukemia, a blood cancer, as well. "What's really tough is that I thought I was making pretty good progress on the other cancer, and now it seems like everything has gone haywire again," she said in October. "Right now, everything is kind of uncertain."
Russo then had the gall to say cancer "just happens to people" when she was, as we know she was faking, a cancer diagnosis. ""Of course, every day can't be sunshine and rainbows, but you can't just choose to be mad at the cancer. It just happens to people," Russo told the local paper in October. "If you stay depressed, and in a dark space, I feel like your body will never get better."
She told the world she'd been diagnosed with stage 2 pancreatic cancer only two years after receiving a type 1 diabetes diagnosis. She stepped out of that accounting class to take the fateful call. "I remember hanging up the phone, and I was a mess. I was literally bawling, but somehow I ended up getting the courage to wipe away my tears and went back into class, which now, when I think about it, was pretty crazy," she said in October.
But it wasn't just a tiny hometown paper amplifying her story; Russo was a guest on Project Purple's podcast, a group that aims to end pancreatic cancer, in late August or early September. The episode (#216) has been removed from the group's page and Apple Podcasts profile.
Russo posted a GoFundMe fundraiser with the title "Maddie's Fight Against Pancreatic Cancer." She was able to raise more than $37,000.
In January, anonymous witnesses told Eldrige, Iowa police that there were discrepancies between photos published on social media and her medical diagnosis. KWQC reported that medical professionals reported that medical equipment in photos Russo posted showed "terrible life-threatening inaccuracies" as well as appearing to be taken inside Russo's apartment, not a medical facility.
GoFundMe offered all donors refunds after Russo's story became public. "GoFundMe has a zero-tolerance policy for misuse of our platform and cooperates with law enforcement investigations of those accused of wrongdoing. GoFundMe's Giving Guarantee offers donors a full refund in the rare case when something isn't right; this is the first and only donor protection guarantee in the fundraising industry," the site said in a statement to WQAD8, the ABC affiliate in Iowa in January 2023.
One donor thought Russo died when the money was returned. "I thought she had passed away," Louis Frillman told WQAD8 when his $500 donation was returned.
Russo had initially pled not guilty in February. Her sentencing is still pending. Her max penalty is 10 years in prison.