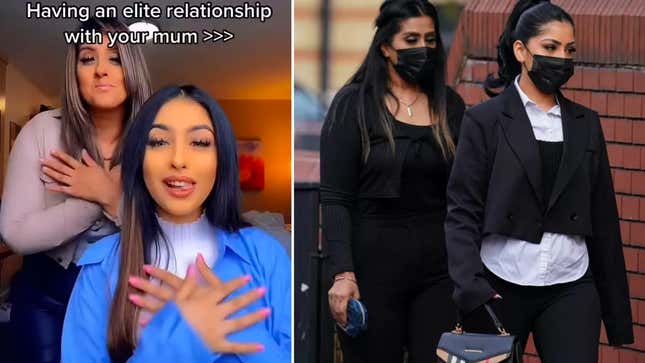 A U.K.-based lifestyle and beauty TikTok star and her mother were found guilty of murder last week for the killing of the mother's younger lover after he threatened to share sexually explicit images of her to her husband.
Jennifer Aydin Had Women DMing Her After Relatable Cheating Scandal
Mahek Bukhari, 24, and her mother Ansreen, 47, frequently displayed their close relationship in Bukhari's TikToks to her following of over 130k fans as well as her 45k Instagram following. Bukhari captioned a video with her mom from January 2022, "To the woman who birthed me, I appreciate you so much." Within one month, the two women would be involved in the murder of Ansreen's 21-year-old lover, Saqib Hussain, after her attempts to end the extramarital affair with the younger man gave way to blackmail and threats of revenge porn.
It's not clear when Ansreen and Hussain's relationship began, and only Bukhari was reportedly aware of the affair. By January 2022, Ansreen no longer wished to be involved with Hussain, but their texts, shared with the court, showed he'd become obsessed with her and was unwilling to give up the relationship, ultimately threatening to share sexually explicit images and videos of Ansreen with her husband and son. A WhatsApp message from this time sent by Bukhari to her mother shows the TikTok star promising, "I'll soon get him jumped by guys and he won't know what day it is."
Bukhari and Ansreen arranged to pay Hussain 3,000 pounds—which Hussain claimed he'd spent on their romance—to stop him from sharing the images. But their communications show the women remained concerned that they wouldn't be able to confirm Hussain completely deleted and no longer had access to the images. The women then arranged to meet Hussain at a location in Leicester over the matter, promising to give him the money. Ahead of the meeting, Bukhari recruited her friend, then-28-year-old Rekan Karwan, and a group of his friends to come to the meeting and force Hussain to give up his phone.
But Hussain never got out of his car, having become suspicious of the circumstances. As the two drove away from the parking lot in the early hours of the morning, two cars, driven by Karwan and his friend Raees Jamal, followed in close pursuit. Bukhari and her mother were both in the cars.
As the cars closed in on Hussain and his friend Mohammed Hashim Ijazuddin, in the last moments of his life, Hussain called 999 (the U.K. equivalent of 911): "I'm being followed by two vehicles. They're trying to block me in. They've got balaclavas on. They're trying to ram me off the road," he said. "They're trying to kill me. I'm going to die. … Please sir, I just need help. They're hitting the back of the car, really fast… Please I'm begging you. I'm going to die."
Almost immediately after, he's heard screaming. A collision can be heard before the call abruptly ends. The two men were driven off the road, and their car split in half and was set ablaze upon crashing into a tree. They had to be identified by their dental records. Police footage shows that by 1:35 a.m., Hussain and Ijazuddin's car is up in flames against the tree.
Prosecutors say that after driving the two men off the road, "none of the defendants made any attempt to help the victims or to call for help." Leicestershire Police's senior investigating officer in the case, Detective Inspector Mark Parish, claimed, "Instead they drove on and then even drove back past the collision site." After Bukhari, Ansreen, and their associates were found guilty, Parish read in a statement that "lies were continually told in order to try and cover their tracks" throughout both the police investigation and the trial.
Bukhari's friends who pursued Hussain and Ijazuddin at first told police they only intended to stop the two men to have a conversation, and contradictorily claimed they were traveling to a bar with no intention of driving the men off the road. The trial over Hussain and Ijazuddin's deaths spanned most of 2022—only for the judge to discharge the jury and begin a new trial over an unspecified "irregularity" in the first jury.
At the end of last week, the second trial came to an end with the jury finding Bukhari, Ansreen, Karwan, and Jamal guilty of murder. Other defendants—Natasha Akhtar, Ameer Jamal, and Sanaf Gulamustafa—who were present in Karwan and Jamal's cars during the chase and were involved in the fatal plot, were found guilty of manslaughter.
Family members of Ijazuddin testified in court that they were heartbroken by his death for "simply helping his friend." Hussain's family said in a statement before the court that they "are still struggling to come to terms with the enormity of our loss." The statement continues, "I never imagined that I would have to bury one of my children, that I would spend every waking moment suddenly expecting him to come back and tell me everything is OK."
Bukhari and Ansreen will be sentenced on Sept. 1.