My name is Emily and this spring I went on a three week tour through the Midwestern and Southern United States with my band, Foxygen. More importantly, when I was not playing shows or looking for food, I scoured this great country of ours for hidden treasures of the thrift variety. I kept a diary of my expeditions to share with you, dear reader. Join me, won't you?
THRIFT DIARY DAY FOUR: OMAHA, NE
We arrived in Omaha on a Wednesday to play a show on Thursday, so I ambitiously decided to go on a run which is difficult because A) there was a long stretch of road with no sidewalk and B) I had been sitting on my ass on a tour bus and had gotten rather out of shape. I ran in one direction for a while and just as I decided to turn around and run back, I came upon the glory that is this Goodwill Industries. A modern structure with gleaming windows and a well of untapped possibilities inside. Since at that moment I was sweating profusely with nothing on me but my iPhone, instead of immediately going in I set my alarm for 9 A.M. the following morning.
The store turned out to have some great pieces, but first, the rejects:
G/O Media may get a commission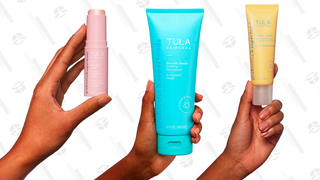 I found a number of beautiful African-style garments and while I do have an affinity for the bold colors and prints, they were all either too huge or too small and I couldn't imagine buying them and having them tailored, though at $6 a pop it might have been a worthwhile investment.
Then there was this Christian Dior men's trench coat. Being the brand whore that I've already admitted I am, it pained me to put this back, but I was traveling on a tour bus for chrissake and had no room for this jacket that doesn't fit me. I also found this interesting denim piece — I love denim tops and I love embellishments but the cut of this piece and especially the roundness of the shoulders is just unflattering.
Here is what I did get:
I am a total sucker for embroidery and this color scheme, and yes, I know you're thinking that your grandma would wear this jacket but I bet she would look like a BOSS BITCH in it, and I am all 'bout that.
I'm not sure what I will do with the vintage tankini. I could wear the top as a shirt, cut it in half and wear the whole thing like a bikini, or wear it as is. It's a great print so whatever I do I know it'll be fly, and for $3 it doesn't really matter.
Last but not least was this mother of all '80s bandage dresses, complete with fringe and gold piping. If you didn't already know, ladies — especially pear-shaped ladies like myself — the bandage dress is the holy grail of dresses for us. It is super flattering and really accentuates "dat ass" (case in point: this photo Alex took of a man checking me out in Lexington - you can't really see in the photo but there are dollar bills on on his tie $$$$$). Bonus flattering points for being in black.
In addition to the clothing I also purchased the classic Christopher Guest film A Mighty Wind bringing my grand total to the low low price of $18! Leaving me two dollars to play Addams Family pinball later at the venue.
---
THRIFT DIARY DAY FIVE & SIX: MILWAUKEE
We pulled into Milwaukee on a blustery, cold day. As I observed the city I couldn't stop thinking about that scene in Wayne's World where Wayne and Alice Cooper are talking about Milwaukee and Alice says, "It's pronounced 'Mill-E-Wah-Que' which is Algonquin for 'the good land.'" Great flick.
As I walked to the Value Village, taking in the city, it felt as if it's from another time — like a once classic American industrial city that hasn't quite caught up. (No offense Milwaukee! I know you're doing your thang!)
Here's what I did not get:
This jacket was actually pretty cool. Kinda reminds me of the David Byrne Stop Making Sense jacket because of how boxy it is, and I love the gold detail on top.
I tried on a number of trench coats ,all of which were unfortunately too big for me. This one had great red lining detail which adds a nice little pop of color to the otherwise standard look of the jacket.
I also appreciate the little message near the label.
I found the jacket on the left here very interesting because of the mysteriously flattering boxy shape, the leather collar, and the gold buttons (one of which had fallen off and I discovered in the pocket.) Also I love that beautiful royal blue color. The baby blue jacket was cute but just not really me. I am dark and brooding, but on someone else this would look great. And this dress was fabulous and fit like a glove, but I just could not get with that flower detail!
I have to say I found some killer slip dresses like this fierce black one that had a FRONT SLIT which I didn't even know was allowed, and this blue one that had a sort of sheer/cut-out thing happening with a matte sheen a la Blade Runner vibe
I also looked at lots of cute scarves which most thrift stores are absolutely lousy with and which usually come in fun retro prints.
In the end I got this belt because look! It's a little boot and a horse. You guys. Come on.
I also bought a Breeders cd for our Australian opening act who were following us in a Cadillac, and then a day later their CD player broke. I guess they just had to entertain themselves with conversation - I can only do so much.
On our second day in Milwaukee, I managed to coerce our tour manager and sound guy (Timm and Tim) to split a cab to the Goodwill a few miles away. They ended up leaving me there because fashion takes time and cannot be rushed. The place turned out to have a lot of great clothing that mostly did not fit me, which in some ways is a relief because money was getting tight. It's okay, I have faith that these pieces are destined to be discovered by some other beautiful independent women who will wear the shit out of them.
So here are some cool skirts that didn't fit me:
I was most desirous of the leopard skirt but those other ones were great, too. I hope whoever buys them will wear them with knee-high black boots and a carefree attitude.
Now here are some fierce black boots and shoes that also did not fit me:
What I wouldn't give to squeeze my pudgy feet into those Ferragamo loafers. In this moment I strongly considered the evil stepsister approach from Cinderella, i.e. cutting off part of my heel in order to squeeze into the glass slipper. Fuck a Prince Charming, I just want to look fly, am I right, ladies? I'm right.
Moving on. This Goodwill was also a goldmine of affordable designer labels including these Simply Vera and Princess by Vera Wang items, and this adorable maroon and gold Marc by Marc Jacobs sweater for $3.99!
I tried on a few more sweaters. My favorite was this over-sized vintage Norwegian sweater. It doesn't get better than a cozy, well-made sweater with a colorful pattern. This is my pseudo Twin Peaks look; eat your heart out David Lynch.
I did get this belt because there are just so many good belts, and the devil is in the (metal) details, y'all. A cute and/or interesting belt can make an outfit.
Last but not least there was this Adventure Time sweatshirt which I picked up for our guitar player Kevin. It's his favorite show - and not to embarrass Kevin, but I bought it for him and five days later he still hadn't taken it off.
Don't worry about Kevin, though, he's doing just fine.
You can find Thrift Diaries: Part One here. Emily's adventures in thrifting will continue next week.
��