My name is Emily and I just finished a three week tour through the Midwestern and Southern United States with my band, Foxygen. More importantly, when I was not playing shows or looking for food, I scoured this great country of ours for hidden treasures of the thrift variety. I kept a diary of my expeditions to share with you, dear reader. Join me, won't you?
---
THRIFT DIARY PROLOGUE - GLITTER DEATH, LOS ANGELES, CA

A day before setting out on tour, I had a break from rehearsal and decided to walk over to Glitter Death on N. Highland Ave. in Hollywood. The only other time I've been to Glitter Death I didn't find anything to buy, but I did have a fascinating discussion with a sales clerk who informed me that he could "close his eyes and transport to other dimensions" and then invited me to a party which I thought was very sweet of him. The place itself has a very strong '90s Club Kid vibe, mixing vintage clothing with new items including handmade neon plastic bustiers and pink furry halter tops (the latter of which in middle school I would have likely purchased at the mall and paired with parachute pants and a spike bracelet until my mom made me throw it out).
On this particular day I was greeted by a very friendly sales girl. I had just begun rummaging through the racks when I spotted it hanging above a jewelry case: a vintage Divine T-Shirt. If you are not familiar with Divine, she was and is an icon and the muse of one of my favorite filmmakers, John Waters. I have been scouring eBay for a t-shirt bearing her likeness for years, and here it was, in my size, in wonderfully distressed vintage condition for $32 (a paltry sum compared to what it would normally go for online). Though technically this is a vintage store, not a thrift store (the distinction being that vintage stores are generally more expensive and primarily sell used clothing), I can't help but think that this was a good omen.
G/O Media may get a commission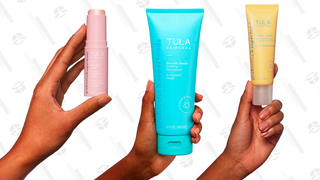 ---
THRIFT DIARY DAY ONE: WINNEMUCCA, NV

I woke up on the bus just as we were crossing the border between California and Nevada. Today was a travel day on our way to play a festival, and our first show of the tour in Boise, Idaho. We ended up spending it in the town of Winnemucca, Nevada, and, like many towns in Nevada, there were a number of casinos on the main strip. I went to the nearest one and watched a woman play blackjack at an otherwise empty table until her discomfort became apparent. There was also a diner, about five motels, all of which appeared to have frozen in time in 1966, and a red light district consisting of three brothels. I was told that there is a clothing optional bar but I chose the option of not going.
After consulting my handy Yelp app I found a thrift store just a thirty minute walk from our bus called the Frugal Flamingo (bonus points for the name!). Inside, the Frugal Flamingo was neatly organized. The sections themselves were small so I started with the obvious: women's clothing, which consisted of one rack of sweaters and tops and a small rack of dresses. I didn't find anything there so I moved on to the accessories, browsed the belts and bags and still found nothing. Next, I moved along to check out the men's section in search of a good button down and found one with a great print, along with a vintage Pendleton for $7 (the latter I purchased for my tour manager but it was stolen by my brother in Colorado).
After browsing the bric-a-brac, DVDs, and the Easter Room (which is exactly what it sounds like) I made my way to the register where, to my delight, they had on display a basket of vintage keychains. Supposedly they had just received two full garbage bags of keychains from the estate of a recently-deceased man who spent his life collecting them!
To the naked eye, this basket may look like a bunch of junk, but, being the meticulous pack-rat that I am, I knew that if I spent a little time digging, I would eventually come up with something good. So, much to the chagrin of the sales woman who stood there watching in horror, I proceeded to go through the entire basket.
I ended up picking out sixteen keychains (DISCLAIMER: I realize how offensive the Native American keychain is, but I bought it because it's such an interestingly distasteful artifact).
I have no idea exactly what I'll do with them but it would be a fun project to turn them into a charm bracelet, possibly string four or five of them on a large safety pin and put them on a jacket, or put them all on my keys - hey, it was cool when my 17-year-old babysitter did it. All in all, I ended up paying $16 for my haul. With the $4 left over, I bought tacos which I ate alone in an empty restaurant down the street.
---
THRIFT DIARY DAY TWO: BOISE, ID

We rolled into Boise on a Saturday to play Treefort, a sprawling music festival comprised of 400 bands playing for five days in various venues around the city, AKA a small-town shitshow.
Conveniently located near the festival I found the Idaho Youth Ranch Thrift Store. Inside, half of the store is dedicated to vintage. This is admittedly a huge pet peeve of mine because, despite the fact that I love vintage clothing and frequent vintage stores, I do not like it when thrift stores have a vintage section. This is probably because if I am going to a thrift store I want to dig for vintage pieces and, more importantly, I want them to be cheap.
I made my way to the women's clothing section of the actual thrift store and, as I suspected, most of the good clothing had either been purchased or put into the vintage section and marked up in price. I moved on to the bric a brac, where I did happen to find some choice items, including this bedazzled stapler, and whatever this is (A fuzzy red table lamp? Sex lamp?).
It has been my experience that you can generally find fun accessories in the most desolate and/or picked over of thrift stores such as this one, and, lo and behold, I found this cute leather belt for $1.99 and this fabulous dark green velvet tasseled purse for $2.99.
I also found this weird pair of suspenders which I was intrigued by but declined to purchase for obvious reasons.
In the end I bought the green bag, belt, and this funny and "ironic" plastic wine glass for drinking on the tour bus because I KNOW HOW TO HAVE FUN, OKAY. It reads:
"Here's to the night I'll never remember with friends I'll never forget."
---
THRIFT DIARY DAY THREE: BOULDER, CO
We arrived in Boulder on a Sunday night and there was a Goodwill near our hotel so I moseyed over. I've been to the city a number of times before while my brother was here for college; my strongest memory is of going to a frat party (against my better judgement) and a bro cutting me in line for the bathroom because,"You're probably going in there to do coke and I really have to piss." To which I responded, "Go fuck yourself," and walked on by because I am a lady with manners and also a functioning urethra. So yeah. Boulder.

One of the best things about Goodwill is that they have shopping carts, so instead of having being choosy, as you shop you can walk around the whole store and throw anything and everything that looks even remotely interesting into your cart. This is my favorite way to shop and I found some pretty good stuff.
First, the rejects:
A slightly boxy, embroidered jean jacket which I didn't buy because I already have an embroidered jean jacket (in hindsight I wish I had though :/). This vintage tailored blazer which ended up being a little too tight and this confusing jacket with Oscar De La Renta lining that I had to pick up because I am a brand whore. The fit was super weird, unfortunately.
I also found this interesting Oscar de la Renta for Swirl pseudo-gospel muumuu which was interesting but also ridiculous and dirty. The former owner of this garment was possibly in a death cult.
As a rule I always try on the craziest looking items because sometimes they turn out to be really awesome! Case in point - these boots are actually kinda good? But not great.

I am a sucker for a cap toe but unfortunately these pumps gave me toe cleavage which I simply cannot get behind…
In the end I went with this forest green wool sweater, and these incredible stretchy velvet boots which are my new favorite. Both were half-off for a grand total of $10!
TAKE THAT FRAT BRO!
---
Emily's adventures in thrifting will continue in Thrift Diaries: Part Two.
---