Three teenaged girls from Ottawa accused of running a prostitution ring have just begun to stand trial; they've all pleaded not guilty to all charges. The young women, two of whom were fifteen and one of whom was sixteen at the time of their arrest, allegedly committed a slew of unimaginable crimes: it took nearly twenty minutes to read all seventy-four individual charges, which included human trafficking, abduction, forcible confinement, robbery, sexual assault, assault, and printing and publishing child pornography. So far, seven victims have come forward. The youngest was thirteen.
The accused allegedly used social media to lure their victims to an apartment in a social housing complex, according to evidence obtained from the girls' phones and computers. Once the victims arrived, they would strip them, steal their belongings, and then photograph them, beating them if they didn't comply. The accused would then force them, through threats or physical coercion, to meet with johns. At least two of the victims were raped by johns (some men apparently sent the victims home after realizing they were being prostituted against their will).
Some of the girls report being forced or encouraged to drink alcohol and smoke marijuana — a victim, who was fourteen at the time of her abduction, recalls being stripped and photographed after she passed out drunk and high in a bathtub, while her fifteen-year-old friend was taken into the basement and forced to pose nude. According to reports, the defendants beat the fifteen-year-old so badly that her injuries were still visible in police photographs taken weeks later.
That night, one of the alleged ringleaders tweeted: "Ain't no problem like a hoe problem. I've got hoe problemssss." In an earlier tweet, she bragged that she was the "female bill gates."
This entire cause is truly horrifying, but perhaps the most unnerving aspect of it is the way in which it defies our expectations of how sex trafficking works. The pimps in question are not violent, depraved thugs who pose some sort of external threat to city's peaceful community — in fact, one of the accused is described as having been an integral and wholesome part of her neighborhood, "a class valedictorian and the go-to babysitter on her street," until recently. Although grades and babysitting ability are by no means an indicator of how functional, moral, and not evil a young woman is, these things do imply that she interacted with other human beings on a daily basis and should thus not have been okay with allegedly abducting, sexually assaulting, and forcibly prostituting other girls.
G/O Media may get a commission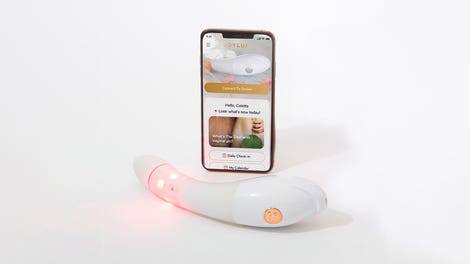 $50 Off
Joylux vFit Gold Device
Although the media is no stranger to "mean girl antics," there is something especially chilling about the thought that three teenaged girls could have internalized misogynistic values to the extent that they'd brutally assault their own peers and treat them as chattel. The extreme pride and bravado that the accused seem to have derived from their crimes is immensely disturbing. For instance, on one of the alleged abduction dates, one of the fifteen-year-old ringleaders Instagrammed a picture of two crossed pistols with fingers on the triggers. The caption read, "I pulled the burner, shawty changed her mind." Not only did she think that it was somehow acceptable to sexually enslave another girl, she also found it boast-worthy.
Christina Harrison Baird, a human rights lawyer interviewed in Ottawa Magazine, says that the media may be partially to blame. She cites the girls' predilection for gangsta rap as a factor that may have contributed to their decision to commit such heinous crimes. She also points to the publication of a book called Pimpology: The 48 Rules Of The Game and an episode of 90210 involving a female character who turned to prostitution in order to solve her financial problems. She also notes that the girls in question may have been victimized themselves.
As with every devastating crime, asking "why" is hardly ever productive or satisfying, and blaming books, television, or music feels reductive and insulting to the reality of what occurred. The fact remains that we live in a world in which women's bodies are objectified, dehumanized, and exploited on a daily basis, and the sexual commodification of teenagers and children is far from rare. The common wisdom that certain communities are somehow exempt from the threat of sex trafficking fails to take into account how complex the issue truly is and how widespread the attitudes that justify it are.
"Three Teen Girls In Ottawa Pleaded Not Guilty To Pimping" [Vice]
"#dangerousliasions: Inside the shocking online worlds of three teen girls charged with pimping out their friends" [Ottawa Magazine]
"Teen girls accused of pimping plead not guilty" [Ottawa Citizen]