It's a seasonal ritual, at this point—no sooner does summer wind down than the Internet is flooded with revealing Halloween costume takes on current events. Sexy Cecil the Lion? Yup. Sexy Pizza Rat? Check! Sexy Donald Trump? Absolutely.
Perhaps this has driven you to some mild despair—surely America's collective taste isn't quite this bad? Well, it is, definitely. But there aren't actually masses of people ordering these things. Bloomberg Businessweek did a little digging into the business of Yandy.com and other novelty costume purveyors, and, long story short: While topical costumes are popular, the most extreme getups are just viral marketing.

Today, the more controversial a costume is, the more likely it is to go viral. When that happens, the real benefit for a manufacturer is marketing, not sales revenue. Last year a Sexy Ebola nurse costume offered by online retailer Brands on Sale inspired headlines at ABC News, NPR, and BuzzFeed, even though I could find no evidence of anyone purchasing it. The same is true for Spirit Halloween's Caitlyn Jenner costume; employees at the company's Midtown Manhattan store said they'd yet to sell one despite its prominent display.
People click through after seeing the really wacky, tacky stuff, then they maybe opt for the more traditional "SWAT Hottie" or "Deluxe Dark Angel." Or, of course, "The Dress," which Bloomberg Businessweek reports is Yandy's bestselling topical item this year.
All that said, tacky up-to-the-minute costumes are not wholly new:
The topical trend is more visible because of social media, Beige says, though it's been around for decades. In 1982, when Johnson & Johnson recalled millions of tainted Tylenol products, Rubie's customers wanted to dress up as bottles of poisonous pills. And in 1994, the Los Angeles Times reported that O.J. Simpson masks were "one of the hottest-selling Halloween items in the country."
G/O Media may get a commission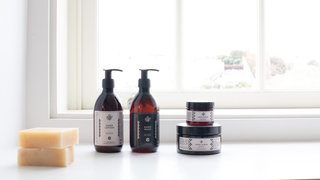 Exfoliate and Hydrate
The Handmade Soap Company
The biggest difference is that our parents' generation have either thrown away all remaining photographic evidence or buried it in the backs of their closets. Costumes worn in 2015 will live forever—or at least as long as we've got Facebook, Twitter and Instagram.
---
Contact the author at kelly@jezebel.com.