A Brooklynite police are describing as "a total moron" admitted to faking (poorly) his own kidnapping in order to get out of explaining a two-week disappearance to his girlfriend. Rahmell Pettway apparently has learned exactly zero of the hundreds of sitcom lessons about how lying only compounds your problems, forcing a climactic confrontation that wouldn't have been nearly as awful if you'd just told the truth in the first place.
Since this is the sort of hilarious fuck up the New York Post exists for, we should let that illustrious paper take it from here:
Pettway was first discovered by a passerby at 1:10 a.m. Thursday between two cars on Macon Street.

His hands, legs and mouth were covered with duct tape and the rogue Romeo looked beaten up, complaining about pain in his ribs.

Pettway, who also goes by the last name Wallace, was transported to Woodhull Hospital.
He initially "couldn't recall" what had happened, but later told police two men in a light-blue minivan abducted him on Feb. 19 near Bainbridge Street and Reid Avenue.
He claimed his captors covered his eyes and hauled him to parts unknown before dumping him on Macon Street near Malcolm X Boulevard weeks later.

But authorities grew suspicious of his account, and Pettway soon confessed to the hoax, saying he had gone AWOL for a couple of weeks and was terrified of facing his significant other.
Pettway, who boasts 14 previous arrests, "mainly for robbery, marijuana and assault," was arrested with filing a false police report. According to the officers that found him, his ruse was pretty much doomed from the get-go — the roll of duct tape he used to hogtie himself was still dangling from his wrists.
Brooklyn man fakes his own kidnapping to explain two-week absence to his girlfriend [Post]
G/O Media may get a commission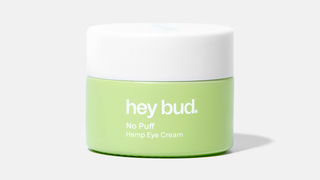 15% off
Hey Bud - No Puff Hemp Eye Cream
Image via Jon Le-Bon/Shutterstock.