Thomas Markle, father of the future Queen of England (I know she's a Duchess and I know she'll never be Queen but let me be dramatic), was interviewed by The Daily Mail yet again because A) He has something new to say about his daughter's marriage, and B) Their checks clear.*
During his nine-hour interview (they describe him as "soft-spoken but brutally honest), Thomas claimed Meghan "cruelly excised him from her life" and expressed fears that "he may never see any children that she and Harry might have." He also claimed his death would boost Meghan's reputation, saying, "Everyone would be filled with sympathy for her."
Then he said this:
"I tell you, I've just about reached my limit with Meghan and the Royal Family. They want me to be silent, they want me to just go away. But I won't be silenced I refuse to stay quiet. What riles me is Meghan's sense of superiority. She'd be nothing without me. I made her the Duchess she is today. Everything that Meghan is, I made her."
And:
"'Meghan got her attitude from her mother. Doria always told Meghan, 'If they're not doing anything for you, why should you do anything for them?'"
G/O Media may get a commission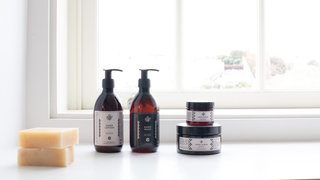 Exfoliate and Hydrate
The Handmade Soap Company
Dude even brought the late Princess Diana into this mess, saying, "Diana would have loathed the way I've been treated." Go away!

*From the piece:
---
Everyone hates Bethenny Frankel, according to the Bethenny Frankel-hating sources who spoke with TMZ over the weekend for reasons I don't quite understand. A taste:

We're told most of the women feel she's negative, toxic and talks trash about everyone ... but they try to stay on good terms to avoid trouble.

They say Frankel acts high and mighty around the rest of the cast because of her successful side hustles ... but won't acknowledge the other ladies were successful too before and after their stints as 'Housewives.'
[TMZ]
---
What game is this? Gin rummy? I can't tell.

---