Welcome back to Midweek Madness, in which we wearily turn the pages of Star, Us Weekly, OK!, Life & Style and InTouch in an attempt to glean some knowledge. This week was so bad: Jessica Biel and Justin Timberlake are "getting divorced," Jennifer Aniston is pregnant again and every tabloid is filled with really boring lies about the Brangelina wedding.
---
InTouch
THEIR DARKEST SECRETS STOLEN!
InTouch is exploiting the heinous story of the hacker who stole naked photos of 150 female celebrities in order to trot out some stale rumors and some newly-invented ones. It is gross. Also, because absolutely nothing in this article is true, it is written entirely in conditional statements: "A data leak could reveal how kinky [Kim] and Kanye are in the bedroom"; "The hacker could expose the truth about rumors that Jennifer [Lawrence] had an affair with her Hunger Games co-star Liam Hemsworth"; Rihanna "would be mortified if details about her sex life and drug use were exposed." UH, YEAH, ANYONE WOULD BE MORTIFIED IF THEIR PRIVATE INFORMATION WERE EXPOSED TO MILLIONS OF PEOPLE. Hot take, InTouch. In other news, Nick Cannon and Mariah Carey's penthouse NYC triplex is turning into a "House of Horrors" as they go through their separation. Their team of four nannies can barely handle the tension. Also, a close examination of Nick Cannon's ALS Ice Bucket Challenge video (lol) reveals that he is getting his "Mariah" back tattoo removed. Elsewhere in the mag, we're treated to a supremely boring report about Jenny McCarthy's wedding to Donnie Wahlberg. It contains one good sentence, which goes "It was the second marriage for both, but it felt like the first." And, moving on to the next insipid waste of paper: Amal Alamuddin is reportedly pregnant, again, according to an arrow pointing to her stomach in an unbelievably grainy photo. Cool.
G/O Media may get a commission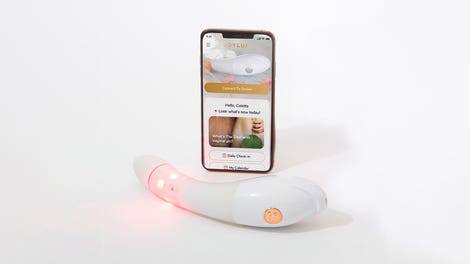 $50 Off
Joylux vFit Gold Device
GRADE: F (the dwarf skeleton futilely clutching that book in the Mines of Moria in which his own doom is transcribed)
---
Star
$200 MILLION DIVORCE
As if this story about Jessica Biel and Justin Timberlake getting divorced weren't boring enough, they are not actually getting divorced. However, there are a few photos of Justin Timberlake appearing to give one of his backup dancers a friendly hug whilst clad in a beanie (Fig. 1), which means something? Maybe? Life is far too short to wonder what. In other news, Kaley Cuoco is pregnant because she Instagrammed a photo of herself eating McDonald's, which is exactly what every expectant mother does as soon as she learns that there's a fetus gestating in her womb. McDonald's aging ground meat is filled with essential prenatal vitamins, as any midwife will tell you. And Liv Tyler, too, is pregnant because one time she put at hat on top of her stomach. She and her boyfriend of two months are so excited to start a family together with the hat!!! Elsewhere in the magazine, there is a "DUGGAR FAMILY SPECIAL" that opens with this sentence: "Talk about a Cinderella story!" I do not think any part of the Duggar Family History can be compared to a Cinderella story, but Jill Duggar and her husband moved into a formerly-abandoned mansion, so there's that. In case you were wondering. Finally, Star cobbled together some sad little details about the Brangelina wedding. Notably, they allege that Shiloh wore a dress, which is incorrect. Shiloh wore a top hat and shorts. This, the single most important detail of the wedding, is shameful to have gotten wrong.
GRADE: F (the nutrition label on a bag of Doritos)
---
Life & Style
GIVE ME MY MONEY BACK!
Britney Spears is reportedly taking her dad to court because she wants to end his conservatorship. What follows is essentially an interview with a lawyer who specializes in family law but who has not worked with Britney Spears, explaining how conservatorships work. It is not interesting. Moving on: Life & Style has also printed some lil' invented details about Brad Pitt and Angelina Jolie's wedding. It is unfortunate that the People exclusive also came out today, because none of this is right — for instance, according to a "source," Angelina wore a "dress of antique lace and silk." She did not. As the entire Internet knows, she had lumpy children's drawings embroidered into her wedding garb. In other news, Kaley Cuoco and Ryan Sweeting cannot stop fighting to the extent that she got sweaty at an Emmys after-party (????). Drama-sweats are a sure sign of marital discord (also, Life & Style helpfully points out that the couple recently moved into Khloe and Lamar's old house, which may be "cursed" by the ghosts of breakups past). And, speaking of, Khloe Kardashian and French Montana have broken up mostly because he's the worst and cheats, but probably also because Kourtney and Khloe Take The Hamptons or whatever will be airing soon.
GRADE: F (pigeons pooping copiously in a nest in the printed-out pages of your old LiveJournal)
---
OK!
I'M FINALLY PREGNANT
Jennifer Aniston is finally pregnant, for a change. We know she if pregnant because, recently, on the red carpet "one thing stood out amid the flashbulbs and cheers: Jen's round, protruding belly." K. Also, remember when she recently said that she was not a failure of a woman for not having children? That was to distract us from her baby. Having a baby is very important. "She really does not the world to know she's pregnant," says a "source." Moving on: OK! also says some stuff about the Brangelina wedding. On the cover, they have written "The kids' iPhone photos!", which implies that there will be iPhone photos taken by kids inside the magazine. There are not. There is this sentence, though: "The kids took photos on their iPhones." Everything else contained within these limp pages is old news, but here are some good bits: Katy Perry and "C-list rapper Riff Raff" got very drunk after the VMAs. She drank vodka and burped. Also; "She's terrified of turning 30 and not having anyone special," the magazine insists. Riff Raff is certainly someone special, I guess? Teresa Giudice could be facing 35 years in prison for fraud, but she has been wearing bikinis instead of cowering in fear, which is apparently not appropriate. Okay. And, finally, Taylor Swift would like to be on Girls but Lena Dunham allegedly thinks she is bad at acting. Also, like, no one would believe that a flaxen-haired goddess such as Taylor Swift lives off the G train.
GRADE: F (an infinite amount of monkeys typing "JENNIFER ANISTON BABY JOY" for an infinite amount of time)
---
Us
HOT FALL FASHION
This is the fashion issue of Us Weekly. I wasn't aware that Us Weekly had a fashion issue, but, uh, Jessica Alba is the cover girl, and "sport" is in now. In addition to the fashion, there's also some liminal gossip — all of which is pretty asinine. Here it is: Big Sean and Ariana Grande are "heating up" as a couple! Mila Kunis is pregnant still, but will have a baby soon! Angelina Jolie and Brad Pitt got married and reading this fifth article about it feels like staring into the abyss and knowing the abyss is absolutely not staring back! Aaaaand, For some unknown reason, Bigot Phil from Duck Dynasty has been given a three-page interview spread in which he defends his homophobic beliefs! ("I'm really just quoting what God said, so He's the one they have a problem with.") Bigot Phil also thinks gun control is stupid because God says not to murder and that is the only gun control we need. Really enlightening stuff here.
GRADE: F (the Us Weekly fashion issue)
---
Addendum
Fig. 1, Star