Welcome to Midweek Madness, where FUCK it's only Wednesday.

---
People
Tom Hanks is starring in an as-yet-untitled movie about Mr. Rogers; a tights manufacturer paid spokeswoman Julia Roberts to say that she has learned "the fun and value of the statement of tights"; FKA twigs and Shia LaBeouf might be dating; and Katy Perry and Orlando Bloom might get engaged. JWoww filed for divorce from husband Roger Mathews, but he says he wants to win her back. This feels like as good a time as any to recommend Kelli María Korducki's Hard to Do: The Surprising, Feminist History of Breaking Up. Sometimes just end things! Go ahead! Try it!
Back to the 'bloids: Macy Gray says "you don't engage in stupid shit" after you turn 40, so here's to another 10 years of being a fucking idiot, I guess. Gwyneth Paltrow and Glee slash Ryan Murphy everything producer Brad Falchuk got married, and Cameron Diaz was there. Have you ever read this Jennifer Lopez profile from 1998? She calls Cameron a "lucky model who's been given a lot of opportunities I just wish she would have done more with," which rude???? But fair. Anyway, Cameron brought Benji Madden to the wedding, which makes sense now that I know they're married. Lana Condor USED to ride horses competitively, Mary-Kate Olsen still DOES ride horses competitively, and Justin Timberlake likes women's shoes.
This week's cover story is an inside look at the upcoming post-Roseanne Roseanne spinoff called The Connors featuring quotes from Laurie Metcalf, Sara Gilbert, and John Goodman. Gilbert says she wanted to be a producer on the show because it would let her act as "some kind of gatekeeper," and her use of the word "gatekeeper" as a positive thing makes me jealous of how far removed she must be from contemporary queer internet discourse. There's also a three-page feature on Penny, the one-eyed golden retriever who won People's World's Cutest Rescue Dog Contest, because People had some dog and cat food ads to place, and an article about "An Alarming Rise in Diabetes" only five pages after Tiffani Thiessen's recipe for salted chocolate chip cookies. Are the two stories connected? Perhaps not, but… perhaps…
---
Us Weekly
G/O Media may get a commission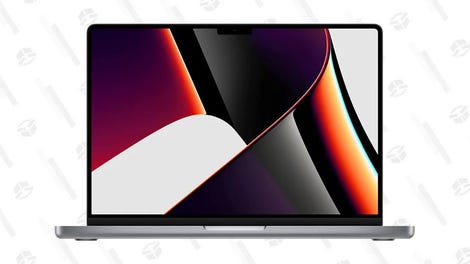 Save $300
2021 14" 1TB MacBook Pro
Olivia Culpo wore it best, Lil Xan realized Hot Cheetos have better SEO than Noah Cyrus, Megyn Kelly wore a very heavy coat, and Amal Clooney looked "hot" while calling for the release of imprisoned journalists in Myanmar at the U.N. Someone stole Rihanna's diamonds, Megyn Kelly regrets having Jane Fonda on her show, and the cover story about Katie Holmes and Nicole Kidman at war with Tom Cruise over custody of their kids is actually a story about Leah Remini's claims about Katie, Nicole, and Tom, but I guess Us Weekly's editors figured Nicole and Katie would sell more magazines than Leah Remini? I don't know. All I know is that, according to his "25 Things You Don't Know About Me," Skeet Ulrich thinks "John Cassavetes was a god" and that his "favorite film is [1982's] Fitzcarraldo" so guessssss whoooooo Iiiiiiiii'm gonna avoid at freshman orientation!!!!!!!!!!
---
Star
I want to believe that Jessica Alba is running for governor, that Brad Falchuk is jealous of Gwyneth Paltrow and Robert Downey, Jr., that Channing Tatum and Jenna Dewan are rekindling their romance. But I just can't, Star. Not again. Elsewhere in the mag, we learn ("learn") that Meghan Markle is a rebel because she once hugged a food service worker and crosses her legs when she sits down sometimes, Dina Lohan is broke, Victoria and David Beckham are nearly "penniless," and women's bodies are always wrong.
---
Closer
This week's Closer opens with a quote from Katherine Hepburn titled "What I've Learned." She says that "If you always do what interests you, at least one person is pleased." Didn't she die? Thought she died. Anyway, Barbra Streisand's in the studio, Glenn Close talks about leaving a cult, Jamie Lee Curtis tells us how to build the perfect emergency survival kit, and I think even New York Times critic-at-large Wesley Morris would agree that Piper Laurie is canceled for making me read about what a good kisser Ronald Reagan was. See that cover story about Queen Elizabeth II's "amazing royal secrets"? It's that she has a good sense of humor and loves to dance. That's stupid, unlike this fucked-up scan of the cover I accidentally made, which rules.
---
Life & Style…………fuck you
---
Stray thoughts: Monarchy good now
TITS OUT 4 GRITTYYYYYYYY
…………well, I have no fuckin' clue.
Katie wore it best……… but why would anyone wear it at all?
My favorite lede.
Gwen's ffs looks great.
Am I having a stroke.