Welcome to Midweek Madness, Jezebel's weekly tabloid roundup, where one taught me huh, one taught me stop it, one taught me sure, and the other one is Us Weekly [not pictured].

---
People
My god, I turned to People's Matt Lauer story about his life, "A Year After Scandal," with nothing but fury and rage in my heart, thinking it was yet another story that hints at a publication's interest and a reader's investment in the alleged harasser's rumored comeback. But, lo! Good news! According to a source, Matt's "not doing well." It gets better! Not only is he homebound to his Hamptons property, only leaving the house to run errands, he's not even homebound to his home! His wife, Annette Roque, is living there with their three kids while they finalize their divorce, and while Lauer sleeps in the guest house. "Annette will get a lot of money," says the source, which is good. Even better, the source tells People that "the last thing [Matt's] thinking about is a comeback." This house… is clean.
Elsewhere in the mag, we learn that Regina Hall LOVES sweatpants but HATES throw-up, Chrissy Metz is gonna be in a movie about a woman whose son falls through the ice of a frozen lake, Pete Davidson is sad, and Anna Faris is fine. Arie Luyendyk and Lauren Turnham from The Bachelor are getting married, which is surprising! Or maybe it's not! I'm super late to this whole heterosexuality thing, so please excuse the errors as I try to catch up.
G/O Media may get a commission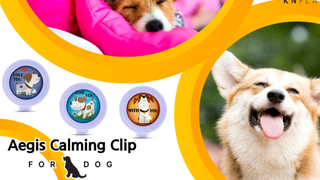 20% off
Aegis Calming Clip for Dogs
Miguel got married to Nazanin Mandi, Malin Ackerman got married to Jack Donnelly, and, not to be the BuzzFeed content I'd rather not see in the world, but the dude who played the bully in A Christmas Story is hot now???? (Pic embedded among my Stray Thoughts below…) His name is Zack Ward, and he's apparently the CEO of the Global Sports Financial Exchange. I don't know what that means, but sounds rich. He says that he wasn't even supposed to play the main bully but the main bully's sidekick, but then when the director saw him and that other kid he was like, "you two need to switch" because Ward was so much bigger. Adult Zack Ward! Add me on Instagram!
What else we got… Oh, yeah: Vanessa Hudgens is 30, as am I, and you don't see me bragging about it, Nick Jonas got top billing over Priyanka Chopra in People's cover story about their double wedding in Jodhpur??!!, Michael Douglas is a self-identified kveller, and George H. W. Bush is fucking dead. Enjoy hell, ya state-sanctioned murderer!!!!!!!!!!!!!
---
Us Weekly
Rita Ora came DANGEROUSLY close to wearing it better than Naomi Campbell (47% to 53%), which is a war crime. Why do they keep putting the same paparazzi shots of Joaquin Phoenix as the Joker running through the streets in every fucking issue? It's been like this for weeks! I don't know, and neither does Jennifer Lopez, at least when it comes to the question of whether or not she wants to marry Alex Rodriguez. What a smooth transition. Can't relate!
Hey, it's FFS icon Megan Fox and 90210 alum Brian Austin Green. They're married, I believe! They say that, since they've had kids, they haven't had any time to go on romantic getaways. "We haven't even flown to Vegas!" My thoughts and prayers…
Fred Armisen and Natasha Lyonne are dating?? Since when?? Oh. Years? Well noooooobody told me. Chloë Grace Moretz watches The Family Stone every year, which is insane; Kate Middleton and Meghan Markle do NOT hate each other, despite reports to the contrary; Angelina Jolie and Brad Pitt have struck a deal in the custody battle over their six kids, reportedly "joint physical and legal custody"; and Tom Felton says he and Daniel Radcliffe wanna work together again. "I'll get to play the good guy, and he'll play the villain." Great.
Did you know that when Bonnie Hunt worked at a Dairy Queen in high school, she could make a peanut butter parfait in 25 seconds or less? I certainly did not. Thank you, recurring "25 Things You Don't Know About Me" feature for once again living up to your name.
---
In Touch
Well, this is bleak. Macaulay Culkin says he sometimes watches Home Alone on dates. "Most of the time, I'm just muttering my lines under my breath," he says. "Listen, whatever gets her motor running…" Help!!!!!!!! In Touch says Jennifer Aniston spent Christmas with Brad Pitt AND bought his kids a big dumb inflatable slide thing. An insider says that "Jen is pinching herself, while Angie is steaming." It's been 84 years!!!!!!!! In Touch also contradicts People, claiming that Matt Lauer's currently working on a "juicy" tell-all book. Why is In Touch like this? Who is their reader? I thought I knew, but then I flipped to a full-page ad for a John Wayne-themed model train car called "The Duke Express," and now I just have no fucking clue.
---
OK!
Here's a bunch of stuff that'll make you say "……………OK!" Prince Harry and Prince William are being "torn apart by their wives." Nicole Kidman does NOT want to do a third season of Big Little Lies, even though she often says that she DOES. Jennifer Lawrence is moving to New York. Sarah Jessica Parker, 53, wore it better than Grace VanderWaal, 14. Lady Gaga's planning a $5 million wedding on Lake Como. Hellcouple Scarlett Johansson and Colin Jost are happy together. Fergie and Josh Duhamel got back together, even though Gossip Cop says they did not. OK! made Fergie x Josh their cover story. And Jennifer Garner is pregnant with new boyfriend John Miller's baby.
All of this is true.
---
Stray thoughts: See what I mean????
Anna, Anna, glamorous Anna…
You're so…
Are Kim and Kanye OK?
I mean, not to be A Bitch, but there's a certain je ne sais Celebrity Deathmatch-meets-Roald Dahl villain-meets-Mad magazine caricature about these pics…
Gay rights canceled.
This is good.
And this has destroyed me.
Joaquin rising, Rooney moon.
MTF4FTM4EVER
Using a pic where she's holding designer luggage…
I see you, Us Weekly photo editor!!!!!
Fucking psychopath confirmed.
People………thank you…………………