Welcome to Midweek Madness, where the four major cover stories today alternate between conscious coupling and conscious uncoupling. On Team 'We're Finished,' we've got Jessica Biel, Justin Timberlake, Brad Pitt, and Angelina Jolie. On Team 'I Still Love You,' we've got Katie Holmes, Jamie Foxx, Ben Affleck, and Jennifer Lopez.
---
Life & Style
It's been 13 years since Gigli first became a punchline, and 12 years since they called it quits, but Jennifer Lopez and Ben Affleck—the OG Bennifer (aka Bennifer 1.0)—have finally decided to return to each other now that both of them are single again. You heard that right: J. Lo's infectious personality and otherworldly good looks were too much for Affleck to resist, and Affleck's sour, bourbon-tinged pheromones were no match for J. Lo's better judgment.

A source tells Life & Style it was Lopez who made first contact (second contact?), "[reaching] out to Ben" after dumping Casper Smart, a [presumably] well-endowed dancer she had been feeding and sheltering for some time. The only thing that's making Bennifer 1.0's transition to Bennifer 1.1 tricky is the fact that Bennifer 2.0's divorce has yet to be made official, but sources say Jennifer Garner has "finally told [Ben] the relationship is over" and that "she always knew they could get back together." Same.
G/O Media may get a commission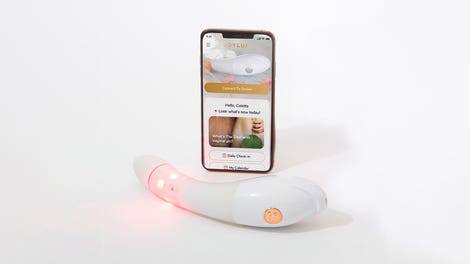 $50 Off
Joylux vFit Gold Device
Speaking of romance, Drake is "putting a ring on it." By "it" I mean "Rihanna's left ring finger," and by "is" I mean "isn't," because we all know where speculation about this relationship always leads us: the dumpster! It leads us to the dumpster.
Oh, there's also a sneaky little "EXCLUSIVE" about Selena Gomez entitled "MY SIDE OF THE STORY" that presents itself as an interview with her but is actually just a run-of-the-mill chat with "insiders" and "sources." Silly Life & Style, tricks are for OK!
And Also:
Damon Dash is "creating a tell-all TV series" about "the rise and fall of Roc-a-Fella records" that "threatens to reveal secrets" of Beyonce and Jay Z's marriage. If I had a DVR, I'd set it.
Kourtney Kardashian is "secretly" fucking with Scott Disick, which is how all people should fuck Scott Disick.

Wear leather zipper skirts.
Wear bomber jackets and boots.
Wear satin pants.
BUT DON'T YOU FUCKING DARE WEAR THEM WRONG.
---
In Touch
Next up: a divorce! Brad Pitt and Angelina Jolie, two beautiful B-listers who have successfully conned the world into thinking they're A-listers (I like them both, but they are not reliable leading actors. Don't @ me.) are fed up with their "separate lives" and "screaming matches," so they're going to get a divorce! The only problem is that they're both rich as hell and splitting up all their assets is going to be a bigger disaster than By the Sea.

"The crown jewel in their massive property and investment portfolios" is a $60 million estate in the French Riviera called Chateau Miraval. A source says Pitt "will fight over putting [it] up for sale [because] he worked so hard to restore it over the past eight years." Hold the phone, source. I do not think Brad Pitt was, like, on his hands and knees replacing tile and screwing new fixtures into old cabinets and screaming like, "GOD DAMN IT, ANGIE, WHAT DID YOU DO WITH THE GOD DAMNED CHISEL" after which Angie screams back, "HOW MANY GOD DAMNED TIMES DO I HAVE TO TELL YOU, I NEVER TOUCHED YOUR GOD DAMNED CHISEL. WHY THE FUCK WOULD I EVER TOUCH A GOD DAMNED CHISEL?" And if he was, in fact, restoring the home on his own, why don't we have that on film? How is that not the only series HGTV ever shows? Why isn't it in the Library of Congress?
And now:
Taylor Swift wants Zac Efron to be her next former fake next top 10 single. A source claims Swift has been "talking about [Efron] nonstop since her breakup with Tom" and that she's "told him that they should hang out and maybe go to dinner together." With what I presume to have been a restrained chuckle, the source added, "He's into it."
Will Someone PLEASE Tell Guy Fieri About Netflix?
(Read "I shopped online for...")
And Also:
Lena Dunham's comments about Odell Beckham Jr. made In Touch.
Duggar something something.
Rob Kardashian is "binge eating" again.
Elle Fanning wore it better than Coco König.

And finally.

Hold on to your butts.

Take a deep breath.

Rita Ora wore it better than Chloe Grace Moretz!!!!

---
OK!
We started with RECONCILIATION, moved on to DIVORCE, and now we're gonna focus on a MARRIAGE. Folks, Katie Holmes and Jamie Foxx are about to get married for what feels like the 52nd time in around three years, and there's nothing Tom Cruise or David Miscavige can do about it! Holmes and Cruise's divorce agreement reportedly "barred [her from] public dating until 2017," but now that we're a few short months away from the year she's free from the clutches of Xenu for good, it's time to plan a wedding.

OK! reports the wedding will take place "at Jamie's Los Angeles estate, in front of just 30 guests," including Quentin Tarantino (the worst possible wedding guest, maybe?), Kerry Washington, Joshua Jackson, and Zac Posen. Weird! That is a weird freaking collection of people, but then again, Jamie Foxx and Katie Holmes seem like two deeply strange people. So it makes sense! Good for them. For the 52nd time.
lol:
There is an interview with Katherine Heigl in this issue that is 99% worthless fluff and 1% ESSENTIAL READING. Here's how she responded when asked about how she deals with negative comments:

...I cannot influence how everybody feels about me. If I was that big of an asshole, there's no way Josh Kelley would have married me!
Ahhhhhhhhhhhhhhhhhhhhhh!
And Also:
Denise Richards doesn't get $55,000 a month from Charlie Sheen anymore, so now she's "desperate for cash."
Kelly Osbourne might be "falling apart" and drinking too much.
Amy Schumer and Ben Hanisch are "on the rocks."
Mel Gibson offered his fiancee a prenup that gives her "just $100,000 for each year they're married."
---
Star
OK, let's recap: we started with the return of Bennifer 1.0 (Bennifer 1.1), moved on to the destruction of Brangie, followed that with the creation of Foxx Holmes (get it? like 'fox hole'? is that bad?), and now we're going to end with another split: Jessica and Justin are calling it quits!

...
Why aren't you reacting.

...
I said Jessica and Justin are calling it quits!
...
What do you mean, "Jessica and Justin who?!?" I'm talking about Jessica Timberlake and Justin Biel. Wait, no. Jessica Biel and Justin Timberlake. OK, fine, I admit it. These two are about is compelling as a documentary about Penny Marshall deciding what brand of paper towels to buy at Costco, but it's the cover story, dang it! We're supposed to care that Jessica was caught "with a mystery hunk"! We're supposed to be shocked that things are "tense" between her and Justin! We're supposed to gasp upon learning that their calls "hardly end in 'I love you' anymore!" We should be—
Oh, screw it. I give up.
And Also:
Derek Hough and Marilu Henner are feuding.
That was the craziest sentence I've ever had to write.
Margot Robbie wants to steal Cara Delevingne from St. Vincent.
Wow, two in a row!
John Legend thinks Chrissy Teigen is putting "far too much pressure on herself" to look thin on social media.
---
Appendix: