Welcome to Midweek Madness, where we look at the covers of our favorite magazines, sigh, and pick them up anyway. This week, Star published photos of Lindsay Lohan and Egor Tarabasov fighting, Life & Style thinks Jennifer Lopez is pregnant again, and In Touch thinks Brad Pitt was "caught with Jen."
---
Star:
A video of Lindsay Lohan and her estranged or former (I hope?) fiancé Egor Tarabasov was sent to Star. It was reportedly shot on July 5 in Mykonos, and the magazine's description is below:
"[It] begins with Lindsay and Egor sitting in a parked Jeep on a beach. After an apparent argument inside the car, Lindsay appears to hurl Egor's cell phone out the open roof. Moments later, she runs to retrieve it, with Egor in pursuit. As she picks it up, he grabs her from behind."
G/O Media may get a commission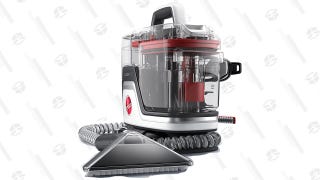 Save $10
Hoover CleanSlate Plus Carpet & Upholstery Cleaner
He then screams, "GIVE ME MY PHONE," and pins Lindsay's arm behind her back. After she drops the phone, she tells him he "hurt" her, and he tells her to "leave."
"It's my car, too" she says, before getting back in. The video stops there, but witnesses say they eventually drove off together.
Moving on to other awful things, this issue features a list of the 15 "Most Hated Celebs" in Hollywood.
Taylor Swift is #1.
Kanye is #3.
Kylie is #4.
Beyoncé is #8.
Jaden Smith is #11.
Katy Perry is #12.
Gwyneth Paltrow is #14.
Oh, I forgot #13! #13 is Bill Cosby.
Interesting!
And Also:
Nicole Kidman, former Scientologist, is feuding with Elizabeth Moss, current Scientologist, on the set of Top of the Lake's second season.

Gwyneth read "all the weekly tabloids and read through each one, laughing and pointing things out to Brad [Falchuck]" during a recent flight.

Kylie Jenner is pissed that she's never been offered a Vogue cover.

Wrong Answer:
Life & Style
Wouldn't it be something if Jennifer Lopez were pregnant again? No! It wouldn't. The woman already has two children, and I don't even care if she's 47—women are having babies later than that, so don't try to tell me I should be shocked or impressed. If J. Lo were to confirm that her 47-year-old eggs were fertilized by the vivacious sperm of 29-year-old Casper Smart, I would not bat an eye.

But Life & Style wants us to be excited about this "news," even though I firmly believe it isn't true. "Just call her J. Glow," they ask. A source says she is "thrilled that Casper is the dad," and that he "thinks their genetics will produce the most talented and beautiful child ever made." What an absolutely batshit thing for a source to tell someone!
And Also:
Keshia Knight Pulliam is "pregnant and alone."

Blake and Gwen will be "engaged by Christmas."
Taylor wants Tom to pop the question, which is, "Are you the most hated celebrity in Hollywood?"

Laila Ali is the only one who wore lace correctly, if only I knew who she was.

Elle Fanning wore denim better than Busy Phillips.

Wear wedges or go unnoticed.

Wrong Answer:
In Touch
Brad Pitt, current husband of Angelina Jolie, has been caught with his ex-wife Jennifer Aniston, current wife of Justin Theroux, and now both their marriages are "in shambles!" Before I go any further, Gossip Cop has already called this a big fat lie, but let's forge on ahead anyway.

So, what happened was that Angelina walked in on Brad "finishing up a phone call in the bedroom, talking in a low voice." And we all know one must talk to Jennifer Aniston in a low voice—what with her sensitive eardrums—so of course Angie know what was going on. She "accused Brad of sneaking behind her back with Jen and yelled that he'd ruined all their new plans for the future."

Imagine Brad and Angie fighting over Jen.
ANGIE: You were on the phone with her weren't you.

BRAD: It's not what you think.

ANGIE: How dare you claim to know what I think.

BRAD: Oh, you think I don't? Well tell me what you think!

ANGIE: I think you're fucking her.

BRAD: I'm not fucking her.

ANGIE: Well then I think you want to.

BRAD: Please, that phase in my life is long over.

ANGIE: Well then why do you have secret talks with her in our bedroom?

BRAD: Because...

ANGIE: Because what?!

BRAD: Because.....

ANGIE: Tell me, you wimp!

BRAD: Because we've done it for years. Since we were still...us.

ANGIE: What?! What do you two do?!!

BRAD: She calls me and asks, "How am I doing?" And I say, "You're fine." Then she hangs up.

ANGIE: ....

BRAD: That's it. Once a week I tell her she's fine.
ANGIE: [laughs uncontrollably]
And Also:
Lamar's friends are afraid that he will only be alive for three more months, which is oddly specific.
Gwen Stefani's tour will "lose money."
Surprise, surprise. The couple from Married at First Sight are having a tough time with love.
JoJo and Jordan aren't in love AT ALL.
Selena Gomez is "spiraling downward" and "rethinking her entire music career and life path right now."
Wrong Answer:
Appendix: