Welcome to Midweek Madness, where we cry and cry and cry and mix our tears with grenadine and put it in a ziploc bag and mail it to Selena Gomez so she can serve it to her enemies as a signature cocktail at her next Bachelor viewing party.
This week: Teresa Giudice has a cute pink diary full of dangerous prison secrets, Bruce Jenner's new reality show will take down the Kardashian empire, Kelly Clarkson is happy with herself so BUZZ OFF, and Scott Disick wants to marry Kendall Jenner, what's the big deal?
---
inTouch
TERESA'S PRISON DIARY!
Teresa Giudice, in case you weren't sure, is still in the slammer. On the bright side, she's really making progress re: learning how to write words, sentences and paragraphs! According to sources, the Real Housewife of Danbury Prison has developed a strong attachment to her diary, which is very exciting news and something I think we're all better off for knowing. Teresa "has been pouring her heart and soul into that pink journal" because "prison is tearing her apart." Lowering her voice to a conspiratorial tone, the insider whispers: "She's even broken down while journaling." I think we can all relate to that!!!! The most important part of this story, however, is that inTouch—in a classic inTouch move—has put together a PHOTO RECREATION OF WHAT HER DIARY MIGHT LOOKS LIKE, including such riveting lines as: "I'm convinced Joe cheated," and "I was thinking a lot about the show today. I miss filming." Sure hope that diary doesn't fall into the wrong hands.
G/O Media may get a commission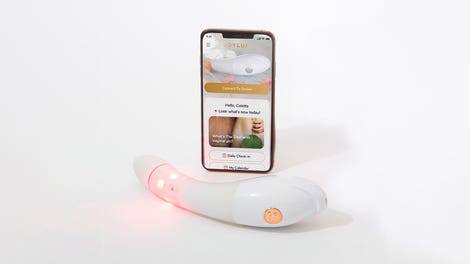 $50 Off
Joylux vFit Gold Device
EARTH 2 GEORGE CLOONEY: WOMEN ARE SELFISH. LIKE IT'S FINE THAT YOU MARRIED ONE BUT JUST KNOW THAT AND OWN THAT, OKAY? Poor George was working like a DOG in L.A. "while his new wife, Amal, jetted around Europe," so obviously their marriage was practically over before it even found its LEGS. Luckily he finally convinced that "fiercely independent" shiny-haired sorceress wife of his to respect his needs as a FAMILY MAN, so"they're trying for a baby!" I want to die I am so relieved. Another top-tier celebrity couple, Brad and Angelina, are trying to leap after that elusive spark—however, things have gotten so dire between the two aliens that it was necessary to "retreat to the mountains" to recharge their commitment spores. Let's not act like this is weird, we all have to go on a "make-0r-break ski trip" at least once or three times a year.
inTouch has "exclusively" learned all the juicy details from Bruce Jenner's upcoming tell-all with Diane Sawyer, and all signs indicate that this interview will be totally respectful! Sawyer "pushed Bruce about his sex life, his cosmetic surgeries and his plans for the future —like if he plans to have surgery to remove his penis." Spoiler: "He will keep his penis—for now." I will keep this strangled cry of despair in my throat by hoovering a full sleeve of Thin Mints—for now.
Bachelor Chris is going on Dancing With the Stars, which is "the ultimate betrayal" to his new fiancée WHOEVER SHE MAY BE because he promised they'd be going straight to Arlington to pick out their tombstones. Really digressing here but I am imagining Chris Squared casting a spell together at the beginning of the season like the adolescent Sandra Bullock in Practical Magic: "She'll be a virgin fertility nurse with a voice like a baby and terrible eyebrows who loves the Kardashians, pumping iron, and her dead husband Sanderson Poe."
Anyway, another thing is that Joe Manganiello is trying to tie that knot ASAP and Sofia Vergara was like, nó: "Joe won't admit it, but he's a little concerned about getting her to the altar." In similar news, Selena Gomez literally sprinted away from former sex bud Orlando Bloom at the Vanity Fair Oscar's party, which is an amazing item. And, best for last, y'all: Portia de Rossi is causing a HUGE SCANDAL on the set of Ellen: "The actress always has a lollipop in her mouth when she comes to visit. But instead of tossing the sticks in the garbage when she's done, she simply drops them on the floor!"
Grade: B ($300 face masks made from pulverized imitation crab are this season's hottest trend)
---
Life & Style
KARDASHIANS CANCELED!
So, remember that horrible thing that happened a few days back in which KUWTK was renewed for an additional four seasons? Well, that $100 million deal is "complicated" and E! can back out anytime, which is just how deals work, I guess! "The Kardashian TV empire is about to crumble" and good riddance because there's a NEW STAR IN TOWN AND HIS NAME IS BRUCE! Although there were rumors in early 2014 that Bruce Jenner was "quitting reality TV for good so he could escape all the drama and spend more time tinkering with his model helicopters," it is now officially "Bruce's time to shine." Unless he goes to prison for vehicular manslaughter, muses Kris.
A fan spotted Bachelor Chris and his *mystery fiancée* having the time of their life at a gas station in Iowa. Whoever "wins," it appears both finalists are in mortal danger: Whitney: "I love Chris so much my heart can explode"; Becca: "Chris makes me feel safe. I've never felt this way before." Also, Life & Style thinks that Whitney's Pinterest page "devoted to bridal gowns and wedding cakes" proves that she won, which just goes to show how atrociously misunderstood Whitney has been by the editors of Life & Style.
Kate Middleton's "greatest fear" is that someone on her household staff "could be spying on her" and reporting back to her #1 enemy, the Queen of England—and Kate should be scared, because she has been so shady! For example, her mother Carole has been spending a lot of time "helping out" with the "baby." Source: "The Queen would be furious." Miley Cyrus, another sad girl in a huge house, "has hardly left her $3.9 million mansion in recent days, beyond being dragged to the grocery store by her concerned mom, Tish." According to a source, "She said she's sad and unfulfilled and feels like she's all alone." THAT'S BECAUSE SHE IS ALONE, screams Life & Style. Patrick S. has been "keeping his distance" and hanging out with his mom, Maria Shriver, who as I've mentioned before has nearly died several times from Shame over their embarrassing relationship/Miley's many, many pregnancies. Miley's emotional turmoil seems serious, though: "She's even cut back posting on social media."
Grade: C- (Low-rise skintight khakis from Hollister, 3 sizes too small, are this season's hottest trend)
---
OK!
DON'T CALL ME FAT!
Kelly Clarkson has "renewed her resolve to ignore the haters and live life on her own terms" after all the "fat talk" following her pregnancy. That's pretty much it for this groundbreaking story, but snaps for Kelly! Selena Gomez, however, is totally not ignoring the haters and not living life on her own terms because this 22-year-old is drinking to get drunk. Evidence: "She seems to have amped up her partying and is looking noticeably puffier," and she left the Vanity Fair Oscar's party "looking decidedly wobbly." You could just switch in "her co-worker's birthday party" and this item would be about me, WE R ALL SELENA G.
Prince Harry is "hot for Hermione," AKA Emma Watson, because "he likes that she's an activist, like he is." Beyoncé is going through "her own personal hell" on fertility drugs: "It's been a huge shock to suddenly be dealing with horrible breakouts." Former Bachelorette winner Jesse Csincsak has revealed that would-be contestants get a psychological evaluation that includes reasonable questions like, "Have you ever thought about pushing your mother off of a bridge?" Also, Kim and Kanye are "being dissed left and right" by the cool kids; an insider notes: "It's not seen as a good thing to have Kim and Kanye at your event." I really beg to differ! I have always included Kimye in my event invites!
Grade: F (Bras made of limp, week-old iceburg lettuce are this season's hottest trend)
---
Star
SCOTT PROPOSES TO KENDALL
You all, Scott Disick definitely finally popped the question to the teenage half-sister of the mother of his three children! The details: "He got tipsy and proposed to Kendall." But Kendall was like, nOoOoO, so Scott was like nvm and scooted back to Kourtney. Now he's in "suck-up mode" and Kourtney has NO IDEA WHAT HAPPENED AND IT WOULD BE TERRIBLE IF SHE FOUND OUT, but unfortunately, Scott and Kendall are both in Europe at the same time right now and might meet up somewhere because it's a pretty small continent.
Ethan Hawke and Patricia Arquette are AT EACH OTHER'S THROATS, just like in that movie they made together: He "didn't like that she had a better seat [at the Oscar's] than he did. He thought it was disrespectful." Sort this out, you two, your son is so cute! Also on deck: LeAnn Rimes is losing it!! She's canceling concerts to keep an eye on her husband, Notorious Playboy Eddie Cibrian, and her three fans in Utah are incensed. But LeAnn doesn't care! "She figures that if she watches over his every move and spends every waking moment with him, there'll be no way for him to have an affair." Love that!
God, there are so many other important things to know before we wrap up here: Mila Kunis is "WEARING THE PANTS" now, motherfuckers: Now that Mila has popped out a child, Ashton is "the most whipped guy you'll ever meet." Please, I'm not exactly new at this game, I think we can connect the dots and confirm that Mila and Ashton have their own lil' post-baby Red Room of Pain. Ashton's hard limits are butt stuff and Dude, Where's My Car? references. And finally, please pay attention to what I'm saying because it's so crucial that you absorb this: Lady Gaga is a "serial homewrecker" who "stole her past four boyfriends from other women!" According to an insider, "She finds power in stealing men away from other women. It's really strange." Do you think if we all narrow our eyes at the same time, Lady Gaga will feel it?
Grade: D (Post-baby Red Rooms are this season's hottest trend)
---
Addendum:
Fig. 1, inTouch
Fig. 2, inTouch
Fig. 3, inTouch
Fig. 4, inTouch
Fig. 5, Star
Fig. 6, Life & Style