Welcome back to Midweek Madness, in which Intern Tanisha Love Ramirez heads to the newsstand and buys the celebrity weeklies, so that we can do an instant replay and determine who's winning the gossip game: In Touch, Us, Ok!, Life & Style, or Star? This week, Giuliana gushes about baby bowel movements; Tom Cruise might be ready to ditch Scientology; Justin Bieber thinks tempeh is gross; and those Twilight fans had better appreciate the show Robert Pattinson and Kristen Stewart are putting on.
---
Ok!
"We're Having Babies!"
Under apparent contractual obligation to declare "It's Baby Time" at least once a month, Ok! has cooked up a bogus baby story about Khloe and Kim Kardashian, neither of whom have directly claimed to be pregnant with a new kastmember. Indirect quotes from a "friend" claim the sisters are dying for babies of their own. Khloe and Lamar are turning to fertility treatments and considering a surrogate and/or adoption. Kim and Kanyeezy are totes ready to make babies because they both think Mason is cute, both want a baby girl and have picked out names. We really hope Kimye is being considered. Kristen Stewart is ready to take the next step in proving her undying love for Robert Pattinson: getting his name inked on her bod. Rob wanted her to write poems but will settle for the ink. Moral compass Hoda Kotb put down her wine glass long enough to weigh in on whether or not it's okay to peek at leaked nude pics of celebrities, saying "Yes, It's OK! Who doesn't want to see other people's junk?" Stay tuned for "leaked" pics of Hoda's junk. Lastly, in a feat of compelling photojournalism, here are stills of Britney Spears' facial reactions to X-Factor performers. Let's play, "What is Britney feeling?" (Fig 1)
Grade: F (strikeout)
---
G/O Media may get a commission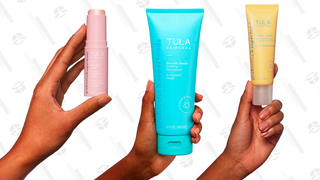 Life & Style
"My Life As A New Mom."
Take a peek into Giuliana and Bill Rancic's first few weeks as parents, as they regale readers with stories that would ordinarily be boring to hear from regular schmos at your office, and are STILL be quite boring when coming from two smitten celebrities. The "Duke" has gained 3lbs, has regular bowel movements, can only fart when held by his father and purrs like a cat when falling asleep. This is the cover story, you guys! In news that is obviously less important than Dukie Rancic's bowel movements, Mariah Carey and Nicki Minaj are feuding and producers are desperate to bottle that drama and save it for the cameras. They'll name it Eau de Trash. Khloe Kardashian and Lamar Odom are supposedly on the rocks, according to indirect quotes, shady sources and an unfortunate photo of Khloe looking either upset or like she just swallowed a burp. In a shocking turn of the tabloid tables, Kristin Cavallari wants to dispute reports that she has lost all of the baby weight she gained during her pregnancy with her now six-week old son. She says, "The truth is… I'm struggling to lose the last few pounds." Thank god she set the record straight. Lastly, never feel bad about over-packing and over-spending while on vacay, because Princess Shiny Locks reportedly packed an estimated $24,980 worth of clothes for her trip. (Fig. 2)
Grade: C (gutterball)
---
Us
"Emily Buys His Silence."
In an exclusive interview with Jef Holm's ex girlfriend, Haylee Shepherd, we learn the three steps to faking a relationship for reality television, and are treated to some very tame and boring texts between Shepherd and Holm during his relationship with Emily Maynard. Snooze! Next, we take the train to crazy-town with Amanda Bynes, who, since having her license suspended and her car impounded, has taken her meltdowns indoors. She's been spotted erratically applying makeup on gym equipment and in one case, reportedly "went to the bathroom and stayed in there for 45 minutes, putting on makeup and doing squats." The "Hot Stuff" informs us that Robsten are looking for a new home in the L.A. area, because their old home is riddled with cheating cooties! Mila Kunis was spotted going to the Kabbalah Center in NYC with Ashton Kutcher, so apparently, that's news. Also, Steve Harvey is featured in this week's "25 Things You Don't Know About Me" and we learn that he was once homeless, worked as an insurance salesman, and will soon debut a women's clothing line. (Fig. 3) Hopefully it's named Walk Like A Woman, Dress Like A Man. Oh, check out these awesome personal pics of celebs before, during and after the Emmys (Fig. 4). And lastly, in the best thing to be printed on paper this week: A full two-page spread on Honey Boo Boo quotes, math and lexicon! (Fig. 5a, 5b)
Grade: C+ (par for the course)
---
In Touch
"Inside My Breakdown."
Brunette lady is sad! Why so sad, brunette lady? Don't you get paid to gossip on a TV show we don't watch? "I'm tired of getting blamed for things I didn't do," says brunette lady. "It's exhausting." Brunette lady's world is falling apart, but she somehow managed to take time out of her busy sobbing schedule to carefully pose for these "I'm beautiful but distressed" photos (Fig. 6). Let's move on. Jude Law had some kind of hair transplant surgery. (Fig. 7) Ashton wants to propose to Mila Kunis, except he's not yet divorced from Demi Moore, whoops! Speaking of Demis, Demi Lovato is hooking up with known starlet-stalker Wilmer Valderrama. Nose wrinkle. J-Woww is engaged to Roger and her ring is a doozy. Cushion-cut 5 carat pink diamond surrounded by 2.5 carats of pink and white diamonds. She says she told him, "I want my ring like you — big! The bigger the better." (Fig. 8) J-Woww also reveals what she wants her wedding dress to look like: "I want my boobs out… I really want something sexy with a princess feel." Of course. "Lady Gaga: I Know I Got Fat" is about her new "voluptuous" shape, and utilizes those distorted photos that are so last week. But it's followed by a story called "These Stars Are Ditching Their Diets," in which Kim Kardashian has gone from "slim" to "bodacious"; Anne Hathway has gone from "gaunt" to "gorgeous" and Mariah was once "slender" but is now "statuesque." Weirdly positive, but we'll take it! Finally, in a Honey Boo Boo article titled "We Won't Let Money Change Us," June "Mama" Shannon says: "We'll never be Hollywood." You say that like it's a bad thing.
Grade: D (triple bogey)
---
Star
"Leaving Scientology For Love?"
Tom Cruise MIGHT be "finally turning away from Scientology." Maybe. Perhaps. No evidence provided. But he's been hanging out with Cameron Diaz and an "insider" claims he has distanced himself from the church and hates that his public perception is at an all-time low. Will the popular kids let him sit at their lunch table if he ditches the cult of Xenu? Let's move on. Honey Boo Boo producers have hired a security team, because Alana and Mama have been getting death threats. Sad. Justin Bieber tried to go vegan, but was super bratty about it, says an insider. He ordered a tofu steak and tempeh tacos from some place in LA and "made a big show of spitting out the food and making gagging noises." Rude. Casper Smart wants J.Lo to have his baby, because he wants to show her that he's serious about her — and also that he is not a gay glory hole enthusiast. Was Tori Spelling's post-partum surgery a tummy tuck? That's what it says here! "Lady Gaga Hits Rock Bottom" uses three of those distorted images from last week and claims the singer cheated on her boyfriend Taylor Kinney with her ex, Luc Carl. She is spiraling out of control and sabotaging herself. Allegedly. Finally: Kristen Stewart and Robert Pattinson are back together, but they are just faking the funk, a "friend" claims. RPatz is pissed that KStew told everyone he's bad in bed. But! The show must go on! And their reunion is part of a carefully orchestrated publicity stunt. They'e going to try and fool the fans and press and pretend everything is okay, at least until the final Twilight movie hits theaters in November. It's called acting. They are actors. It's also called lying. Would Bella and Edward ever be so dishonest?
Grade: C- (fumble)
---
Addendum
Fig. 1, from Ok!
Fig. 2, from Life & Style
Fig. 3, from Us
Fig. 4, from Us
Fig. 5a, from Us
Fig. 5b, from Us
Fig. 6, from In Touch
Fig. 7, from In Touch
Fig. 8, from In Touch