Welcome to Midweek Madness, where we learn from our mistakes and return to the traditional format after a well-intentioned though poorly executed attempt at a tabloid Q&A. This week, Mila Kunis is pregnant with twins, Brad Pitt and Angelina Jolie are THIS close to getting a divorce, and JonBenet Ramsey is incapable of resting in peace.

Let's give this a go.
---
OK!
Mila Kunis is pregnant! Again! If you're the type of person who follows news about Mila Kunis and Ashton Kutcher, this won't surprise you. But if you're not, congratulations on now being able to file that wonderful piece of information in your brain's equivalent of a junk drawer. So, we know for a fact that Kunis is pregnant. That much has been confirmed. But the rumor is that she is expecting twins, which is either because they "run in the family" (according to a source), or because OK! wanted an excuse to use this stock photo:

Let's zoom in:
G/O Media may get a commission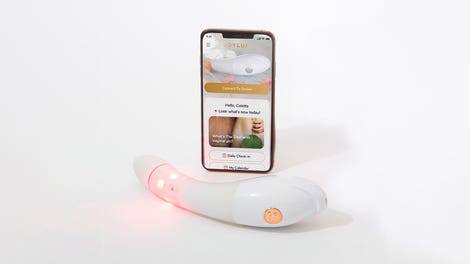 $50 Off
Joylux vFit Gold Device
Now that we know there might be a pair of creatures slithering around inside Mila Kunis's womb (based on an "ultrasound dramatization"), let's move on to ones that have emerged. OK! has a feature in this week's issue called "Hollywood Nannies Tell All!" which is, as you probably guessed, a collection of anonymous "nannies" telling stories about caring for famous children.

Let's do the boring ones first. Kate Middleton "reads to [George] every night," but the moment William comes home from his..."job"...(does he have a job?), "Kate might as well be invisible." Another boring claim: Kourtney Kardashian makes her nannies call her "ma'am."
But let's move on to the good stories. Halle Berry allegedly forces her twins to "tell her how beautiful she is every night before bed." Additionally, she "has encouraged 8-year-old Nahla to act out scenes from her old films." A source says Berry "loves it when Nahla recites her lines." But wait! It gets worse! Additional scary behavior was reported about Gwyneth Paltrow, who allegedly forced a nanny to "detox every other week," and Beyonce Knowles, who "made one previous nanny learn all the choreography from 'Single Ladies' so she could perform it for Blue Ivy on command." All of this qualifies as behavior I would associate with Lucille Bluth-Joan Crawford hybrids, only more frightening.
---
Star
The big story in this issue is about Brad Pitt and Angelina Jolie's divorce. If this sounds familiar, it's because they have been in the process of getting into the process of beginning the process of starting the divorce process for what feels like two years now. But this time it's real. Why? Oh, typical reasons. They're too busy to focus on each other, and it's wreaking havoc on their romance. Brad is constantly jet setting to events like Le Mans race in France (over Father's Day weekend), and Angie is always busy with her "humanitarian work," which consists of, I don't know, showing By the Sea to children around the world as a way of preventing them from going into the arts and focusing on STEM classes.

You know, something like this:
ANGIE: OK, so what did we learn about men today, kids?

CHILDREN (in unison): To not trust them.

ANGIE: And are there exceptions to that rule?

CHILDREN (in unison): No.

ANGIE: And what did we learn about school?

CHILDREN (in unison): To learn how to code before finishing grade school.

ANGIE: And salary negotiations?

CHILDREN (in unison): Always ask for more.

ANGIE: Perfect. And what about directing?

CHILDREN (in unison): Never make a movie with your husband, even if you love him and the studios give you final cut, which is quite rare, especially for women.

ANGIE: You're all so brilliant.

Anyway, they're through.

Moving on, a story about Margaret Cho—someone I don't think I've ever seen in the tabloids—was given two pages. She has reportedly "fled" to a "treatment center for drug and alcohol addition" that was apparently exacerbated by an "abusive relationship" with an unnamed man who "demeaned her during intercourse, beat her, and sexually assaulted her." The bad news continues on the next page, with a spread about Selma Blair's "mile-high meltdown" last week, when she "mixed alcohol with medication." The story is vague with regards to her personal troubles, a friend of Blair's says the incident "might be the wake-up call she needs to finally get the help she needs."
---
In Touch
The cover story of this week's In Touch is, for the second time this year, about JonBenet Ramsey, the 6-year-old who was murdered 20 years ago in Boulder, Colorado. It's bleak and unnecessary, so I'll give it to you quickly. A man who was reportedly a "former suspect" in the case who "has admitted to being obsessed with her" in the past was arrested earlier this month for "possession and attempt to distribute" child pornography. Horrible. Let's move on.

Here is an amazing spread about how Jennifer Aniston is "hiding her baby bump":
And now, here's some Bachelorette gossip! So, In Touch "has learned" that whichever loser JoJo chooses in the finale of this season has been "flirting with a girl he met on Instagram," and JoJo has no idea. Said a source:

"JoJo has no idea that the winner was not only exchanging flirty Instagram messages with the model, but he was texting her, too."
Who could have ever imagined that someone you met on an ABC show hosted by a wannabe romance novelist might not be an asshole?
---
And Also:
Simon Cowell "makes no bones about the fact that he thinks Howie [Mandel] is an idiot."

Robert Buckley (idk her) and Lea Michele (i know her) can't stop making out in public.

Zayn Malik "can't stand" Yolanda Hadid.

Kourtney Kardashian is pregnant.
Star refers to Jinger Duggar as "The Forgotten Duggar."

I refer to myself as "The Forgotten Finger."
Josh Kelley is super excited about Katherine Heigl's pregnancy.

Same.
---
Wrong Answer:
---
Appendix:
---