Welcome to Midweek Madness, where we go to George and Amal's house for dinner, sit down at the table with them, and then eat in silence throughout all 90 minutes of the seven-course meal. Today, Kylie is preggo and Scott's the daddy-o, pregnant Kylie and not-pregnant Selena are on their way to rehab, the Duggars are a nightmare, and celebrity moms are mostly either good or fine.
Ana Gasteyer Satirizes the Girl Boss in 'American Auto'
And now, the first course.
OK!
PREGNANT KYLIE: SCOTT'S THE FATHER!
Last week, Kylie Jenner tweeted that she was not pregnant. Today, OK! printed that she is. Don't you just love their perseverance? You can't hold those rumors down. Kylie is not pregnant at all, but she is pregnant with Scott Disick's baby, Kourtney is "in denial" and staying focused on her own kids, while Tyga, 17-year-old Kylie's 25-year-old boyfriend, is "totally in the dark." To be even more succinct, no one but OK! knows Kylie is pregnant with Scott's baby, including Kylie. Meanwhile Caitlyn is like, "Bye girls leave me out of this have fun gotta go!!!!!!!!!!!!!!!!!!!!!!!!!"
G/O Media may get a commission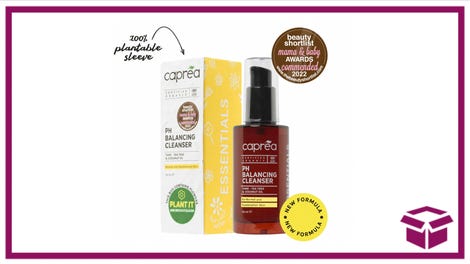 Save $9
47% Off Essential Organic PH Cleanser
Sustainable beauty
Caprea's Essential Organic PH Cleanser is just $10 with promo code TEN. Normally $19, this foaming face wash is crafted with organic Monoi oil. It's meant to target the production of oil secretion while protecting your skin against air pollution. Normally $19, you can save big on this richly-lathering face wash while supporting a brand that keeps the environment top of mind.
Ugh. The Duggars. This piece is all about how Jessa and Jill "hid their pain" for all these years. An inside source says they were told "it was their Christian duty to forgive Josh, and if they didn't, God would be angry with them...They were told not to tempt Josh." I hate this. Moving on.
Kelly Rutherford might be getting her kids back! "After six years in and out of courts...the actress is one step close to being permanently reunited with her children, who have been living in Monaco with their father, German businessman Daniel Giersch." Rutherford is allegedly $1.5M in debt due to legal fees, but is "optimistic about the impending court session and what the future holds for her family." Good for Kelly.
Interview Response of the Week: Josh Hartnett
And Also:
Brad and Angelina found an island to buy.
Jennifer Aniston can't find a movie to star in.
Tom Cruise wants Jonathan Rhys Meyers to try Scientology.
Ryan Gosling and Eva Mendes are THROUGH.
Amber Heard and Johnny Depp are ALMOST THROUGH.
Emma Stone and Andrew Garfield AREN'T THROUGH ANYMORE.
Jim Carrey asks "prospective girlfriends to read Dostoyevsky's Crime and Punishment."
Imperator Furiosa could drive a War Rig through Rumer Willis's thigh gap.
Grade: F (OK! calls to inform you that you're pregnant with Scott Disick's baby.)
---
LIFE & STYLE
KYLIE AND SELENA: REHAB BOMBSHELLS
This is actually TWO cover stories! Each got its own headline. Kylie's is After Kylie's Drug Spiral FAMILY INTERVENTION. Selena's is Selena's TERRIFYING RELAPSE. Let's start with Kylie. She "needs help, and the Kardashians are taking drastic measures to make sure she gets it." But you know what? She doesn't want it! A source says "Kylie still says she doesn't have a drug problem," even though she's allegedly been using "Xanax, cocaine, marijuana, booze and more to drown her sorrows." All that, plus she's unknowingly pregnant with Scott's baby! Get some help, Kylie! OK, let's move on to Selena. She fell off the wagon and needs treatment again. A source says she's a "ticking time bomb" and that "she's attempting to cope with some of her mounting problems by hitting the bottle." Reps for Gomez, however, deny all of this. They say she "couldn't be more excited and happy about upcoming projects." One of those projects is The Big Short, which also stars Brad Pitt and Melissa Leo. Is anyone ever truly "excited" to work with Melissa Leo, or are they merely cautiously optimistic? Somebody's lying, and I'm not sure if it's Selena or the source.
Miley is "stringing along Liam and Patrick"! You read that right, she's hooking up with both of her exes at the same time, and an insider is claiming she's doing it AS REVENGE. "She was devastated by her boyfriends' betrayals, so she's enjoying intentionally stringing them along now." Hell yeah! Show Thing 1 and Thing 2 who's boss! Can you imagine their reaction when she reveals the truth later down the line? Patrick will be like, "Huh? Who's Liam? What? Why aren't we at dinner?" and then Liam will be like, "Wait which one's Patrick? I don't get what you're saying. I thought we were going to see the Minion movie tonight? Hold on, Chris is calling. Chris what do you want? Miley is mad about something and I'm about to see the Minions. I know you wanted to see it with me but I didn't want to wait. Oh, now you're mad at me too? I just wanna see the damn Minions but no one will let me."
DUGGAR STORY! *turns page*
"They say a picture's worth a thousand words. But in Tom Cruise's case, a picture is worth thousands and thousands of dollars." That wasn't Life & Style commenting on the price of editorial photography these days, but on Tom Cruise's alleged plastic surgery! They're reporting that "friends believe the 52-year-old star recently [spent nearly $50,000] to plump, lift and smooth his face to look forever young in front of the cameras." They suspect he's used fillers on his cheeks and mouth, acid peels around his eyes. I, however, suspect he's used the power of Xenu.
And Also:
Chris Soules is a liar.
Britney Spears and Charlie Ebersol are going to have a secret wedding.
George and Amal Clooney got dinner with Sonia Sotomayor recently.
All women must wear cutout dresses this week or they will be cursed at.
All women must wear snake necklaces this week or they will be cursed.
All women must carry white bags this week or they will be cursed at while being cursed.
Wrong Answer:
Grade: D+ (You wear a snake necklace and avoid the curse, but then you curse at an old woman on the street for not wearing a cutout dress and she curses you for that.)
---
inTouch
PRISON FOR DUGGARS


Ugh. Let's get this over with. inTouch, the magazine that broke the big Duggar story, is now reporting that Jim Bob and Michelle Duggar could be facing up to six years of prison time for "permitting the abuse of a minor as well as child endangerment." They "knew what was going on" when Josh was molesting his sisters "and did nothing about it." Oh, there also might be more than just the five victims previously reported. Isn't it something how this story continues getting tougher and tougher to follow? Let's move on from this nightmare.
Even though the results of today's poll aren't in, inTouch is reporting that Kim Kardashian is pregnant with twins! A "family friend" says the twins are likely the result of IVF treatments, "which experts say nearly double the odds of conceiving multiples." Happy news, right? WRONG. Because Kim is terrified of "[getting] fat again." On May 27, she was seen ordering "all this crazy food — including multiple appetizers like mozzarella sticks and several different pasta dishes like spaghetti Bolognese." Though she split them with Kanye, "she was definitely eating like it was her last meal." Despite that, sources say she's "determined not to gain a ton of weight while carrying twins." Note to Kim: I'm more than happy to take your leftover mozzarella sticks.
Caitlyn and Kris are AT "WAR!" Insiders are claiming that Kris "feels she was depicted as a selfish, unsympathetic shrew" in Vanity Fair's profile of Caitlyn. "She hates the way she was called out." Meanwhile, Caitlyn wants nothing to do with Kris. "The only thing she's focused on," says a source, "is being the person she's hidden from the public all these years." That doesn't exactly sound like a "war" to me. It's more like an angry and ineffective army general yelling orders at her troops but failing to convince them to do anything. She's all "ATTACK" and they all roll their eyes while scrolling through tweets on their Apple Watches.
And Also:
Taylor Swift and Calvin Harris are going to get married.
Britney Spears and Jennifer Lopez are Las Vegas Residency Enemies now.
Bjork almost died after choking on a roast beef sandwich.
Reese Witherspoon is pissed at Jim Toth for wanting more kids.
Amal Clooney is pissed at George Clooney because she wants to move into their London home but it's not finished yet. Can you believe how boring their problems are?
The Teen Moms did something idk.
The old Bachelor did something idk.
Wrong Answer:
Grade: C- (You get drafted for Kris Jenner's army but fail the medical exam.)
---
STAR
BEST & WORST MOMS!
Please take a look at these "Celebrity Mom Report Cards":

A+
A
Charlize Theron

Jennifer Lopez

A-
B+
C+
C-
Hilary Duff

Rosie O'Donnell

D-
Kim Kardashian

Michelle Duggar

F
Wait a second, KIM KARDASHIAN AND MICHELLE DUGGAR ARE BOTH D-??? MICHELLE DUGGAR ISN'T AN F? HOW IS MICHELLE DUGGAR NOT AN F. HOW CAN YOU NOT RATE MICHELLE DUGGAR AN F. WHAT'S HAPPENING HERE.
OK, Jennifer Garner is definitely going to file for divorce from Ben Affleck before their 10-year anniversary. She's officially "done" and "is prepared to claim as much of the imploding couple's $120 million fortune as she can get — and full custody of their three kids." Ben is more than willing to let Jen have the kids, but because they didn't have a prenup, he's going to be "fighting" for the money. Part of me wonders how much this will affect the performance of Batman v Superman next year, but most of me wonders how it will affect Matt Damon. I hope he's OK. He's been through a lot. Poor guy.
And Also:
Paula Deen is broke.
Paris Jackson is in love with her high school sweetheart.
Alexander Skarsgard is in love with Margot Robbie.
Jennifer Lawrence is in love with Nicholas Hoult AND Chris Martin.
Robert Herjavec proposed to Kym Johnson and Kym was all, "We've only been dating for two weeks. For that reason, I'm out."
Miranda Kerr and Leo DiCaprio are doing things with each other's genitals again.
Wrong Answer:
Grade: Z (You're complaining to a friend about how Michelle Duggar wasn't given an F, and then Paula Deen calls to ask you for money.)
---
Appendix:
Fig 1. inTouch
Fig 2. inTouch
Fig 3. inTouch
Fig 4. OK
---
Contact the author at bobby@jezebel.com.