Welcome back to Midweek Madness! Every Wednesday, we hit the newsstand for the blood-sucking celebrity weeklies: In Touch, Us, Ok!, Life & Style, and Star. This week, Tanisha Love Ramirez assists as we pick up what the parasitic mags are putting down: Ben and Jen are in crisis; Miley Cyrus is minus one fiancé; Snooki is thin now; and an epic fat-shaming of Kim Kardashian.
---
Ok!
"Marriage in Crisis"
Ben Affleck and Jennifer Garner's marriage hasn't been all sunshine and unicorns, and that has their close friends (read: tabloid mongers) worried that the couple of almost a decade are doomed — doooomed, I say! Fresh off the heels of Ben's admission that his marriage has been "work", the rumor mills have been working harder than an Affleck at Christmas to prove that the pair are headed for a split. This story is just an elaborate attempt to revive the annual "Oscar curse." (Fig. 1) Booooring. Also inside: Jennifer Lopez is tired of people reminding her that she's getting older, admitting, "I never used to worry about it — until people started mentioning it all the time." In other words: STFU about her age. In reality "star" news: Jenelle Evans has "blown through all of her TV money really quickly," and is desperate to keep her day job as the resident deadbeat parent on MTV's Teen Mom, even going so far as to go to MTV-mandated rehab. Also, Farrah Abraham is annoyed that people on the interweb are criticizing her for dressing her 4-year-old daughter up like a pageant queen for her b-day photoshoot, and Macy Bookout's baby-daddy Ryan is having a total bromance with her new beau, motocross racer Taylor McKinney. Smells like a spinoff.
Grade: F (vampires)
---
G/O Media may get a commission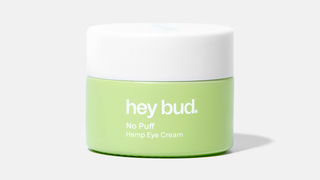 15% off
Hey Bud - No Puff Hemp Eye Cream
In Touch
"Pregnant & Alone"
Kanye West fled to Paris, allegedly to get away from knocked-up Kim and her krazy family. A family "insider" — which could possibly be a pseudonym for the fetus growing inside of Kim's belly — suggests that Kanye wants nothing to do with the Kardashian empire that Kim worked her ass off to build. And now that Kim is gaining "rapidly multiplying pregnancy pounds", she is feeling super insecure and has gone so far as to consider leaving the Kardashian franchise all together in an effort to save her relationship. Let's see, what else? Kristen Stewart and Robert Pattinson haven't seen each other in more than 50 days, Suri Cruise's body-double is actually her look-alike bestie and Jessica Simpson has a new addiction: online shopping. Also, this week we get a break from body-snarking and move on up to face-snarking! In "Plastic Surgery Has Ruined Their Looks" editors rip female celebs a new one, criticizing their changing faces and alleged cosmetic procedures (Fig. 2). And in "Why Won't These Stars Dress Their Age?" mature female celebrities are reminded to "keep their birth certificates in their closets" to dress "their age." (Fig. 3)
Grade: D- (bed bugs)
---
Life & Style
"Jilted By Her Fiancé"
Miley Cyrus is totally heartbroken over rumors about her fiancé Liam Hemsworth sucking face with Mad Men's January Jones. Last week, Liam and January were photographed leaving a pre-Oscar party together, and were allegedly spotted making out later that night at a private party. A source claims that Liam told "man-eater" January, "we can't do this here," before leaving the party together to do whatever someplace else. Meanwhile, friends and trusted "insiders" are worried that Miley will blame herself for Liam's alleged infidelity, and spiral further out of control. So far, neither Miley nor Liam have commented on the matter. So sad. Next! Jennifer Aniston may or may not be getting married sometime soon. For the one hundredth time we "learn" that she wants a low-key wedding in a tropical setting, and plans on shedding tears of joy as she recites her vows. Who here is over it? Primed to move into Jennifer's soon-to-be vacated sad, jilted woman role is Sandra Bullock, who "hasn't been spotted on the arm of a new man since her divorce in 2010." We wonder how many phantom twins Sandy will have! Next: In her latest interview with Cosmo, Kim Kardashian states, "I saw fast marriages like Khole and Lamar's and that was what seemed to work…[Now] I say give it a good six months before you commit. Feelings change," prompting all of media to jump to the collective conclusion that Kim was taking a swipe at Khloe's marriage. Or maybe — just maybe! — Kim was admitting that Khloe's marriage gave her hope that a whirlwind romance could work for everyone, but learned the hard way that it doesn't. But really, who cares? And finally, Harley Pasternak is peddling his latest diet plan for "all the people who got frustrated by my past message of moderation and losing slowly…I'm now giving you a healthy way to lose weight rapidly!" The plan: drink tons of smoothies and, oh yeah, stop exercising because that shit makes you fat, says the CELEBRITY TRAINER! Noted.
Grade: D (leeches)
---
Us
"How I Lost 42 Lbs!"
Because a woman's body is always up for discussion and she has no discernible talents to talk about, Snooki explains how she got svelte: "I lost the first 20 in two months, just from breastfeeding," she says. She now works out four days a week and sticks to a 1300-calorie-a-day meal delivery service. Also, she's cut way way down on booze: "When I drink, I gain weight. It just messes up my whole routine." Still, Snooki is not completely happy with her body: "I want my upper legs to be more toned. And my boobs are messed up. In a bra, they look good, but when I take it off, they're all flappy. I can't wait to get a boob job when I'm done having kids." She does have some touching things to say about motherhood, including this: "He's my blood, and I don't have that with anybody because I'm adopted, so it's really cool." Final words: "When you're skinner, you feel so much better about yourself." Moving on! Stacy Keibler is tired of George Clooney — she likes to go out and have fun, and he's and old fogey. "The end is near," an insider says ominously. Jake Gyllenhaal is dating Sports Illustrated Swimsuit model Emily DiDonato, and they met at SoulCycle, where he goes all the damn time. Finally, Miley Cyrus and her fiancé Liam Hemsworth are "done," according to a source who adds: "she says she's over it." Which is why she didn't give a shit that he was spotted "all over" January Jones in February. (Heh.)
Grade: C+ (mosquitoes)
---
Star
"65-Lb Weight Gain!"
This just might be one of the meanest, most fat-shaming pieces ever printed. The title: "Kim's Baby-Weight NIGHTMARE." A circle on one page reads, "FROM BOMBSHELL TO MOM HELL!" (Fig. 4) The copy is cruel, with lines like "growing exponentially by the minute" and "her frame is expanding in every direction." A "celebrity weight coach and body expert" named Alicia Hunter estimates that 5'2" Kim now weighs 185 lbs, so that number on the cover is just a guess. "She looks like she's put on an insane amount of weight in such a short time," Hunter snaps. "It's likely around 65 lbs. so far!" The key word is likely. And also: So what? Are you her doctor? An "insider" claims that Kim can't stop eating, and is "obsessed with food." She wakes up every morning, hits the gym, has a protein smoothie, and by noon, her "hunger cravings hit full force." OMG HUNGRY PREGNANT WOMAN WANTS FOOD CALL THE COPS. Apparently Kim loves Pinkberry (full of sugar) and pasta and pastries, but "She cries every other day, and she's scared to see how big she'll get." Oh, and someone who is possibly camped out in her kitchen cabinets claims: "She's been waking up in the middle of the night and binge eating." Concern trolls be concerntrollin'. Here are some actual phrases printed in this issue: "her shapely derriere has morphed into a sagging, dimply blob"; "her rear is covered in cellulite"; "she sleeps in them and works out in them — the only time she takes off the Spanx is in the shower"; "she even broke down to her mom, saying 'These stretch marks are ruining my body!'" And, of course: "She feels disgusting and doesn't want Kanye to see her naked." Sigh. Don't worry, though: After giving birth, Kim plans "to get everything lifted," and will "spend millions to get her figure back." According to unnamed sources. Epic and vicious. Moving on: Simon Cowell has scar tissue behind his ears from his face lift. Joy and Elisabeth will probably get replaced on The View, by Brooke Shields and a "strong Latina woman." Kristen Stewart needs a "ray of sunshine" in her life, which is why she's been flirting with Patrick Schwarzenegger, who is outgoing and upbeat and not a glum scowler like RPatz. Zachary Quinto and Jonathan Groff want a summer wedding! Revenge's Emily VanCamp and Josh Bowman are engaged. Your BFF Jennifer Lawrence got drunk and high in her hotel room in Hawaii, then headed down to the hotel bar, met up with a bunch of people including Jeffrey Wright, and slammed tequila shots before they all headed out to a strip club. Katniss Awesomedeen. Last of all: Lady Gaga has been popping painkillers ever since injuring her hip, but she hasn't stopped drinking, so she's on a "deadly cocktail of booze and pills" in addition to barely eating. This article comes with the expected Amy Winehouse mention.
Grade: C- (ticks)
---
Addendum
Fig. 1, from Ok!
Fig. 2, from In Touch
Fig. 3, from In Touch
Fig. 4, from Star