Welcome to Midweek Madness, where we deal with the summer heat by drinking a ton of iced coffee but then we have to pull over in the middle of nowhere to use the bathroom so we knock on the door of the nearest home and realize that we're at Bucklebury Manor and they let us use their bathroom but we have to walk through a tense argument between Queen Elizabeth II and Carole Middleton and it's super awkward so we just say, "Thank you!" and run out the door. This week, Kris Jenner is either fired, in rehab, going through a mid-life crisis, or all three; Tom wants custody of Suri; Kim is pregnant again, and Queen Elizabeth II is the angriest great granny in all of the United Kingdom.
Pour another iced coffee because it's time to get started.
---
Life & Style
KARDASHIANS FIRE KRIS: WHY EVERYONE TURNED AGAINST HER
Mom-ager no more! After being panned for "the handling of ex Bruce Jenner's transition to a woman, outed as a liar and letting some business deals seemingly slip through the family's fingers," Kris Jenner has been FIRED, and Khloe was given the honors of doing the dirty work. "It wasn't pretty. Kris lost it and called Khloe spoiled and ungrateful." But it wasn't just the Kardashians who wanted her gone. "Bigwigs" at E! were furious that Kris kept Bruce's transition a secret so long. Meanwhile, I'm shocked that she was able to keep it a secret at all. If this firing actually goes through (E! is denying that it happened), I'm dreading the Diane Sawyer interview where she reveals she's actually Melisandre and that she plans on destroying us all in the name of Stannis Baratheon. Or whatever she's up to on that show. I usually play Candy Crush while it's on.
G/O Media may get a commission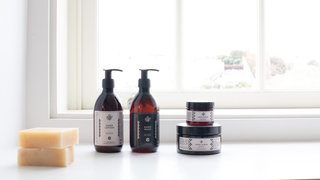 Exfoliate and Hydrate
The Handmade Soap Company
DO ROSES MEAN NOTHING?! Whitney Bischoff, the w(h)inner of last season's The Bachelor, DUMPED Chris Soules, the bachelor on last season's The Bachelor. She was sick and tired of Chris getting "close" to Witney Carson, his partner on Dancing With the Stars (w(h)ere he's one of the "stars" somehow). Witney has been photographed holding hands w(h)ith Chris, and Whitney doesn't "understand w(h)y they would spend so much time together." Their breakup, reports a source, could be announced as early as next w(h)eek. But, uh-oh, I just realized I can no longer tell the two W(h)itneys apart. W(h)ill Whitney break up with Chris or w(h)ill Witney break up with Chris???
Miley is done partying and hooking up with different people every night. She wants to marry her ex, Chris Hemsworth's Little Brother, and that's that. Now that her fling with Patrick Schwarzenegger is over (Maria Shriver has been exhaling dramatically in Hyannis Port ever since), she can finally return to her first love. Her favorite love. Her only love: Chris Hemsworth's Little Brother. Sources say "she went from telling friends she wanted to take it slow with [Chris Hemsworth's Little Brother] to telling them she's planning a wedding [with Chris Hemsworth's Little Brother]," despite the fact that he called of his engagement with her in 2013. But not all of the sources can agree. One says "[Chris Hemsworth's Little Brother] is happy Miley is such a free spirit, but if she thinks he'll marry her, she's delusional."
And Also:
Jon & Kate & Hate? They are fighting like mad over custody of 9-year-old Hannah.
Brandi Glanville kept the underwear she lost her virginity in. I'm not sure if that means she kept them on during the sex or that she took them off right before the sex but either way I wanna vom.
Ellen Pompeo got Patrick Dempsey fired from Grey's!
Bradley Cooper can't figure out which model he wants to be photographed making out with!
Ice-T and Coco want to have a baby because they're in love.
Jessica Simpson and Eric Johnson want to have another baby because they're not.
Don't you dare walk on the beach without a cutout one-piece.
Don't you dare walk anywhere else without woven sandals.
Wrong Answer:
Grade: D+ (The Kardashians fire you.)
---
Star
ROYAL BABY BATTLE!
The Middletons are at war with The Queen! Princess Charlotte Elizabeth Diana met her maternal grandmother, Carole Middleton, before her paternal great grandmother, Queen Elizabeth II, and the Queen is hopping mad (though she probably shouldn't be doing any hopping, given her age). Sources say "things are tense" between the two families and that Kate has been "mortified" by the Queen's behavior around the Middletons. "Royal insiders say Queen Elizabeth II has long been frustrated by the Middletons' lack of royal deference when it comes to their grandchildren, but Carole has made it clear that her first priority is to protect her daughter rather than please the Queen." Watch out Carole! I'm worried for the kinds of world wars—or at least Lifetime movies—that this feud could inspire.

Maybe Kris Jenner hasn't been fired! Maybe she's just going to rehab. Sources tell Star that Kris is checking in to rehab in order to "change her own image from self-absorbed party mama to woman of substance." Maybe it'll work and maybe it won't, but it'll certainly make for a good KUWTK spinoff if it happens. Imagine it: Kris, Interrupted—E!'s modern-day, serialized docu-series following a woman choosing to go to rehab for the sole purpose of rehabilitating her image. If that doesn't deserve an E! series, I don't know what does.
Amal Clooney is too skinny. OK. The thing about Amal and George is that, while they're in the top tier of the A-list, they're also two of the most boring people in any tabloid? Every single week? That's arguably a good thing for them, but it's a terrible thing for us, consumers of Hollywood gossip. I don't read these magazines to be bored by the truth, I read them to be entertained by the fabrications. And if you can't think of better gossip than "AMAL CLOONEY IS WORKING SO HARD THAT SHE'S LOSING WEIGHT" you need to go back into your pool of insiders and find a source who'll tell you something like, I don't know, AMAL CLOONEY'S GUMMY WORM ADDICTION IS TEARING HER MARRIAGE APART. That's juicy. That's gossip.
And Also:
Dina Manzo is a homewrecker. This would mean something to me if I knew who Dina Manzo was.
Terrence Howard's wife is blackmailing him.
Robert Downey Jr. won't let ScarJo, Chris Evans, and Chris Hemsworth into his squad.
Bruce Jenner is a size 22.
Kylie Jenner has never told the truth in her life.
FKA Twigs and Robert Pattinson aren't signing a prenup because true love doesn't need contracts.
Amber Heard was kicked off the set of the new Pirates of the Caribbean movie.
Michael Fassbender is currently fassbending Marion Cotillard.
Wrong Answer:
Grade: F (You're written up in Star for being boring.)
---
inTouch
KATIE'S NIGHTMARE: TOM TAKES SURI
Tom Cruise hasn't seen Suri Cruise in 600 days, but now he WANTS HER BACK and is "READY FOR A FIGHT." Cruise's sudden request for custody is, claims a source, "exactly what Katie Holmes has been fearing." An insider says he's "ready to go to court to ask for more time with Suri [and now] Katie will have to gear up for the fight of her life if she wants to keep Tom away from his daughter." Another insider says "Tom and Katie's battle for Suri will be the fight of the century." Meanwhile, Chris Klein has said nothing.
Kylie is getting married! Tyga, her 25-year-old boyfriend, proposed, and she, a 17-year-old, said yes! The 17-year-old accepted "a few weeks ago" after she decided she was "ready to take her romance... to a shocking new level." The 17-year-old and the 25-year-old will get married once the 17-year-old turns 18 in August. The 17-year-old doesn't even care that the 25-year-old's ex, Blac Chyna, posted texts that showed the 25-year-old "trying to reconcile with her"! "[The 17-year-old] didn't seem to care...to her, that means it's real. She's a teenager in love. She sure is!" Her boyfriend, on the other hand, is not.
Another war, only this time it's between American royalty. Yep, that's right: the Duggars have officially begun fighting. "Fame is tearing Jessa Seewald and Jill Duggar apart," and "it keeps getting worse." Basically, Jessa doesn't want to be "compared to Jill every single day," and "resentment continues to build" every second. It all started when Jill "announced her courtship to now-husband Derick Dillard just two months after Jessa... announced her courtship to Ben Seewald." Yep. That was definitely the beginning of something major. Sort of like when the Archduke Ferdinand announced his courtship to that bullet.
And Also:
Bruce Jenner will invite about 30 people to his coming out party after her transition.
Miley's "#1 crush of the moment" is Zoe Kravitz.
Selena Gomez is taking her curves to NYC!
Barack and Michelle read inTouch on Air Force One.
NeNe Leakes hates Wendy Williams.
Emmy Rossum carried a book somewhere.
Every woman in Hollywood has HIDEOUS hands and should never ever show them in public again.
If you don't wear baby blue this week you may as well give up.
Wrong Answer:
Grade: D- (Your invite to Bruce Jenner's coming out party gets lost in the mail.)
---
OK!
KIM PREGNANT! SHE'S HAVING A BOY
After having sex "500 times a day" and "several rounds" of IVF treatments, Kim Kardashian-West is pregnant with a boy! An insider says, "Kim was starting to think it might never happen. She was losing hope." But then, poof! Pregnant. North is going to have a brother. Kim is being "crazy protective," and "doesn't want to risk doing anything that could damage the pregnancy." Meanwhile, Kanye is "ecstatic" as hell and can't wait to have another little one in the family. "He can't do enough for Kim and North [and is] smiling so much more than usual." :)
Don't believe anything you've read anywhere else, because Kris Jenner isn't going to rehab or getting fired—she's just going through a very classic mid-life crisis. "Discovering Bruce was living a secret life had to take its toll," and her "recent antics" are "just the way she's dealing with it." See? She's in no danger of losing her job or going to rehab. She's just out having a good time, though all the partying is making her daughters "cringe." Same, girls!
Jennifer Aniston and Justin Theroux are living "separate lives." Which is surprising, considering the fact that I thought they were one person. But no! They are two separate people, living two separate lives, and it looks like they may not get married after all. A source says, "Jen is devastated but trying to keep it together. And Justin feels like he's always put Jen first but she hasn't made him a priority. They've had some bitter fights." That sounds bad, but at least Jen has her BFF available at all times for guidance. "The last time she spent this much time with Courteney was after her split from Brad Pitt." I've said it before and I'll say it again: thank god for Courteney Cox.
Joel Madden and Nicole Richie are divorcing.
FKA Twigs is pregnant.
Robin Thicke and his girlfriend were making out on a plane and all the other passengers wished they had blurred vision.
Kate Hudson is dating that guy from that one movie whose name you can't remember.
Kelly Rutherford's kids had to move to France for some reason?
I swear if you don't wear grapefruit, pineapple, or coconut this week I will come to your house and scream in your face.
Gwyneth Paltrow and Brad Falchuk argue over what food to order when they go out to eat.
Nick Loeb and Sofia Vergara argue about __________.
Grade: C- (You get broken up with but Courtney Cox is in your speed dial.)
---
Appendix:
Fig. 1, Star
Fig. 2, inTouch
Fig. 3, inTouch
Fig. 4, inTouch (smh)
---
Contact the author at bobby@jezebel.com.