Welcome to Midweek Madness, where we crush our birth control pills into a fine dust and release them into the Santa Ana winds, howling the ancient words (inTouch, OK!, Life & Style, Star, Us Weekly) under the light of the moon. This week: the Kardashian family has imploded, Selena Gomez is pregs via Zedd but pining for Bieber, Jennifer Aniston is getting married in Cabo, and Scott Disick and Kendall Jenner are sexually involved.
Let's dance.
---
inTouch
KARDASHIANS AT WAR OVER BRUCE BECOMING A WOMAN
The Kardashians, a distant clan from the East rumored to be "ruled by greed," are "totally at war." We know this because a Kardashian source said: "Privately, they are totally at war." Kris is really torn because on the one hand she's a proud bigot but on the other hand, "If Bruce discusses his transformation on KUWTK, she knows it would be a ratings bonanza." Luckily, there's a fix for this: editing! Hopefully, "he comes off more as free-spirited hippie than a man who's becoming a woman." Next season on Keeping Up: Bruce goes to Burning Man, develops line of chill caftans. There are so many sides to this issue, it's like one of those dice that has a bunch of different sides: Kim and Kanye "don't want to be associated with Bruce's new look," Khloe "is Bruce's biggest cheerleader," and Kylie is "in denial"; she told a friend: "My father isn't transgender—he's just having fun right now."
G/O Media may get a commission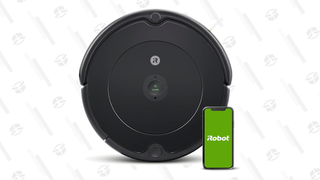 35% Off Black Friday Deal
iRobot Roomba 694 Robot Vacuum
Former Bachelorette Desiree and her exciting, creative husband Chris are having the most ameeezeeeen time on their honeymoon in an under-the-radar locale called Hawaii. Des: "We wanted our honeymoon to be an adventure." Des: "It really is like paradise here!" The pair "couldn't wait" to try paddle-boarding ("I fell once," noted Des, a brave smile trembling upon her lips). Jennifer Aniston is, at 46, finally ready to give pregnancy a shot: "She's been taking supplements like choline and fertility herbs, including chasteberry," says a local witch. LeAnn Rhimes' ex Dean Sheremet is "finally ready to share his side of the story" after years of "suffering in silence." LeAnn deserves it, tho, because "she openly cheated on him, which is embarrassing for a man." Ahhhhhhhhhhh. Dean left his marriage with approximately four items to his name: "He got two of their seven dogs, the kitchen appliances and a couch."
Elsewhere in the Valley, Kim Richards "threw a fit at a Whole Foods on Jan. 17 after learning that the store may have been out of her favorite salmon salad" (same, except it was Buck's Tuna Salad on Jan. 14); and inTouch asked Lisa Rinna, "What's one fact about you that might surprise us?" Answer: "I don't like clowns!" TOO MUCH LOVE IN MY <3 FOR L.R. TO MAKE A JOKE HERE SORRYYYY. Miscellany: is-she-or-isnt-she (schizophrenic) Bachelor contestant Ashley S. was totally faking it. IMO, says a "childhood pal," "she went on the show thinking it was real and started seeing the fakeness of reality TV." And was like, maybe if I make out with an onion that'll even things out. And finally, let's take a trip to Philly and check in on Jon Gosselin's DJing career: "I love it," says the father of 20. "I get to have a good time with my friends, play the music that I like and have a day to myself." If anyone deserves it, it's you, Jon!
Grade: A (Waking up on your college president's lawn in the fall of 2008 dressed as a cocktail shrimp.)
---
Life & Style
PREGNANT BY ONE MAN, IN LOVE WITH ANOTHER
On the set of her new movie in Atlanta, Selena Gomez "missed the sun, the sand, her friends—and a time when she wasn't freaked out about being pregnant." Girl, same. "She thinks she could be pregnant because she has gained so much weight lately," says an enemy. "She isn't the best at taking birth control, so she is majorly stressing." Selena is struggling to choose between two in-cred-i-ble specimens: Justine Bieber and DJ Zedd (real name Anton Zaslavski). It's all very homeric, explains a pal: "It's the classic 'good girl wanting a bad boy' thing. Zedd is sweet and she felt something deeper could have developed, but he doesn't stir things up for her [[[sexually]]] like Justin does." Sidebar: We can all breathe a collective sigh of relief to learn that Zedd's house is "kid-friendly" because it has a heated saltwater pool.
On this week's edition of Prison Vibes, Teresa Giudice has been "getting her ducks in a row" so she can send divorce papers to Joe. "Teresa can't get over his biggest betrayal: turning her into a criminal." Word. Joe is not on the same page, emotionally—he needs Teresa b/c he "has no earning capacity," aka he is basically a neutered guinea big. Teresa is "terrified" of her husband finding out before she's ready because "he'd lose his mind," so it's good that Life & Style is keeping it on the DL. Across the pond, in a move shockingly similar to the royal fetus blossoming in her womb, Kate Middleton is "kicking up a storm" in regards to the queen's unreasonable demands upon her time. The queen was like, go to more events, and she was like, lady I am 6 months pregnant, NAYS. Kate is taking a Caribbean vacation "and she doesn't care what the queen says about it." Kate Middleton is getting beheaded, y'all!
AMBER ALERT: Scott Disick, 4, has officially run away from home. And...he's loving it!!!! Since dumping Kourt, "Scott's been having a blast." He gets to eat all the candy he wants! "He feels like he's too young to be a father of three," says his new babysitter, Khloe. "Scott is just happier living at Khloe's" because she lets him stay up late and get blackout drunk, says a buddy from Miss Cohen's class. Kids these days! In other news, Angelina Jolie's family is annoyed with her for being a dowdy embarrassment. Brad's mother, Jane, "can't stop pointing out how bland her style has become." Young Zahara Jolie-Pitt has been especially affected by her mother's choices: "Zahara wants her to glam up her look," says a source reporting from deep within Zahara's inner circle.
Grade: B (telling your crush at OctoberFest '04 that you "love" UDB (Up Da Butt), a band that he made up to test your band knowledge.)
---
OK!
WEDDING IN PARADISE!
WHAT HAPPENS IN CABO STAYS IN CABO, YOU GUYS. BECAUSE JENNIFER ANISTON IS GETTING MARRIED THERE, PROBABLY. She's going with Mexico because "Jen's annual group vacations to Cabo are said to be one of her greatest pleasures," which is a really weird way to phrase that. "Finally, after a decade of being pegged as the forlorn, lovestruck dreamer," writes the underpaid literary genius who works at OK!, "sources say Jen is in a mad rush to get the show on the road." Jen is totally ready for this because she's finally tweaked her terrible personality: "Years of therapy helped her let go of a passive-aggressive nature, her need to be in control and anger about the past." Also: Courteney Cox ISN'T INVITED. Not sure why.
Gwyneth Paltrow, who OK! totally neutrally notes "has long been considered an uppity braggart who's out of touch with reality," is apparently on a "charm offensive." Campaign #StopHatingGwynethSheReallyIsntThatBad is on a roll; during her Mortdecai press tour (lol), "Gwyneth has been noticeably—and deliberately—more open, easygoing and relatable." Says a source: "She reached out to her team and said she really wanted to show the world her funny side"—oh my god, I digress, but: if I had a team. IF I HAD A TEAM. I would reach out to them every single day for self-improvement help.
Tom Brady has BANNED Gisele from the Super Bowl! Apparently, he "suggested she watch from a remote location." AKA BRAZIL, AND NEVER COME BACK. Insiders say Tom is "desperate" to keep Gisele out, "given her history of bad game day behavior." Like, try to imagine a more embarrassing wife than Gisele. It's impossible! Elsewhere in Hollywood's Dungeon For Crazy Females, Kaley Cuoco, "desperate for a baby," is rescuing dogs at a "furious pace." Someone Stop Her. "Friends say the 29-year-old won't stop until she has a baby to cuddle and care for instead!" DO YOU HEAR THAT, GAIA?!?
Grade: C (getting a bee in your one-piece in the summer of 1998 and your mom, wild-eyed, rips it off in front of everyone.)
---
Star
SLEEPING WITH SCOTT!
The sex scandal that's "tearing the Kardashians apart": Scott and his 19-year-old sister-in-law Kendall are boning. "When Kendall and Scott first met, Kendall was a shy 11-year-old schoolgirl," whispers E.L. James. But now she's got boobs and a modeling career and all bets are OFF. After they got drunk together, Scott "saw Kendall as an adult—a superhot and fun one at that." After Scott had determined that Kendall's red flower was, in fact, blooming, they smashed. Kourtney is thought to have yelled, "they're dead to me!" but no one can tell for sure because it took her 4 hours to say. "Scott clearly finds her attractive, and she likes the attention. It's just wrong," sobs a source. Star thinks we should hear both sides, though: "Kourtney's stern reprimands of Scott may partly be what's pushed him toward her little sister." And may that be a lesson to us all.
Major gossip from the 50 Shades of Grey set: Jamie Dornan is stoopid and couldn't learn his lines, Rita Ora cried the whole time, and Dakota Johnson is an evil shrew who would "purposely pit people against each other." Mariah Carey is "STRUNG OUT ON SYRUP": specifically, a cocktail of prescription codeine cough syrup and alcohol. Throat experts recommended vocal rest, but "Mariah is a chatty diva" who could not refrain from "ordering her staff around," so she's drinking a shit ton of codeine and wine and everyone is hoping for the best. Amal Clooney "has put Giuliana Rancic on her hit list"—ugh, Amal, join the club—after the latter dissed her gloves on Fashion Police. "A furious and embarrassed Amal has vowed to get revenge," warns an insider. Email me, Amal! I have so many ideas!
Model-of-the-moment Gigi Hadid and her strange Australian boyfriend Cody Simpson "have become the king and queen of young Hollywood, but not everyone is welcome in their court!" Zac Efron is out b/c he "slept with all of Gigi's friends," Khloe Kardashian because "she's too old and desperate," Kylie Jenner because "Gigi doesn't trust her." Who would? And finally, your weekly Wut: Chelsea Clinton and Rosamund Pike used to be friends when they were both studying at Oxford—"they'd sometimes speak to each other in German"—but in 2008 Rosamund said she liked Obama better than Hillary and Chelsea was like BITCH YOU JUST SAID THE WRONG THING.
Grade: D (Getting an xxtra dark spray tan to sport alongside your gold prom dress in the spring of 2008, ensuring that your entire body is one seamless shade of atomic tangerine.)
---
Us Weekly
Grade: F- BECAUSE THERE WAS NO DIRT IN THIS ENTIRE STUPID 'LOID (Hanging out with your new coworkers in January 2015 and you make a joke, laugh at your own joke, then fart.)
---
Addendum:
Fig. 1 [InTouch]
Fig. 2 [InTouch]
Fig. 3 [InTouch]
Fig. 4 [Us]
Fig. 5 [Us]
Fig. 6 [Life & Style]
Fig. 7 [InTouch]
Fig. 8 [Star]