Welcome to Midweek Madness, where we open our giant woman-hearts and flex those empathy muscles on made-up stories about symmetrical millionaires we've never met. This week: George dumps Amal on her birthday, Scott Disick is sleeping with Khloé Kardashian and asked a waitress to suck on his toes, Scott Disick has also maybe-inseminated Kendall Jenner, and Katy Perry is pregnant with John Mayer's baby.
Does anybody have Tums?
---
inTouch
GEORGE DUMPS AMAL ON HER BIRTHDAY!
You might be too self-involved to realize, but things are hard right now for George Clooney. First, you'll remember that his new wife Amal was a train wreck at the Golden Globes, "sashaying around the Beverly Hilton in her black Givenchy gown and opera gloves like she was the star of the night," and "giving judgmental looks to some pretty big names." Then, they had dinner with five other people on V-day, "what kind of intimate Valentine's Day is that?" Then, it turns out that Amal is "putting her career before having a baby," which is a total deal-breaker for George/the patriarchy. Then, Amal didn't want to hang out with George's dumb friends for her pre-birthday celebration, telling him that "she was disappointed about the low-key party with his pals." Also, she told him he's getting fat. So then, George was all, well NVM THEN have an amazing birthday BY YOURSELF!!!! "She couldn't believe he dumped her so matter-of-factly on her birthday," sobs a source. Amal Clooney Is A Birthday Diva Just Like Us.
G/O Media may get a commission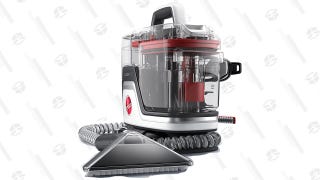 Save $10
Hoover CleanSlate Plus Carpet & Upholstery Cleaner
Tori Spelling, "the perennially put-upon wife of Dean McDermott," smells betrayal because Dean had a two-hour long lunch with his ex-wife. "Did we mention that his ex is both beautiful and Tori's archrival?" mentions inTouch. A former track coach of Bruce Jenner's reminisces about a party Bruce and ex-wife Linda Thompson threw in the '80s, in which he "struck up a conversation with a good-looking woman in a tight dress and high heels" and then realized "it was actually Bruce in women's clothing." Someone inTouch describes as "a male shot-putter" chimes in: "Believe it or not, he said he always just wanted to sit and be pretty."
J.Lo and Casper Smart are back on, and despite the fact that their relationship ended "amid allegations that the choreographer, 27, was sexting transsexual model Sofie Vissa," she wants to have his bb. But not without some paperwork: She's worked out an "ironclad agreement to make sure the past doesn't repeat itself," which includes the rule that Casper "can't go out at night without approval." Free Casper. Other baby news: Adam Levine recently said that he and his wife who is my age, Behati Prinsloo, are looking to have a baby "next spring!" "Behati is still young and really wanted to wait...but she finally came around." Ew. He wants a son, so he can "groom the kid to be a little rock 'n' roller, just like his daddy!" Ew.
Two and a half years after her divorce from Tom Cruise, Katie "Emily Dickinson" Holmes is "consumed by loneliness." This is because she spends "nearly all her time with one person: her 8-year-old daughter." WHAT a psycho. And get this: she stayed in on a Saturday night to paint a bedroom, like the biggest loser in the universe!!! "She knows she has a problem, but unfortunately, she only feels safe in her little world." Everybody shake your head on three.
Grade: F (Sexual rejection by a high schooler on spring break in an 18-and-over nightclub in Atlantis)
---
Life & Style
KOURTNEY CATCHES SCOTT IN BED WITH ANOTHER WOMAN
Lord Disick, sexually ambitious drunkard, is at it again: Kourtney Kardashian found Scott in bed watching movies with her younger sister Khloe, which was totally unchill and suspicious. Also, he reportedly "offered his waitress money to suck on her toes," and she was like, sure, and then he never paid her (!). FANTASY SUITE DRAMA, Y'ALL: Bachelor Chris's three consecutive fuck dates "were a nightmare—complete with tears, sex and jealousy." Yes, you heard me, sex: a source hints that the three remaining Bachelor contestants will have trouble avoiding it. While you can technically use the camera-free evening to talk, "the production staff does fill the nightstand drawers with everything you could possibly need for a sexual encounter. They place every kind of condom you can imagine in there, and different kinds of oils and lubricants." Every condom imaginable. Is there anything more arousing?
MISCELLANY: Blake Shelton is drinking too much, causing *major* *strains* in his relationship with Miranda Lambert—and in their babymaking plans: "We know alcohol can reduce sperm count," says ob-gyn Dr. Sheryl Ross. In other gynecological news, Kate Middleton is wearing a lot of blue, thus officially confirming that she will indeed, 100% for sure, be bearing a boy child. Patrick Schwarzenegger was "livid" to find his girlfriend Miley Cyrus "flirting, cuddling and smooching with sultry singer Rita Ora" at some event or another; for the long-suffering 21-year-old, "who's displayed a high level of tolerance for Miley's antics," this was the final straw: "You've humiliated me for the last time!" he yelled, referring I think to the fact that Rita Ora isn't very talented. Someone made the unwise decision to take another angry man, Charlie Sheen, out to dinner and boy does everyone regret it: he was "waving his silverware in the air like he just didn't care and also drumming out hip-hop beats with his silverware on the table."
Grade: F (Every Friday night for the rest of your life at a high school football game on the arm of a prickly-haired mute in Arlington, Iowa)
---
OK!
KATY'S PREGNANT!
Before I begin, please know that I hope, from the deepest recesses of my cold black heart, that whoever invented the phrase "burgeoning baby bump" is one of the 100 people signed up to die on Mars. Anyway, Katy Perry totally has one! The "buzz" is quite specific: she's two months pregs and getting married to John Mayer in April! Because "since getting together in 2010, Katy and John have been utterly unable to quit each other" [despite trying their very best to find someone else]. A source notes ominously: "They want to spend their lives together, and it looks like that's exactly what's going to happen."
It is said that Kim Kardashian pays a photoshop expert $100K per year to be on call 24/7 for photo retouching, the most literal interpretation of "selling your soul to the devil" that I have heard; James Franco is pursuing Selena Gomez, texting her 24/7 with age-appropriate date ideas: "go-carting, cupcake baking, karaoke..." What's the holdup, Selena? Courteney Cox's fiancé Johnny McDaid has "forbidden" any cosmetic procedures before their wedding, so COOL IT, COURTENEY. Finally, Lady Gaga wore a plaid shirt, clearly demonstrating that Lady Gaga is going broke. Tomorrow, I expect to see everyone wearing their best plaids in a show of solidarity.
Grade: F, for real (Binge-watching The Fall alone on a Saturday night in a creaky house with no accessible weapons)
---
Star
KENDALL PREGNANT WITH SCOTT'S BABY!
THIS IS KOURTNEY'S WOOOORST NIIIIGHTMAAARE: No, literally, Kourtney Kardashian is having nightmares about Scott's "alleged affair" with her 19-year-old half-sister/half-supermodel Kendall Jenner: "She can't sleep at night. And when she does, she'll wake up in a cold sweat, crying, after dreaming that Kendall is pregnant with Scott's baby." Kris Jenner, who is known to whisper things like Kendall is fucking your boyfriend into her daughter's ear while she sleeps, is outwardly "repulsed" but inwardly "loves it." Also, someone has located Rob Kardashian, and the news is grim: he is allegedly sending "lonely texts" to Cara Delevingne, and "it's creeping her out." :/
Ben Affleck thinks Rosamund Pike doesn't deserve an Oscar for Gone Girl because she is a rill lyfe cold hard bitch: "Ben believes she was so good in their film because she really has a dark side. He can't stand Rosamund and is dreading running into her at the Oscars." Stay tuned to find out if The Academy rewards this "conniving person" who "shouldn't be trusted." All the way on the other end of the acting spectrum: Tom Brady, despite having "zero acting experience," knows retirement is looming and thinks "he could become a huge movie star." TOM BRADY YOU GLUTTONOUS MONSTER, JUST TAKE YOUR MILLIONS AND BE SATISFIED.
Can't wait for these two to become a tabloid fixture: Jamie Dornan's wife Amelia Warner has developed "major trust issues" since Fifty Shades of Grey. "Women all over the world now lust after Jamie," and Amelia is like, he's not that great you guys. Rumors are apparently "swirling" that Dornan and Dakota Johnson became "a little too close for comfort" on set, which...really? OTHER COUPLE STUFF, SO MANY COUPLES: Behind closed doors, Aaron Paul and his wife Lauren Parsekian "live like slobs"; Ryan Gosling has "banned" Eva Mendes from cooking because "he can't stomach any of her meals"; Jessa Duggar, 22-year-old Christian newlywed, is "definitely active in the bedroom" with her husband but hasn't gotten pregnant yet, WTF. Star suspects birth control.
Grade: F (a limp handshake with Pete Doherty)
---
Addendum:
Fig. 1 , inTouch
Fig. 2, Life & Style
Fig. 3, inTouch
Fig. 4, inTouch
Fig. 5, inTouch
Fig. 6, inTouch
Fig. 7, inTouch