Welcome to Midweek Madness, Jezebel's weekly tabloid roundup that I'm gonna hijack for just a second to say bye! I'm leaving! I wasn't really here that long, so I don't know if a proper goodbye post is warranted, but I got a new job! I'll still be a contributor here but just not nearly as regularly so I guess this is it for a while! Thanks for reading! On to the tabloids where everything reported is fact and definitely real such as…

---
…this Life & Style cover story, which, again! Very real!
---
People
G/O Media may get a commission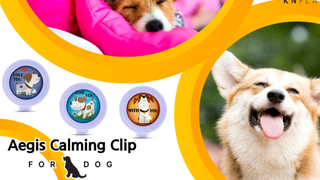 20% off
Aegis Calming Clip for Dogs
OK, so you know how there've been a bunch of headlines about how Meghan Markle and Kate Middleton are totally in a fight, but all the evidence thus far has been super paper thin and probably not indicative of anything real at all? It's so dubious and disgusting—and all for the sake of selling magazines. Pitting women against women is wrong! But pitting women against girls? Now, there's a story! This is all to say that I think Meghan does have a nemesis in Buckingham Palace, and it's Princess Charlotte, Kate and Prince William's 3-year-old daughter. Where did Meghan and Kate get into an argument that led to tears? Charlotte's bridesmaid's dress fitting. Who got to go to Pippa Middleton's wedding and reception while Meghan had to wait for the latter half of the affair? Princess Charlotte. It all makes sense—or perhaps none at all!
In other news, Gwen Stefani and Blake Shelton are for REAL, you guys, says Blake Shelton, The Notebook makes John Cena cry, Nicole Kidman has a daughter named Sunday, and Chip and Joanna Gaines have got a son named Crew. Demi Lovato has a boyfriend! Weight Watchers paid Kate Hudson to say Weight Watchers is great, Remy Ma and Papoose just had a baby, and I still can't believe Nicole Kidman has a daughter named Sunday.
A source says Ariana Grande was "frantic" after reading Pete Davidson's alarming social media posts earlier this week and tried to get in touch with him, though the source says he didn't want to see her. Cardi B's not as mad at Offset for interrupting her Rolling Loud headlining set as we are, but she's still not getting back together with him. DJ Khaled says he's got over 500 pairs of shoes in his closet, which so what. I've got at least that many regrets in my heart, and you don't see me bragging about it!
In more serious news, Eliza Dushku got a $9.5 million payout to make up for all the fucked up shit she went through on CBS' Bull early last year. She was supposed to join the cast as a regular character, but, while filming her initial three-episode arc, series star Michael Weatherly made rape jokes and talked about threesomes. After she brought up her concerns with him, she was written off the show. The settlement, People says, is supposed to make up for what Dushku would have made had she not been written off.
Also, Lee Garlington, an 81-year-old retired investment banker, recalls his three-year relationship with Rock Hudson, the Hollywood heartthrob who lent a familiar face to the HIV/AIDS epidemic following his death in 1985. "Being authentically who he was would have shattered his career," says Garlington, referring to the fact that Hudson was not publicly out at the height of his career. "I wish he had been born 30 or 40 years later. He'd be elated about how much has changed."
---
Us Weekly
Issa Rae wore it better. So did Dua Lipa and Jasmine Tookes. An ex once gave January Jones a necklace made from her dog's baby teetch, which is a hell sentence. Jennifer Lopez and Vanessa Hudgens are friends, Portia de Rossi didn't want wife Ellen DeGeneres to re-up her talk show contract—but she did anyway—and Florence Welch joked that her band's tour should be called "Nightgowns and Spiritual Confusion," which is probably funny to someone, somewhere. Speaking of Florence Welch, I'm like 99% sure I spotted her at McNally Jackson a couple weeks ago. She was on the bottom floor among the famous people biographies, staring longingly at the famous people faces before her. Infer from that what you will!
The royal family has a fun (i.e., fuuuuucked uuuuuup) holiday tradition where they weigh in before and after Christmas lunch. No wonder Princess Diana, who later said she suffered from "rampant bulimia" while married to Prince Charles, wanted out of that goddamn family.
Tessa Thompson wore a fucking braid, as did Amber Heard, while Nicole Richie's having a cool mom crisis!!!!!! "The kids would say [I'm the stricter parent]," she says. "I'm like, 'Guys, you don't know! I'm fun!'" (Me reaching over a game of poker to put coasters under everyone's beer.) Nicki Minaj doesn't care if you don't like new boyfriend Kenneth Petty, who was convicted of rape and later served time for manslaughter, saying, "Y'all can't run my life." (Me taking a shit on the poker table.)
Dancing with the Stars is going from a million seasons a year to only one, and Jennifer Lawrence refutes what Harvey Weinstein reportedly said about them having had a sexual relationship. "This is yet another example of the predatory tactics and lies that he engaged in to lure countless women," she says. And last but not least but definitely most who the fuck, Kayti Edwards, Julie Andrews stepgranddaughter, says she and Dax Shepherd fucked and made out nine years ago when he was already with Kristen Bell, but he says they fucked and made out 13 years ago, which was before he was with Kristen Bell. Seems ultimately fine, so who cares!
---
In Touch
Lana Condor wore it better, Kyle Richards might replace Kathie Lee Gifford on Today, and Kourtney Kardashian might get back together with Scott Disick.
Speaking of Kourt de Kardash, I don't think she's ever voted? I looked up the family's voting records on a whim back in June and couldn't find any record of her voting in any county she's lived in over the past 15 or so years. She wasn't even registered, per the Los Angeles County Clerk's office. Neither was Kylie Jenner. (For reference, even though the LA County Clerk's office has no record of Rob Kardashian or Lamar Odom voting in any recent election, they've still got records of them being registered to vote at all.) Caitlyn Jenner's results also surprised me. She's voted in LA County for every election since 2000 except 2016. She claims in interviews that she voted for Donald Trump, but…where? Her rep stopped responding to me after a brief exchange, so I don't know. My working theory is that she's got a vacation home in a swing state somewhere and voted over there two years ago. Anyway! My scraps of a non story that never was and never will. Enjoy.
Where was I? Oh, right. This JonBenét Ramsey cover story is absolutely unhinged. There's even an artist's rendering of what she would've looked like had she not been murdered. Tina Brown's imapct! Doria Ragland was NOT invited to Sandringham Palace for Christmas with Prince Harry and daughter Meghan Markle, Alex Rodriguez is jealous of Jennifer Lopez's Second Act co-star Milo Ventimiglia, and Joey Fatone has NOT read Justin Timberlake's book.
---
Stray thoughts: Why are they 105?????
Why is she Buzz Lightyear????
These photos of Brooke Burke are like……absolutely staged??
I mean, come oN.
Me spiraling.
Me five minutes before opening Grindr.
She's running.
Andie MacDowell on Andie MacDowell. Minnie Driver on Minnie Driver.
"white people have no culture"
Hey, Joey Fatone, is life good?
Bye xx
Correction: An earlier version of this post misidentified Minnie Driver as Andie MacDowell. Harron Walker may not regret the error, but Jezebel does. Goodbye Harron, we love you, you're fired! For now...