Welcome to Midweek Madness, where we throw balloons filled with pudding at the Wormers until they bring us copies of all the tabloids. This week: Jen's divorce papers are real, Miley is losing too much weight, Kate and William are moving to AMERICA, and inTouch will never ever stop breaking Duggar news.
Grab your balloons and follow me.
"Knock Three Times" begins playing.
---
Star
JEN'S DIVORCE PAPERS!
Ben and Jen's divorce is no rumor. It's actually happening, and Star has the documents to prove it. Oh wait. Wait wait wait. The only documents in this cover story are from her divorce from Scott Foley. What? The cover says JEN'S DIVORCE PAPERS, but the papers are from some stupid divorce from some guy who was considerably more famous in 2003? And the "agreement appears amicable"? AMICABLE? I don't read these rags for "amicable." Shame on you, Star. Anyway, Ben has allegedly "looked at a $25M condo in NYC" and Jen is "heartbroken," but no one knows when their ripped photo will finally appear on the cover of every magazine. My money's still on after the 10-year. Maybe sometime in the fall? These two should bore me, but they don't. Go figure.
G/O Media may get a commission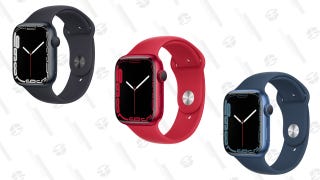 Up To $45 Off
Apple Watch Series 7
Bachelorette time! Kaitlyn, this season's woman with the roses, is apparently smitten with Nick Viall on the show, but Star's "exclusive photos" show him hanging out with Whitney (with an h) Bischoff, Chris Soules's ex-fiancee! Star alleges they have been "hooking up," whatever that means these days. Sources say they were seen at a "tiny bar...leaning into each other, chatting and laughing…[Whitney] also made a point of lovingly stroking Nick's knee while they talked." OK! But here's my question: do these people know there are other non-Bachelor/Bachelorette contestants to lovingly stroke on the knee? Have they forgotten that people with knees that need to be stroked exist outside of that competition? Leave that pond, you guys, and go for a swim somewhere else.
The real Jessica Simpson is a southern girl with her Levi's on and an open heart...WHO NEEDS TO CHECK IN TO REHAB. Sources are saying Simpson is battling alcoholism and an addiction to Adderall. "Jessica has become obsessed with keeping off the pregnancy weight she gained with her son," but "the problem is that she still likes to drink" and alcohol and Adderall do not mix well. Her friends and family "can no longer turn a blind eye to Jessica's self-destructive antics" and are urging Eric, her husband, to check her into rehab. Take care of yourself, Jessica! Then you can go back to lyin' in the grass just talkin' 'bout love.
And Also:
Chris Pratt has an ego the size of his former bod.
Kelly Osbourne is probably going to replace her mom on The Talk.
Demi Moore might follow in Rumer's footsteps and join Dancing With the Stars and Rumer is UNDERSTANDABLY PISSED.
Iggy Azalea is probably pregnant.
Rebel Wilson's boyfriend is probably an asshole.
Gaga's wedding will probably be normal.
Scott Disick is definitely not using condoms.
Wrong Answer:
Grade: D- (Someone opens a rival dinosaur theme park two islands away from your dinosaur theme park.)
---
Life & Style
AS HER WEIGHT PLUMMETS...EATING DISORDER FEARS FOR MILEY
Miley Cyrus's friends are "concerned" about her health now that the "5-foot-5 singer appears to be wasting away." Life & Style says the "recommended weight range for someone Miley's height is 119 pounds to 149 pounds," and Miley only weighs 99. She goes "days without eating any real, solid food" and instead just eats "Twiz bars and jelly beans" - causing her "bones [to jut out.]" Friends say it's because of her recent breakup, and a "nutrition expert" named Dr. Fred Pescatore says she "needs to eat more." (I wonder if he has a book called The Pescatorian Diet.) Anyway, back to Miley. Friends and family (even Billy Ray) are worried, but she is not.
The Duggars get everything free! The family—estimated to be worth $5M—has been able to afford so many things because most of it is comped! All those weddings for all those children were free because of sponsors, their home was mostly free after help from Discovery, their trips are "likely" paid for by TLC, and all their appliances were donated. But all that will probably end soon. Yep. No more free stuff for the Duggars anymore.
Kim Kardashian, currently pregnant with a boy or twins or triplets or a baker's dozen, is being "tortured by Kanye's fashion demands." An insider says "he has no clue how uncomfortable she is" in the clothes he forces her to wear, and "thinks he's a style genius." Even though Kim's feet hurt, he won't allow her to wear sneakers. Even though she's bloating, all her clothes must be formfitting. Imagine Kim's water breaking or mucus plug poppin' open and Kanye looking at her pants saying, "You'd better change before we go to the hospital or I'm not driving you."
And Also:
Who-lebrity Divorce Alert: Mike Shouhed and Jessica Parido are "calling it quits!"
Who-lebrity Divorce Alert: Scheana Marie kicked Mike Shay out of their house!
Ryan Gosling "can't stand" George Clooney.
Anna Faris drank Fiji water in public.
Robert Pattinson invited Kristen Stewart to his wedding to FKA Twigs.
Rihanna's dating an athlete. "Oh na na, what's the game," you ask? Soccer.
Wear "leafy green" prints or I will force you to eat pounds and pounds of leafy greens...without dressing.
If you don't wear colorful stripes this week I will buy you a ticket to Jurassic World (the park, not the movie) and set the pterodactyls loose.
Wrong Answer:
Grade: F (The rival dinosaur theme park starts serving Dippin Dots, and yours doesn't even serve present-day ice cream.)
---
OK!
KATE & WILLIAM MOVING TO AMERICA! Ahhhhhhhhhhhhhhhhhhhhhhhhhhhh hhhhhhhhhhhhhhhhhhhhhhhhhhhhhhhhh hhhhhhhhhhhhhhhhhhhhhhhhhhhhhhhhh hhhhhhhhhhhhhhhhhhhhhhhhhhhhhhhhh! Kate and William rented a "massive Hamptons estate" for the summer! Can you believe it? It'll be like Grey Gardens, only with more babies and weirder accents. The family is apparently "househunting," and their extended family is furious. A source says "the Queen is not happy at all, and that's putting it mildly." Though, to be fair, I doubt the Queen is ever happy about anything. If you told me the last time the Queen was happy was in 1964, I would believe you. God, I hope this is true. If only because it would give Kelly so many amazing content opportunities this summer.
Scott Disick had sex with a stripper in Scottsdale, Arizona, didn't use a condom, got her pregnant, and now he's freaking the hell out. Insiders say "After spending a mere 30 minutes at [a strip club], Scott invited his newly recruited harem back to his suite at the W Hotel in Scottsdale" and got her pregnant. OK even managed to get a photo of the alleged "baby mama":
This is a very good issue.

And Also:
Kim Richards is leaving RHOBH for good.
Amal Clooney hired a stylist.
Katie Holmes and Jamie Foxx's relationship is "finally getting serious."
Jennifer Aniston is lonely as hell.
Cameron Diaz and Benji Madden are so in love that they've "put on weight."
Tony Danza rollerbladed through Central Park.
Bradley Cooper's mother HATES his new girlfriend. Hmmmmmmmmmm.
Grade C+ (The raptors escape at your rival's dinosaur park. People die, so it's a tragedy, but your attendance goes up.)
---
Duggar Weekly inTouch
WORLD EXCLUSIVE: DUGGARS UNDER NEW INVESTIGATION
The best part of this week's inTouch Duggar story, if there is one, is the lead image. Layered on top of a photo of the family is a screengrab of a Washington Post headline that reads: "To get the Josh Duggar story, InTouch utilized solid investigative journalism." A not-so-subtle reminder that they did some actual reporting and broke a legitimate news story. The rest of the story is as dreary as the rest of the Duggar coverage we've grown accustomed to over the past few weeks. InTouch "exclusively obtained audio of" a 911 call from May 27 in which an investigator Department of Human Services wanted the police to check on "the welfare of a minor child." It's unclear why, but I'm sure we'll know the full details soon.
Moving on, Tom Cruise is in looooooovvvvvvvvvvve! The lucky (unlucky?) lady is Lola Kirke (who?) - his "20-something" costar in the upcoming film Mena (what?). A pal says "he's already sizing her up to be wife No. 4!" Reasons to believe the pal:
"One day, he walked up behind her and was caressing her back."
"They had a long conversation [after she smiled at him]."
"She's told others on the production how handsome and invigorating she finds Tom."
"She can't help but be attracted to him [despite hearing] Scientology stories."
Meanwhile:
Interview Response of the Week: Jerry Ferrara
"It Me" of the Week:
And Also:
Brangelina might be over.
Rihanna might be in love.
Scott Disick might be drunk right now.
Jessica Simpson might be drunk and on Adderall right now.
Brandy Norwood might be watching herself on YouTube right now.
Scott Eastwood might not own a shirt.
Wrong Answer:
Grade: D- (Gwyneth Paltrow, Chris Martin, and their children vacation at your dinosaur theme park.)
---
Appendix:
Fig. 1: Star
Fig. 2: Life & Style
Fig. 3: InTouch
---
Contact the author at bobby@jezebel.com.