Welcome back to Midweek Madness. Every Wednesday we voyage into the cold tundra of OK!, Us Weekly, Life & Style, Star and InTouch, in search of that rare and fabled snow-beast that is celebrity gossip. This week, Kanye has crafted a diabolical wedding for Kim guarded by an army of Pekingese dogs, President Obama basically confirmed to Jaden Smith the existence of aliens, and wait, no, seriously, Kanye West wants 12 Pekingese dogs to precede him down the aisle.
---
Ok!
ANGELINA: TRAGIC HEALTH NEWS
We are treated to three entire pages detailing how Angelina Jolie doesn't eat enough when she's wrapped up in work, which is a "health crisis." Also, the insulting insinuation that Angie forgets to feed herself when Brad isn't around to spoon mashed-up bananas and other liquid treats (or whatever) into her mouth. And this fun sentence: "Now she looks bizarre — she's stick-thin and it makes her implants look out of proportion." BARF. A DEFLATING BREAST IMPLANT FULL OF VOMIT. In other news, your boyfriend Ryan Gosling and your boyfriend Ryan Gosling's girlfriend Eva Mendez are over, says an insider. We are left sorting through the ashes, trying to figure out what went wrong. Was Ryan Gosling too perfect? Was he just waiting for you this whole time? Probably. Elsewhere in the mag, we learn the Most Important Celebrity Fact of All Time: when Jaden Smith met President Obama, he asked him whether aliens exist. President Obama replied that he could "neither confirm nor deny" that aliens are real, which means that aliens are real. Jaden Smith is currently trying to contact them via his Twitter account, I think. Next: Rob Pattinson met Dylan Penn's dad, who, the magazine helpfully points out, is Sean Penn. Sean Penn is an actor who has "played killers, psychos and affable stoners," in case you were wondering how OK! would define his career. And insider who dwells inside of Sean Penn's consciousness says that "Sean could tell Rob was nervous and kept laughing about it." Moving on: OK! elaborates splendidly on its elaborate fever dream of the Kimye wedding, which they say will be a "nightmare" for Kim. The best new (made-up) detail is that Kanye's hiring a top dog trainer to "train 12 Pekingese 'angels' to precede Kanye down the aisle." [Fig 1] WHAT?
G/O Media may get a commission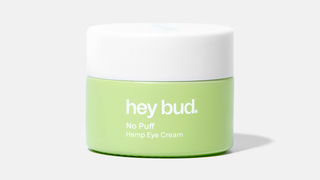 15% off
Hey Bud - No Puff Hemp Eye Cream
GRADE: D (a bedraggled mariner clad in a frosty cape)
---
Us
LIFE AFTER THE HILLS
Thank goddess: some news that the world actually cares about. Where is The Hills cast now? Do any of them have real jobs? Kind of. L.C. is a lifestyle blogger/designer; she's getting married to a man whose name is William Tell who used to play guitar in Something Corporate. The worst nightmares of every emo fan in 2004 have come true. Kristin Cavallari is pregnant with her second child and married to an NFL quarterback. Heidi Montag had her implants taken out and reduced to a C after being warned that they could FALL THROUGH HER SKIN AND LAND AT HER BELLYBUTTON. She and Spencer are still very happy together, according to their own bizarre happiness metric. Audrina Patridge is no longer close with L.C.; she's dating a BMX biker named Corey whom I recognize from her eponymous season-long reality show that I spent all of New Year's Day 2012 watching (NO REGRETS). As the only person in the world to have seen all of Audrina, I can definitively assert that Corey is a dick. Audrina deserves better. Most importantly, Justin Bobby now works as a hair stylist at a salon in Nicaragua. Next, we learn some more information about Justin Bieber's Brazilian brothel excursion. The two escorts with whom he left were "two of the area's most well-known prostitutes," so they were not allowed into his hotel and everyone went home dejected. Bieber probably should have procured ghost disguises for them as well. Finally: Robert Pattinson and Kristen Stewart are back on because he drove in a car behind her car and they hung out one time. Quick, someone call Sean Penn.

GRADE: B- (a grizzled polar bear with six toes on each paw)
---
Star
WILL & JADA: THE PHOTOS THAT WILL TEAR THEM APART!
Ugh, whatever: Will Smith took a bunch of silly, flirty-ish photo booth pictures with Margot Robbie, who is his co-star in an upcoming film. In one they are flashing the camera. "WILL CAUGHT CHEATING!" cries Star, which is very much untrue. Also: "Will bent down so Margot could climb onto his back, 'piggyback style,' the eyewitness says. 'They didn't seem to care if anyone saw them do this.'" WILL AND MARGOT CAUGHT MAKING THE BEAST WITH TWO BACKS (stacked on top of each other). WILL AND MARGOT CAUGHT BRAZENLY ENGAGING IN PLAYGROUND ANTICS. It really doesn't look that bad to me. In other news, here's the weirdest story I've ever read in a tabloid: Sleepy Hollows' Nicole Beharie bit her stylist's hand on the set? Really hard? And sent her to the hospital? And Star says she has absolutely no memory of doing so. Not sure what to say. I do not think this is true. Moving on, we have a triumvirate of sorrow: Lamar is apparently continuing to make out with random women at clubs, which is sad. Lindsay Lohan is allegedly drinking on Oprah's dime, which is also sad. A very cash-strapped Tori Spelling mentioned her sex tape in her memoir on purpose, alleges Star, so she could sell it — which is, once again, very sad.
GRADE: F (a pile of snow with musk oxen urine on it)
---
InTouch
INSIDE KATE'S SAD NEW LIFE: DESTROYED BY FAME
Kate Gosselin is sad because she's no longer "famous" and Jennifer Lawrence stole her haircut (probably) and UUUUUGGGGGGHHHH I don't care. Actually, all of this tabloid is absolute garbage — save for a kind of informative* timeline of Kim Kardashian's changing face (which could be a result of excellent contouring and/or a friendly wizard) [Fig 2] and a very necessary catch-up with the cast of The Craft [Fig 3].
GRADE: F (a desperate scientist in a moldy mascot costume making a last-ditch attempt to convince his colleagues of the yeti's existence)
*Kim's changing face is how I can tell if magazines are recycling old photos of her to use in their deranged weight loss stories. I read it like a botanist reads tree rings.
---
Life & Style
CONTROLLED BY A MADMAN
Kim Kardshian is being controlled by Kanye West, say Kardashian "pals." The L&S editors compare her to a Stepford Wife and/or a robot several times — which does make sense because she did look pretty vacant-eyed at the proposal and subsequent TV appearance. Inside sources are saying that Kim's lost all of her autonomy and that Kanye will probably make her wear an ugly wedding dress (the horror!). And then a psychologist comes along and diagnoses Kanye with OCD and narcissism. Blerg. In other news, Tyra Banks "revealed her biggest secret" to Life & Style, which is "I have too much cellulite right now!" She then went on to say that she "retouch[es] that crap out" in pictures but adds that she would like "to tell women that I'm retouching it out." Good messaging, Tyra. Also: "I won Emmys and was voted one of Time magazine's most influential people two times in a row — all with a big ass!" Uh, if that's how you want to frame it... congratulations? Moving abruptly into the realm of really harrowing, horrible news: Camille Grammer suffered a brutal attack at the hands of her boyfriend Dimitri Charalambopoulos. He allegedly battered her for nearly an hour and completely immobilized her; his lawyer has yet to respond to Camille's claims. However, Camille's strength is seriously admirable. She says, "I want women to know that there is no excuse to hit a woman. I have to speak up... I want to empower other women." Here's hoping that she recovers and continues to persevere.
GRADE: D (a wet cat in a parka)
---
Addendum
Fig. 1, Ok!
Fig. 2, In Touch
Fig. 3, InTouch