Welcome back to Midweek Madness, in which we gorge ourselves on gossip from Ok!, Us, Star, In Touch and Life & Style. This week, Prince Harry is single and looking to mingle; Kim Kardashian's baby is merely a Photoshop composite; Angelina is collapsing since she weighs only 99 pounds; and Justin Timberlake and Ashley Olsen are bumping uglies.
Ok!
"I'm Having A Baby!"
Surely you know this, but in tabloid speak, "I'm having a baby" means someday Kim Kardashian would like to give birth. She is not pregnant at present. And says so on her blog. Pretty hilarious, since Ok!'s tag line is "the magazine the stars trust." Somehow the editors managed to squeeze out four pages with quotes about Kim visiting the gynecologist, getting blood work, avoiding secondhand smoke, designing her nursery and so on. There is also a "Who Will Have The Cutest Kid?" sidebar featuring digital composites that imagine what Khloe and Kim's kids COULD look like, while comparing the two imaginary children to Kourtney's real one. (See Fig. 1) Can we talk about how Khloe and Lamar's fake baby has straight hair? That is not gonna happen. He is black. The kid will have curls. Unless that is a baby weave? Hmm. Also: "Since both Kim and Kris have siblings whose names all begin with the letter K, she's called dibs on her fave K baby names, so Khloe can't use them, if she has a child first." Next: Angelina Jolie and Brad Pitt are talking about getting hitched. A source says, "The kids have made it very clear they want Mommy and Daddy to get married." And everyone knows that adults do what kids say! By the way, Angie and Brad will be filming the sequel to Mr. & Mrs. Smith, a movie absolutely no one is clamoring for. Paris Hilton claims she is too shy to be a mean girl. "I am one of the sweetest people that I know. I am always nice to everybody and I am never mean to anybody," she says. Ahem. Thrown in alongside all the celeb gossip is a Casey Anthony story titled "Murder Or Accident?" Kind of weird. Finally: "They Look Better With Curves" is trying to seem like a good idea, since it's claiming that LeAnn Rimes, Megan Fox, and Ashley Simpson look great with more meat on their bones, but actually, judging women's bodies? Still not cool. Thanks!
Grade: F (bologna)
Life & Style
"A Wedding And Two Babies!"
Kim Kardashian's wedding has a budget of about $3 million. She wants it to be huge, formal, and for Christina Aguilera to perform. Kourtney is ready to have another baby. BUT. The family is concerned because Scott "American Psycho" Disick has started drinking again. He thinks he can drink responsibly, so he's having a beer at a club here and there. SLIPPERY SLOPE, DUDE. Meanwhile, Khloe is working with a doctor and a TEAM of people to help her get pregnant, and when we announced this out loud in the office, Anna North said, "That sounds like a gang bang. Sorry." We will assume that Lamar is on this "team." Olivia Wilde is in a love triangle, with Bradley Cooper and Justin Timberlake making up the other sides. She is seeing them both and juggling these hotties as she "heals her heart." But Justin was spotted with the Olsen twins while Olivia was with Bradley, so. Cameron Diaz and Alex Rodriguez have split, says an insider: "He needs to focus on baseball, and that's all there is to it." At first, she told him that she didn't want to get married or have kids, but then she started pressuring him for commitment. Ladies be changing their minds! Ramona Singer of The Real Housewives Of New York had a breakdown in Morocco, where she and Jill Zarin got into an "explosive fight." Afterward, Ramona collapsed in her room and writhed, while in tears. But you see, the incident with Jill came on the heels of a trip filled with too much Pinot Grigio and a "devastating" reading from a fortune teller. Sigh. Here are some pictures from Niecy Nash's wedding! Check out her cute shoes. And Miss J from ANTM was there! (See Fig. 2a, 2b) Finally: Did you know that Pippa Middleton texted her sister Kate while the Duchess was on her honeymoon and apologized for those "topless" bra pictures that surfaced? Also, Pippa feels guilty about her sudden rise to fame and feels bad about getting more attention than Kate. Sniffle.
Grade: D (pimento loaf)
G/O Media may get a commission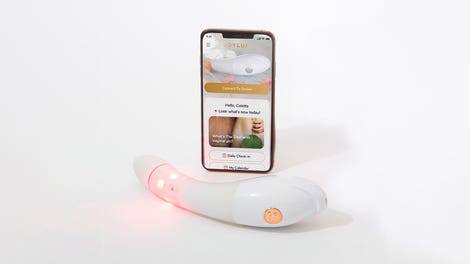 $50 Off
Joylux vFit Gold Device
In Touch
"Emotional Reunion."
Jen and Brad hadn't really been talking to each other lately, but when Brad found out that little doggie Norman died, he called Jen — secretly, because of course, Angelina would not allow it — to express his condolences and chat about memories of their life together with Norman. He also told Jen how much his mom misses her. Brad and Jen have had other conversations recently, one of which lasted more than 30 minutes! Exclamation point! Brad, architectural enthusiast that he is, plans to help Jen renovate her new NYC apartment — and is going to give her a Ralph Lauren cashmere blanket (?). Angie would be furious if she found out, OBVS, because she looks down on Jen and calls her the Valley Girl. Moving on: Justin and Bradley are "battling" for Olivia. Dressed like gladiators, in an arena. Put on some lipstick, push up your boobs: Prince Harry is single again! He and Chelsy Davy got in a fight over the wedding — she doesn't want to be a princess — and now they are dunzo. Is LeAnn Rimes too thin to get pregnant? Get out your stethoscope and medical degree and decide! (See Fig. 3) Also, for Kim and Kris, "the honeymoon is over and they're not even married yet." She is demanding they get married in July or August — and hired a wedding planner before Kris even proposed. Plus, she's already working on ANOTHER reality show that revolves around her being a newlywed. Romantic. (See Fig. 4) Oh, look, another story called "Do They Look Better With Curves?" Barf. Is Jennifer Garner pregnant? Her rep denies it, but since she has a wrinkle in her shirt — and an arrow pointing at the fold, with the word "bump" — she must be. Jessica Simpson has a "no cheating prenup," which makes sure that if Eric strays, he gets zero cash. Sandra Bullock wants to get her marriage annulled, because she believes that Jesse James entered the union under false pretenses. Between dates with Blake Lively, Leo DiCaprio was spotted with a brunette named Natalie at the Monte Carlo beach club. They shared a private cabana, and you know what that means.
Grade: C- (liverwurst)
Star
"Angelina 99 Lbs!"
Brad Pitt has staged an intervention because Angelina Jolie is down to 99 lbs. and has been fainting. Allegedly. We would like to point out that the freaky arm on the cover is either Photoshopped to be thinner or just a weird angle, because Angie was at a screening on Tree Of Life on May 24 and looked just fine. Really good, in fact. Her arm looked totes normal! Anyway. She has collapsed several times, so Brad staged an intervention on Shiloh's 5th birthday. Brad leaves food out all over the place, hoping Angie will snack. She is NOT a pet bunny! He wants her to gain 10 lbs., yadda yadda. Let's move on. Jen Aniston is being called "the new Angelina," because the man she is dating, Justin Theroux, seems to have had a girlfriend up until very recently. Justin denies that anything is going on with Jen, and so does her rep. But Justin and Jen recently had a dinner date in L.A. So. Bradley Cooper is "Wilde" about Olivia, and they were seen snuggling, caressing, whispering, touching, kissing and flirting. Rosario Dawson wants to date Colin Farrell, who is kind of a dirty dog, but they're both in Total Recall, so she may get her chance. Pete Wentz hit the red carpet with an up and coming singer — who is touring with his band — and couldn't keep his eyes off of her. Nic Cage might be getting his third divorce. He spent a week at the Chateau Marmont without his wife and looked "terrible," "like a guy whose world is crashing down around him." Doesn't he kind of look like that all the time? Kate Middleton's first grown-up makeout session was with a girl at her boarding school, which is sooo boarding school. The girl, Jessica, was just teaching Kate how to kiss, because she'd never kissed a boy, and "it was not the first step on the way to a lesbian affair." FYI. Kate Hudson and Matt Bellamy are in turmoil over their prenup! If he cheats, he will lose everything. If she cheats, no harm, no foul. Since she has so much more money than he does, he'll be on a payment plan, and get an allowance. Sounds good. The aunt of the ex-wife of Eric Johnson claims that he is just "using" Jessica Simpson. "All he is after is fame," she says. Robert Pattinson has dumped Kristen Stewart! Well, maybe. He has been partying in London without her. And she's been sobbing, because he seems bored with the relationship. He doesn't answer her calls late at night, which she finds infuriating. One of his "friends" says: "He drinks and flirts and acts like a single guy when she's not around." Christina Aguilera got wasted again and had to be almost carried out, and by that they mean she had to hold someone's hand as she left an L.A. "hotspot."
Grade: C (turkey)
Us
"How Leo Won Blake's Heart"
Leonardo DiCaprio and Blake Lively are having a "whirlwind European romance!" Here's what that means: Blake is in France to brush up on her French and take cooking lessons, but also hanging out with Leo, and a source says it has become "like a very romantic study abroad program." For instance: Moonlight hand-in-hand strolls through Monte Carlo. "Hopscotching the hot spots" of the Riviera. Yachts. Lots of yachts. They watched the Grand Prix from a yacht in Monaco. And at some point had helicopter ride. Somewhere in France, Leo ordered a special basket of crudités and said to Blake, "You're going to love this." She gasped. He left a tip equal to the cost of the meal. She was impressed. Then they drove up the coast in a Mercedes-Benz and stayed in a $5,000 a night double suite in the Hotel de Paris. For Blake, this is all a "dream come true," since she's had a crush on Leo since Titanic, which came out when she was ten. Leo has been working his schedule to fit around her cooking and French lessons, so, um, they are having an awesome time. Let's move on. Olivia Wilde and Bradley Cooper are "definitely hooking up." Ryan Phillppe and Amanda Seyfried have broken up, and it says here that it was mutual, but since he got some other chick pregnant while he was dating Amanda, we have our doubts. Justin Timberlake and Ashley Olsen are maybe kinda sorta allegedly having the sex. They were seen at the Greenwich Hotel in NYC, and they "looked comfortable together," and you know what that means. They hung out three times in six days, and "they are hooking up," says an insider. In addition to staying at the same hotel, she hung out backstage at Saturday Night Live when he hosted — and attended the afterparty; then they went to the Broadway show Book Of Mormon and had dinner at JT's restaurant; then they went to see some other play and then they went to a polo match. The two former child stars like to talk about fashion, and Justin "likes how smart she is." She doesn't want anything serious, but is into a fun summer fling. Next: Jennifer Aniston and Courteney Cox have not been photographed together since June of last year. Aren't they BFFs? Well. They had a spat because of CC's rumored romance with her costar — Jen thinks CC is being callous by hanging out with some new guy but refusing to file divorce papers, ending things with David Arquette. Interestingly enough, Jen's new man Justin Theroux had been dating a stylist for six years when he started hooking up with Jen on the set of Wanderlust. So, you know, messy business. Moving on: Angelina was seen buying toaster strudels and pancake syrup at a Whole Foods in Beverly Hills, because she is so normal. She's just like you! Also, the Jolie-Pitt kids are often covered in paint and Brad says they all have mud fights. Brad also says the kids want them to be married. By the by: Adele is "addicted" to Ikea. Lastly, 60% of Us readers think Esperanza Spaulding has a better afro than Solange Knowles. (See Fig. 5) Scintillating!
Grade: C+ (prosciutto)
Addendum
Fig. 1, from Ok!
Fig. 2a, from Life & Style
Fig. 2b, from Life & Style
Fig. 3, from In Touch
Fig. 4, from In Touch
Fig. 5, from Us