Welcome to Midweek Madness, Jezebel's weekly tabloid roundup, where the stars are just like us in the sense that they are also, presumably, ignoring Katie McDonough's unprovoked tangents on the benefits of CBD.

---
People
Deep relate @ this Jennifer Lopez cover story where she talks about getting right with herself before trying to find another man. "I knew there was something going on that I did not understand," she said. "I realized you've never been alone." And, in the words of RuPaul, if you can't love yourself, how in the hell are you gonna love somebody else? Actually, fuck that guy. Let's give my friend Torrey Peters, a wonderful person and writer who doesn't care if trans women do drag and most importantly never watched a man drown, the "in the words of" treatment. She once told me something like, "It's impossible to have sympathy for other people if you don't have sympathy for yourself." That's applicable to J.Lo's situation, right? Let's say it is.
Elsewhere in the mag, Kevin Hart's hosting the Oscars! Kevin Hart's not hosting the Oscars! Ariana Grande says that 2018 was "one of the best years of my career and the worst of my life," Sarah Hyland underwent a second kidney transplant after her first failed dialysis treatment, Cardi B and Offset have separated, and Michelle Williams (not to be confused with Michelle Williams) has ended her engagement with Chad Johnson. Thank god!
G/O Media may get a commission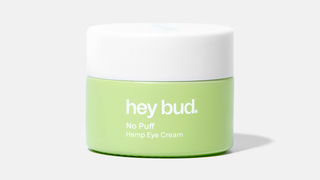 15% off
Hey Bud - No Puff Hemp Eye Cream
Lucas Hedges is sexually fluid, and Angelina Jolie has reached a temporary child-custody agreement with her reportedly fucked-up ex, Brad Pitt, just in time for the holiday season. It's taken a while for Regina King to reach the career success she's now experiencing at 47, but she says she wouldn't change how or when it happened. "I don't question the universe," she says. "It's happening exactly the way it's supposed to." Other things happening: Carrie Ann Inaba will replace Julie Chen on The Talk, Meryl Streep's playing something named Topsy in the new Mary Poppins move????, Padma Lakshmi is pro In-N-Out, and Kenya Moore says she might return to The Real Housewives of Atlanta. "Never say never," she warns.
---
Us Weekly
Bee Shaffer wore it better. Who is Bee Shaffer, and what does she want?! Kim Kardashian says husband Kanye West "felt like shit" after that Cher musical actor called him out for texting during the show. He was just taking notes because he loved it so much! She swears! John Mayer reportedly wants to fuck Kourtney Kardashian, and thank GOD she reportedly does. not. care. Courtney B. Vance says wife Angela Bassett inspires him, which same! No one wants to play with Maroon 5 at the Super Bowl halftime show, Taylor Swift's boyfriend's going to propose to her, and Jon Gosselin won sole custody of son Collin. Irrelevant dad Thomas Markle says he "can't believe" the way his daughter, Meghan Markle—yep, that Meghan Markle—is treating him. A source says the interview left her "in tears." Woof! Us Weekly also spills details from Brad Pitt and Angelina Jolie's previously sealed custody battle, including something about Angelina telling son Pax that Brad didn't want her to adopt him. This is such an awful note to end on. Uhhhhh…………hey, look! Some Bachelor folks wore funky sweaters! Much better.
---
Globe
Here are a buncha things from the Dec. 24 issue of Globe, ranked in order of how real I think they are: Kym Johnson had lunch, Jason Momoa used to be a lifeguard, Pat Sajak's confused, Melanie Griffith tried to fuck Alec Baldwin on the set of Working Girl, Blake Shelton and Gwen Stefani are adopting a "two-year-old orphan girl," Nicole Kidman ate a bucket of KFC chicken tenders with large fries and nuggets, Meghan Markle plans to renounce her American citizenship to avoid paying taxes in April, Jackie Collins was reincarnated as a fucking fly, and Kim Richards is doing great.
---
Stray thoughts: Are fursuits the latest kink accessory that's gonna be decontextualized and worn by rando normies in the weirdest, normiest way à la chokers and harnesses??
This is in conversation with Macy Gray's "MY NEW ALBUM DROPS SEPT. 18, 2001…BUY IT!" gown she wore to the 2001 VMAs.
This is in conversation with grass.
Be hot and rich.
Nicole's giving off deep To Die For vibes in this new Roger Ailes movie……
Still can't believe you all convinced me Hugo Simpson here was hot.
This fucking pun.
Andie MacDowell canNOT believe it.
Name a more iconic duo.
I have…………never been so insulted in all my life.
Good night!