Welcome to Midweek Madness, where we decide to get National Enquirer instead of some of the other rags because a reader requested it last week and it feels good to grant a wish. This week, Miley is pregnant in the U.S.A., Portia dumped Ellen, and Eva married Ryan.

Ana Gasteyer Satirizes the Girl Boss in 'American Auto'
---
OK!
Because Ryan Gosling and Eva Mendes have been together for so long without tying the knot, we've spent years watching gossip surrounding their relationship go back and forth between "THEY'RE DEFINITELY SPLITTING FAM" to "THEY'RE DEFINITELY GETTING HITCHED AND THE WEDDING IS GONNA BE LIT" so frequently that this feels like a non-story. But! It's what we've got, so I suppose we must spend at least a little time on it.

"Hollywood's sneakiest couple" (is that a compliment? and is it even true?) held a "hush-hush wedding ceremony" with about 30 guests at their Los Angeles home "in early June." A source says Eva offered Ryan a prenup, but that he rejected it because he's a "true romantic." Two rich and famous people? No prenup? If you'll allow my Texas accent to peek out for a moment: Now that there don't make a whole lotta sense!
G/O Media may get a commission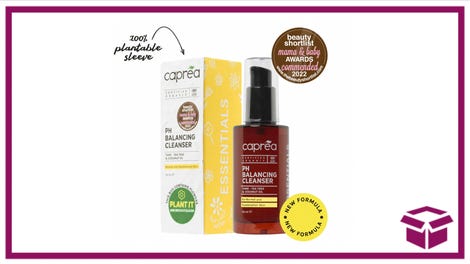 Save $9
47% Off Essential Organic PH Cleanser
Sustainable beauty
Caprea's Essential Organic PH Cleanser is just $10 with promo code TEN. Normally $19, this foaming face wash is crafted with organic Monoi oil. It's meant to target the production of oil secretion while protecting your skin against air pollution. Normally $19, you can save big on this richly-lathering face wash while supporting a brand that keeps the environment top of mind.
But who cares? Ryan Gosling is more boring than an episode of The View on half-speed and Eva Mendes has yet to star in a better movie than 2005's Hitch, so let's move on.
Miley Cyrus "has been telling pals that she's pregnant with Liam Hemsworth's baby! THAT'S exciting. THAT'S important. THAT'S real news. A source says she started telling her besties about the pregnancy two months ago. Since the general rule (or so I'm told) is that you don't typically start telling people until after your first trimester, that would mean Miley could be...five months pregnant? Do we believe that? If it's true, here's how she told Liam:
MILEY: Liam.

LIAM: What's up babe.

MILEY: Liam, I have news.

LIAM: Good or bad?

MILEY: Both.

LIAM: What does that mean?

MILEY: It means the news is both, Liam.

LIAM: Babe, you're freaking me out.

MILEY: Liam, just listen.

LIAM: Spit it out, babe.

MILEY: OK. [she takes a deep breath] Liam. I'm pregnant.

LIAM: Pregnant how?

MILEY: What? The normal way.

LIAM: Babe, you're not making any sense.

MILEY: I don't know how I can make this any clearer, Liam. I've got a baby in me. You put it there.

LIAM: OK.

MILEY: OK?

LIAM: Yeah, whatever. Chris has one. It's chill.

MILEY: Chris has three.

LIAM: Whatever, babe. One. Three. It's all good.

MILEY: I think we'll have to talk about this later.

LIAM: OK just lemme know. I'm here for you, babe.
---
Star
The first thing you should know about Star's cover story this week is that the headline is "PORTIA PULLS OUT." The second thing you should know about Star's cover story this week is that she "pulled out" of her relationship with Ellen DeGeneres "for a man!" The exclamation mark and italics were Star's not mine, but I suppose I understand where they're coming from. One of the country's most high profile same-sex couples is breaking apart because one of them is involved in a heterosexual romance? That's kind of a shocking rumor, I guess. But the story leading up to their split is pretty standard: They're together for a while, they start fighting a lot, they argue about kids, and then they get jealous of "little inside jokes" Ellen has with Kate McKinnon and feel left out when around the two of them. A source says Portia "sometimes feels like [Ellen and Kate] have deliberately excluded her." I bet it goes down like this:

KATE AND ELLEN: [laugh]

PORTIA: What's so funny?

ELLEN: Oh nothing, hun. Just some dumb thing.

PORTIA: I like dumb things.

ELLEN: I know. You like me.

PORTIA: I'm not trying to be cute. What's funny?

ELLEN: It won't even make sense, Porsche. I'm serious.

KATE: She's right, Porsche. It's kind of an inside joke.

PORTIA: Try me. And don't ever call me Porsche again.

KATE: Well. Ellen and I were talking about Ruby Rose, and...

PORTIA: Who's Ruby Rose?

ELLEN: See what I'm saying?

PORTIA: Just tell me who the fuck Ruby Rose is and finish the goddamned story!

KATE: So. OK. Ruby Rose is an Australian actress. She's also gay. We were talking about how it's funny that she and Taylor Swift are friends now, and I said, "Looks like Taylor needed another shrimp on her Barbie!"

ELLEN: [laughs]

PORTIA: I don't get it.

ELLEN: Hun, I told you it wouldn't be funny to you. Katie and I just joke about Taylor sometimes.

PORTIA: You never joke about Taylor Swift with me. You never joke about anything with me anymore. I'd love to joke about Taylor Swift with you, but instead you save your laughs for Ghostbuster over here.

ELLEN: Hey, leave Kate out of this.

KATE: No, no. Keep me in. I love it.

PORTIA: SHUT THE FUCK UP.

KATE: ...I think I'm gonna go...home.

ELLEN: Tell Taylor hi.

KATE: [tries not to laugh, but can't hold it in]

PORTIA: GET THE FUCK OUT OF MY HOUSE.
---
National Enquirer
I haven't flipped through an entire issue of National Enquirer in...a very long time, so it was sort of a joy to see how wild and all over the place all their stories are.
There are stories about politics. Old celebrities. Young celebrities. Dead celebrities. F-list celebrities. A-list celebrities. There are ads for Charlie Brown figurines and John Wayne jackets and bathtubs optimized for senior citizens. It is a treasure trove of good content, and these are my favorite claims:

Johnny Depp has six months to live.
Angelina and Brad haven't seen each other in 125 days.
Elizabeth Taylor's son-in-law wants her body exhumed to prove she was murdered by her "smooth-talking manager Jason Winters."
Sarah Paulson and Holland Taylor are definitely in love.

The Clintons may be responsible for the deaths of 65 people.
Justin Bieber has already started planning his funeral.
Corey Gamble is paid $300,000 a year to pretend to be Kris Jenner's boyfriend.
And the best story:
Paul Walker's ghost is haunting the set of Fast 8.
---
And Also:
Brad might be cheating on Angie with younger women.
Tyga "has ties" to everyone in the New Bling Ring.
Kaley Cuoco is "micromanaging every aspect" of her younger sister's career, and wants her to be a successful singer.
Keith Urban is jealous of Colin Farrell because he's currently filming a sexy new movie with Nicole Kidman.
Matthew Perry wants to date Katie Holmes but she isn't having it.
Demi Lovato has a huge crush on Bruno Mars.

Suri Cruise has been "taking acting classes for more than a year."
Bradley Cooper and Irina Shayk are "getting engaged."
Bobby Finger is flying to space.
---
Wrong Answer:
---