Welcome to Midweek Madness, where we pick up copies of OK!, In Touch, Life & Style, and Star, take them to the cashier, pay for all four, get to work, and realize they hadn't switched out the In Touch's from last week's and that we sort of got screwed by paying for it again.

Today, Maddox and Brad had a "secret meeting" that ended in a movie-ready outburst, Kate Gosselin is being investigated for child abuse(?), and Taylor Swift is fucking pregnant.
---
OK!
Correct me if I'm wrong in the comments (actually, don't!), but I think this is the first TAYLOR SWIFT IS PREGNANT tabloid cover I've ever seen. There was one about her and Adam "Calvin Harris" Wiles getting married and planning for a baby over the summer (or was it the spring? ah, time), but never something as explicit and large-fonted as OK's cover this blessed day. PREGNANT! it screams, along with a helpful arrow pointing at what they call a baby bump. But is she? Let's open up this hideous cultural document and find out.

It appears that some insiders have reported that "people are saying" Swift is pregnant (they suggest that it's with Wiles's baby) because she's been "superemotional (sic) lately." 1) The thought of being a fake source who reports on other fake sources is hurting my soul, and 2) I've been "superemotional" lately, too, but that doesn't mean I have a human being growing inside me. Or does it? Let's not go there. Let's go here, to this wild paragraph:

Adds the source, "People are saying she's been feeling nauseated a lot." (As anyone who has ever been pregnant can attest, eating loads of carbs is often the best cure for so-called morning sickness.)
G/O Media may get a commission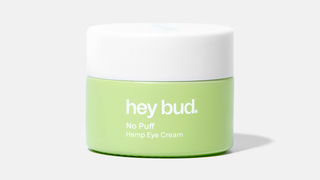 15% off
Hey Bud - No Puff Hemp Eye Cream
Thank you, OK!, for finding time to share a potential cute for morning sickness in your cover story about whispering weirdos spreading rumors that Taylor Swift has been nauseated a lot lately.
Quick thing before we move on. Did you know Rosie O'Donnell may have broken up a marriage? It appears her new girlfriend is Dana Schiff, the very wealthy estranged wife of a "financial advisor" named David Schiff. Dana's "doorman began to suspect she was having an affair" because Rosie kept showing up for "late-night escapades."
And Also:
Amber Heard asked her friend Cara Delevingne for a $200,000 loan. A source says Cara agreed because she "has always had a crush on Amber."

This quote from a hilarious insider on Christina Aguilera's inability to remember names is killing me. "She's really making an effort, but it seems the harder she tries, the less she can remember."
The Jolie-Pitt children are picking sides! Pax and Shiloh are Team Brad, and the other ones—Maddox, Zahara, Shiloh, and Vivienne—are Team Angie. I'd be Team For the Love of God Get Me Outta This Family.
---
Star:
In this week's attempt at making the divorce of Brad Pitt and Angelina Jolie seem more explosive than it actually is, Star has chosen an angle focused on the former couple's 15-year-old son Maddox. He was the child reportedly involved in the airplane spat that may or may not have led to Angie's filing of divorce papers, and now sources are saying the teen and his father "had a secret meeting" just days after the news went public in which they tried to "mend their rift."

And guess what? It didn't go well. An insider (so much for "secret meeting") said the whole thing was "really tense" and ended with Maddox "suddenly" losing his temper and screaming, "YOU'RE NOT MY FATHER!" This was followed by a montage of self-discovery by Pitt set to an Ingrid Michaelson song.
And Also:
The jeans Khloe Kardashian is selling are "too trendy," the quality is "shoddy," and they DON'T come with free butt lifts.
Andrew Garfield and January Jones may be fucking right this very moment.
Bella Thorne and Tyler Posey broke up, but Bella can't stop texting him. She's even "posting old photos of the pair as if they were taken yesterday."
Yolanda Hadid is "obsessed" with "curing" his daughter's boyfriend, Zayn Malik, of his anxiety. Said a friend (of whose?), "Yolanda had six holistic healers chanting, and throwing frankincense on Zayn, even speaking in tongues! It was like a scene from a horror movie."

---
Life & Style
In this "world exclusive," a term that somehow means less than nothing in tabloids, it's revealed that Kate Gosselin is "facing serious accusations" that she abused her son Collin, who has special needs. Says a source, "Collin said something...that was reported to Children and Youth Services, which started an official probe. The police later notified Collin's dad, Jon, that a child abuse investigation was opened."

This dark piece goes on to claim that "Jon used to have to grab Kate by her wrist to stop her from beating Collin and some of the other kids with a wooden spoon. He often had to stand between Kate and the kids to stop her from hitting them." Not much to say here, so that's where I'll end.
Here's a palate cleanser:
And Also:
Iggy Azalea is desperate to win Nick Young back, despite the fact that he cheated on her and impregnated someone else.

Gigi Hadid started carrying a stun gun after being assaulted by that dumb performance artist in Milan.
GREAT FEUD ALERT: Gavin Rossdale and Jennifer Hudson grew to HATE each other while filming The Voice UK.
Brody Jenner and his fiancee whose name I forgot mere milliseconds after reading it "are taking their time" in planning their 2018 wedding.
Wear KNOTTED DRESSES.
Wear LIPS.
Wear CAPS.
Wear SWEATERDRESS BOOTS.
---