Welcome back to Midweek Madness, in which we observe the sad, rundown zoo of human emotion contained within the pages of Star, OK!, Life & Style, inTouch, and US Weekly. This week, Khloe Kardashian may or may not give a "shocking interview" about her relationship with Lamar Odom at some point in the nonexistent future; Beyonce's ex-boyfriend acknowledges that he blew it, big time; and Jennifer Aniston has a "big secret pregnant" [sic]. Shuffle in, children; let's have a look.
---
Star
END OF SUMMER SPECIAL: BEST & WORST BEACH BODIES
Oh, here it is! The mascot of end-of-summer; the fabled Krampus figure of the end-summer season. Star has released its habitual Best & Worst Beach Bodies issue, and it is just horrific. In first place, we have Olivia Wilde; second is Vanessa Hudgens; in third is a really wonkily photoshopped image of Kim Kardashian from 2012. The photoshop on this is really bad — it almost looks like they used a makeover app to lighten the hair (because she is blonde now) and also give her darker lipstick (because they were having so much fun at that point? I can't explain the lipstick, guys). Beside the photo is the caption "New mom… is looking voluptuous as ever." [Fig 1]. Then, we are treated to a display of shirtless men with the headline "HOT DOGS." Hot dogs? Where? Do not lie to me about hot dogs, Star. The magazine has also created a "BEACH BODY TIMELINE" that spans from Honey Boo Boo (8 years old) to the Duchess of Alba (87 years old) [Fig 2]. Oh, sweet Jesus. I'm not going to say anything about the "WORST BODIES" out of human decency — but I will say that Star has a surprisingly body-accepting half page of "curvy" women with captions like "NO LOSER!" and "HAPPY & HEALTHY!" (however, the mag used those two same images on the cover: one had a "shame bar" over the eyes, and the other had "BELLY JELLY!" written next to it, so take that body positivity with an entire castle built of salt-bricks). Anyways, moving on: Demi Moore is dating the father of her ex-boyfriend Harry Morton; also, Harry Morton dated her daughter Rumer Willis in 2007. What love-shape is that, even? A love tree with aerial roots? A love squiggle? In other news, Gwyneth Paltrow's attorney aggressively tried to suppress a Star "investigation" about Gwynnie's rumored affair with a literary figure, prompting Star to write an article about how unusual such a "preemptive strike" is. Who is this mysterious literary figure? My money is on the 40 Days of Dating dude. Next: Katie Couric stole her man from a 27-year-old, says an insider. Her now-fiancee, John Molner, allegedly had a girlfriend already when he and Katie began dating, but he asked her out nonetheless. But, yes, Katie Couric is the heartless love-burglar in this situation.
G/O Media may get a commission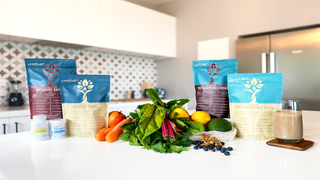 GRADE: F- (a gorilla who spells out "PLEASE SAVE ME" in condensation left by his tears in the window to his habitat)
---
Ok!
Khloe breaks her silence: I'M GLAD I DIDN'T HAVE HIS BABY
Two "close friends" of Khloe Kardashian state that she's glad that she never got pregnant with Lamar Odom's child now that revelations about his drug use have come out; Khloe has broken no silence, unless she was sitting completely still and quietly in her mansion for the past month or so and finally croaked these thoughts to two passing sprites. As for the "shocking interview that will have everyone talking," um, it might happen in the future and Ryan Seacrest will apparently be the one doing it. Nothing to see here. In other news, Sanda Bullock's 3-year-old son Louis has a blossoming bromance with George Clooney, the magazine reports. "My son thinks he's a cool dude," says Sandra. Should George Be Louis's New Dad? the copy rabidly wonders in response. Yes, quite, that is precisely how adoptive paternity works — through a quick bromance between a toddler and the Sexiest Man Alive. In much, much sadder news, Lea Michelle broke down several times while filming the Glee episode that deals with the death of Finn, who was played by the late Corey Monteith. Apparently the episode will not specify exactly how the character died, and the cast will sing "Seasons of Love" from Rent in it. Still so heartbreaking to think about. Elsewhere in the magazine, we are treated to a fan fiction set in an alternate universe in which Miley Cyrus and Liam Hemsworth did not break up two days ago. I am including this because it has several gorgeous sentences: the author sets up a contrast between Hemsworth casually "bowl[ing] a few frames and smok[ing] a few cigarettes" in L.A. and Cyrus "creating a series of international incidents" in Europe — such as nip-slipping while on air at a radio station, because radio is a visual medium. And this: "Call him old-school, but… Liam is humiliated that, with the click of a mouse, millions around the world can watch the potential future mother of his children lick a sledge hammer and writhe around naked on demolition equipment." Furthermore, Jennifer Lawrence is no longer team Miley, says this beautiful creative writing exercise, so she's in big trouble. Last but not least: Kristen Stewart is going bald. Some speculate that it's because of missing Robert Pattinson, some believe that it's because of guilt over her affair with Rupert Sanders, but basically everyone says it's because she wears too many hair extensions on set (because part of an actress's job is wearing wig bits at all times). Says an insider from the set of her new movie: "The hairstylists… were expecting to work on this gorgeous 23-year-old with perfect skin and a full head of dark hair, but Kristen showed up with big patches missing from her scalp." Oh, the horror. The on-set hair stylists were expecting to burn and pour chemicals upon the locks of a divine hair spirit, and instead they got a grumpy troll doll that had been half eaten by a raccoon.
GRADE: D (a mouse in the process of being eating by a large snake)
---
Life & Style
WORLD EXCLUSIVE: BABY NO. 2 ALREADY!
EXCLUSIVE: Prince William and Kate Middleton would quite possibly like it a lot if Kate were pregnant by December, says a person. "They would be thrilled," an insider says vaguely. I would be thrilled if Niall from One Direction sensually fed me a chicken tender, but that doesn't mean it will happen by Christmastime. Next: Kris Jenner posted a sensual bikini shot on Instagram immediately after her daughter Kendall Jenner did the same thing. Ugh, mooooooom, you're embarrassing me!!!! Elsewhere in the magazine, it's decided that Kim Kardashian is probably planning a $150k plastic surgery makeover, because why not? Thoughtfully, the editors provide an annotated version of how much each new piece of Kim would cost. [Fig 3] In other news, stop me if you've heard this before — but Gwyneth Paltrow is entitled and obnoxious and rude. According to a source, she refuses to shower at the gym she owns unless someone goes in and wipes down every surface, because she does not want to touch "someone else's shower water." Also: she hates Jessica Alba for having a blog because Gwynni Paltrow has a fun lil' blog with cheese-eating tips on it, and thus no one else should have any blog on any topic. Moving on: Jason Hoppy is furious at his soon-to-be-ex-wife Bethenny Frankel for acting scandalous on her talk show because of their baby. Examples of antics: Frankel rubbed money upon male strippers, she ground herself into a shirtless man while making a salad, and she twerked. Hoppy is worried that the 3-year-old baby will be embarrassed. Seeing as the child was defecating in its pants not too long ago, I don't think that's a prime concern? Next: Beyonce's ex-boyfriend speaks. They met in 1993! His name is Lyndall Locke! As she grew famous, he felt inadequate and cheated on her five times! Then, she called him from Jay-Z's yacht. "That's when I realized I'd lost her forever," says Locke. Yep, that'll do it. And, finally: Miley's pal says that she just got a Rolling Stones tattoo in a hidden place. If it's not that famous tongue design on her actual anus, then I don't know how to make sense of the world any more.
GRADE: D+ (a beleaguered goat in a petting zoo)
---
Us
JEN'S BIG SECRET PREGNANT
Let's take a moment to reflect upon the glory that is this cover story name. JEN'S BIG SECRET PREGNANT. The BIG SECRET PREGNANT that belongs to JEN. Jennifer Aniston is not pregnant, says her publicist — but Jennifer Aniston is pregnant, says Us Weekly and friends. As proof: her bump, which she cleverly concealed behind a corset (a obstetrician-approved bump-concealment method for sure); she's been drinking water and not tequila; one time Justin Theroux put a towel over her stomach. Congrats to them. Elsewhere, Kris Humphries is selling Kim Kardashian's engagement ring at Christies in New York, for a meagre $300,000. He might as well just put it in one of those vending machines at the supermarket that dispense plastic jewelry in exchange for a quarter. In other news, Kristen Wiig and Fabrizio Moretti got coffee in Williamsburg and it was way more interesting than any time you got coffee in a gentrified area with your ex. Moving on: Jake Gyllenhaal loves his new model girlfriend Alyssa Miller, but the most important part of this tale is her terrifying Soul Cycle antics: "The star would pop over to SoulCycle… his hair pulled into a messy topknot, and would occasionally move his bike onto the teacher's platform. All the better to bask in the admiring stares." WHAT. Anyways, Gyllenhall was seen "nibbling a piece of raw seafood off her bottom lip" in Toronto, if you need a reason to want to stay single forever.
GRADE: D+ (a pygmy hippo standing next to a pile of dirt)
---
In Touch
KHLOE'S SECRET BABY
Did Khloe Kardashian also have a big secret pregnant or adopt and hide it from us? No, so there is no secret baby — but she apparently has plans to adopt. According to a source, she visited an adoption lawyer earlier this week, and she plans to forge ahead without her estranged husband Lamar Odom. In more somber news, Michael Jackson's family has released his secret diaries in hopes of bolstering their wrongful death suit against AEG Live. The entries are rambling and arguably delusional, and make refer to his addiction problems and his crushing debt. Really sad. [Fig. 4] In other news, people are cyberbullying Shiloh Jolie-Pitt for looking like a boy. InTouch quotes mean comments from the Daily Mail, which is a progressive think tank across the pond. Also quoted: a pediatrician who says that the "consequences could be dire." Um, sorry, I think Shiloh Jolie-Pitt is too beautiful being a very cool gender non-conforming millionaire 8-year-old to catch up on the Daily Mail comment section, but thanks for the concern. Next: another unwarranted update on LeAnn Rimes' weight. She's no longer "scary skinny." Great. Next: inTouch interviews the woman who taught Miley to twerk. The article is aptly titled, "Don't Hate Me, But… I Taught Miley How to Twerk!" It turns out, the black woman whom Ms. Cyrus used as a prop and spanked enthusiastically in both her "We Can't Stop" music video and VMA performance is burlesque dancer Amazon Ashley. The pair met at a Hollywood nightclub and the rest, as they say, is history. "She's taken it to a whole new level," says Ashley. "The student has become the teacher!" The offensively context-blind appropriator has become the hideously, horrifyingly context-blind appropriator!
GRADE: D (the late Central Park polar bear loafing sadly in the peak of summer)
---
Addendum
Fig. 1, Star (on the right is the original image from 2012; see how they changed the color of the suit, the color of her hair, and the color of her lips?)

Fig 2., Star

Fig. 3, Life & Style
Fig. 4, In Touch