Welcome to Midweek Madness, where we get a text message from our best friend Jennifer Aniston that says, ":-\ Justin and I r getting a divorce," sigh, roll our eyes, respond, "Awww bb want me to come over?" to which she responds, "sure, but i'm fine alone," sigh again, roll our eyes again, hop in the car and head over to her house, where she pours us a glass of whatever's cold, and keeps us up until 4:00AM telling us the whole story, at which point she's like, "You wanna just sleep over?" and you do because the bed in her guest room is a Tempur-Pedic. This week, Justin dumped Jen, Kanye dumped Kim, Kate is pregnant, and Christine Ouzounian left her pregnancy test out for Jennifer Garner to find.
Let's begin.
---
OK!
NANNY TELL-ALL: BEN SEDUCED ME IN THE SHOWER!
Christine Ouzounian, FKA Bennifer 2.0's former nanny, is "ready to spill every salacious detail of her time with Ben Affleck and Jennifer Garner," and I'm ready to mop it all up. Here's a sampling of the spill, according to some all-knowing sources: "From the moment they met, there was a mutual attraction." Ben gave her eyes, she gave him eyes back, and then...he "joined her in the shower." Oh! Oh! And you wanna know what else? She left a used pregnancy test on the bathroom counter so that Jen would see it - which is a move that's sort of animalistic expression of dominance meets 90s erotic thriller. Next up, Kris Jenner and Corey Gamble are getting engaged! Talk about a GAMBLE, right Corey??? So she's 59 and one of the scariest people in entertainment, and he's 34 and works for Scooter Braun, one of the scariest people in entertainment. They sound like a perfect match! Can't wait to see photos of all the guests being held captive at their wedding

G/O Media may get a commission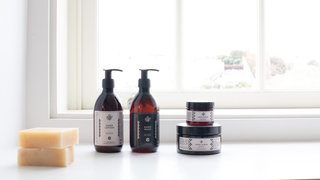 Exfoliate and Hydrate
The Handmade Soap Company
And Also:
Zac Efron has "always been interested in romance."
Rosie's daughter ran off to live with her birth mother.
Chrissy Teigen may need rehab for her selfie addiction.
Britney Spears's dad/the man who keeps her soul in a bell jar in his bedroom wants her to be single for a while.
Johnny Depp and Orlando Bloom are "at war" on the set of the new Pirates movie.
Jesus Christ, there's a new Pirates movie.
Elle Fanning screamed "THIS IS BULLSHIT" and said "FUCK" a lot at the passport office in Van Nuys.
Bradley Cooper is sooooooooooooooooooooooooooooooo in love with Irina Shayk.
Grade: F (You go out to dinner, and find one of Christine Ouzounian's pregnancy tests in your food.)
---
In Touch
PREGNANT KIM BETRAYED: SPLIT!
There you have it, everyone. Kimye is over, and here's why: Kim was bored one day, so she started snooping around on Kanye's phone. Well, as she was tapping and scrolling, she noticed some "messages on there from one of his exes—a woman he was deeply in love with before he got super famous," and LOST her mind. The two screamed and screamed for, I don't know, 36 hours? 37? And Kim "grew angrier and more vitriolic, until finally" Kanye was like, "Bye I want a divorce I'm so over this marriage!" And now they're broken up. Sad! Now it's time for happy. Sandy B will not be marrying Jon Hamm and becoming Hamm Sandy because she's going to marry Bryan Randall and become Sandall! Randall looks sort of like you took Sandy's ex-husband Jesse James to a fancy salon, and then stripped him of all that uncomfortable Nazi stuff.
And Also:
Rihanna is sick of her boyfriend Lewis Hamilton texting Nicole Scherzinger.

People text Nicole Scherzinger?

Oh my god Louis Tomlinson isn't the father of Briana Jungworth's baby.

Oh my god Kendra is dumping Hank.

Oh my god Kris Jenner is changing her name back to Kris Kardashian.

Oh my god Kate Moss can't stop drinking.

Oh my god everyone on The Talk is about to be in a car accident:
Wrong Answer:
Grade: D+ (You look through your significant other's phone and find pictures of Christine Ouzounian's pregnancy test.)
---
Life & Style
NEWLYWED JEN: DUMPED AFTER 21 DAYS
Aw, Jennifer Aniston can't catch a break when it comes to love. Her new husband, Justin Theroux, has decided to throw her Golden Globe-nominated butt to the curb because they "couldn't get on the same page" - which is very funny to me because they've been on the same page of literally every tabloid for maybe two years? In any case, they're through and we're all going to have to start lighting candles for Jen again during our midweek prayer circles. Would you like to know who got a "revenge makeover"? You would?! Good. Because I'll tell you who got a revenge makeover: Miranda Lambert. After being cheated on (and possibly cheating herself), she and Blake Shelton filed for divorce earlier this summer - and she's showing him what he's missing by making the most of her glam squad. Lambert CUT HER HAIR and MADE IT BLONDER, and you know who likes SHORT, BLONDE HAIR? Blake Shelton.
And Also:
A room in Taylor Swift's New York City home is "a BFF playground" where "no boys" —not even Calvin Harris—are allowed.

Charlize Theron lost her damn mind when craft services had brewed coffee and espresso.

Kylie is DEMANDING that Kris make Tyga a star.

Kourtney and Scott have been secretly hooking up.

Desert hues are in this week, and anyone who fails to wear them is headed straight for the quicksand.

Two-finger rings are all the rage, and this Finger is going to rage if you don't wear them.

Wrong Answer:
Grade: D- (You freak out about being late, buy a pregnancy test, and find Christine Ouzounian's inside.)
---
Star
IT'S OFFICIAL: KATE'S PREGNANT AGAIN!
It's official: Kate's pregnant again! That's right, the Royal Kate. And it's official, she's pregnant again. I know you're probably thinking, "Hey! There's no way Star would be the outlet who officially announces Kate's pregnancy!" Well I hate to break it to you, but you're wrong, because she's pregnant with baby number 3, and it's official. The Queen is "delighted to be having another great-grandchild, and sources say William said her pregnancy is a "wonderful surprise." Another wonderful surprise is the new romance between Rosie O'Donnell and Tatum O'Neal. Though Rosie had a "rough month" in August (Donald Trump called her a "fat pig" and her "daughter Chelsea went missing"), she made it through because of support from Tatum. Says a source, "They've known each other for a while but the secrecy of their dating as made it more exciting...They aren't quite ready to go public with their romance." I am, though! I'm very ready. You should listen to my heart and tell the world you're in love, because the world needs to know. And then I'll need you to invite me to dinner so I can take notes while watching you both interact.
And Also:
Kristen Stewart and Alicia Cargile might be married?

Lindsay Lohan befriended her Uber driver.

Charlize Theron was STOOD UP by a monster.

Chris Martin and Jennifer Lawrence are THROUGH.

Shia LeBoeuf and Mia Goth are THROUGH.

Katherine Heigl told her husband Josh Kelley to GET A JOB.

Josh Kelley was probably all, "HOW DO YOU KEEP GETTING THEM?"

Wrong Answer:
Grade: F (You're invited to dinner with Rosie O'Donnell and Tatum O'Neal but when you get to the restaurant you're seated at a table with Christine Ouzounian's pregnancy test.)
---
Appendix:
Fig. 1 - In Touch
Fig. 2 - In Touch
Fig. 3 - In Touch
---
Contact the author at bobby@jezebel.com.