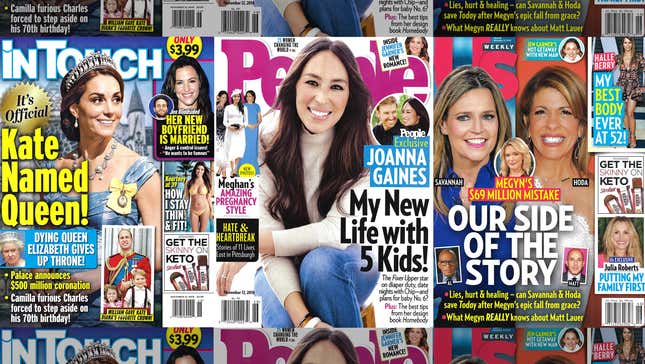 What a terrible time to be alive. Except for today. Because it is Midweek Madness, Jezebel's weekly tabloid roundup where People tries to gavage les Gaines down my gullet like one of them mistreated geese.

---
In Touch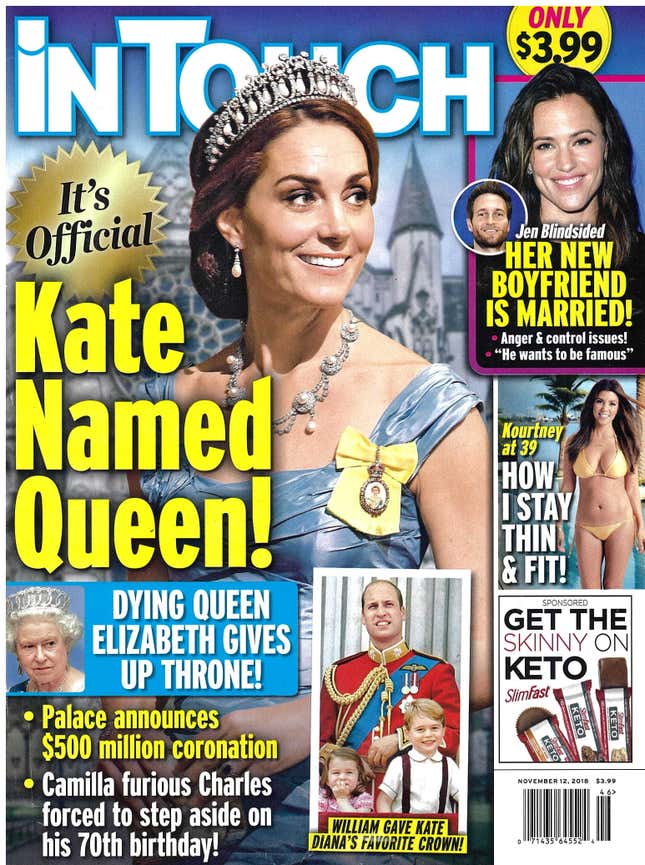 Well, this is true. According to the new issue of In Touch, "dying" Queen Elizabeth II has decided to make Prince William and Kate Middleton the next King and Queen—Prince Charles and Camilla Parker Bowles be damned!! Multiple insiders told the mag that Big Betty could "no longer ignore the popularity of her grandson and his wife" and must do anything to stop her nerd son and his debate club loser wife from ascending the throne. Ascending the throne? Ascending to the throne? Who cares! I'll never do it. In Touch says it's a business decision, really; Not Exactly Lit Lizzo's just doing her part to ensure the British monarchy remains stable for years to come. When has fucking with the line of succession ever gone wrong? Suck it, Corn Duke!
While everything's going great for Kate, Meghan Markle's not all sparkles. When she and Prince Harry landed in Fiji, she greeted the press with a price tag hanging from her dress. Then again, the dress reportedly cost $430 and she could afford it so really she's fine. And speaking of the Crown, did you know a woman named Emerald Fennell's gonna play Camilla on The Crown? More importantly, did you know there's a woman named Emerald Fennell? And it's her actual, real birth name? Wild! Almost as wild as how one Mullumbimby-born Amethyst Kelly, a.k.a. Iggy Azalea, changed her gemstone birth name which objectively ruled. What the hell? I know girls who'd KILL for a deadname like Amethyst.
Anyway, Iggy wore it worse, Rose Byrne is blonde, Post Malone blew $40,000 on Postmates, and David Schwimmer did NOT steal that beer. Pirates of the Caribbean finally dropped Johnny Depp; the dog from Frasier could NOT act; and Victoria Beckham, humanitarian, reads Vogue to children. Kylie Jenner and Travis Scott just moved into a "sprawling" $13.5 million Beverly Hills mansion. A source says "things are good" between them—which, thank you, source, but I could've guess that after reading that they'd moved into a sprawling $13.5 million Beverly Hills mansion. Kylie also fed a goat? Kendall Jenner did NOT, but she DID dress up as a femmebot from Austin Powers, which came out two years after she was born. Push me down the stairs! Reading about Kourtney Kardashian's "revenge body" gave me a revenge aneurysm; Justin Bieber and Hailey Baldwin are boyfriend twins; Jennifer Garner's friends are worried about her new boyfriend, CaliBurger CEO John Miller; and Tara Reid says Sharknado is no more. "We are absolutely done," she says. ;€
---
People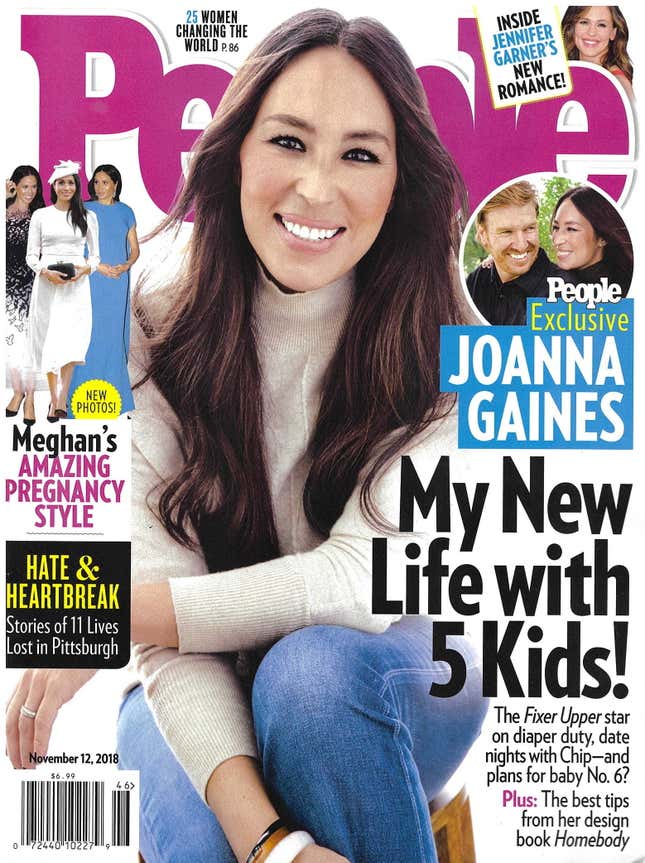 Joanna Gaines' life is fine, and I! could not! care less! Dale Earnhardt, Jr., tells People that he quit racing cars because driving cars very fast next to other cars driving fast is dangerous, which confirms a long-held suspicion I've had that driving cars very fast next to other cars driving fast is dangerous. Priyanka Chopra threw a bonkers bridal shower at Tiffany & Co.'s Blue Box Café, and Lupita Nyong'o, Kelly Ripa, and Kevin Jonas—a real anyone who's anyone or Kevin Jonas kind of affair! Irina Shayk's got a capsule collection and mom guilt, Hilary Duff's got a new baby, Mary Lou Retton just got divorced, and Meghan Markle wore clothes!! While pregnant?? Patricia Arquette says her "guilty pleasure" is eating Jelly Belly jellybeans when she has her period. "I don't have any guilt," she says. "That's a medical necessity." [Logic voice] Who can relate? And in "this sounds like one or perhaps many nicknames for my dog," chef Nathan Duensing shared his recipe for mashed potatoes with country ham and cheddar.
---
Us Weekly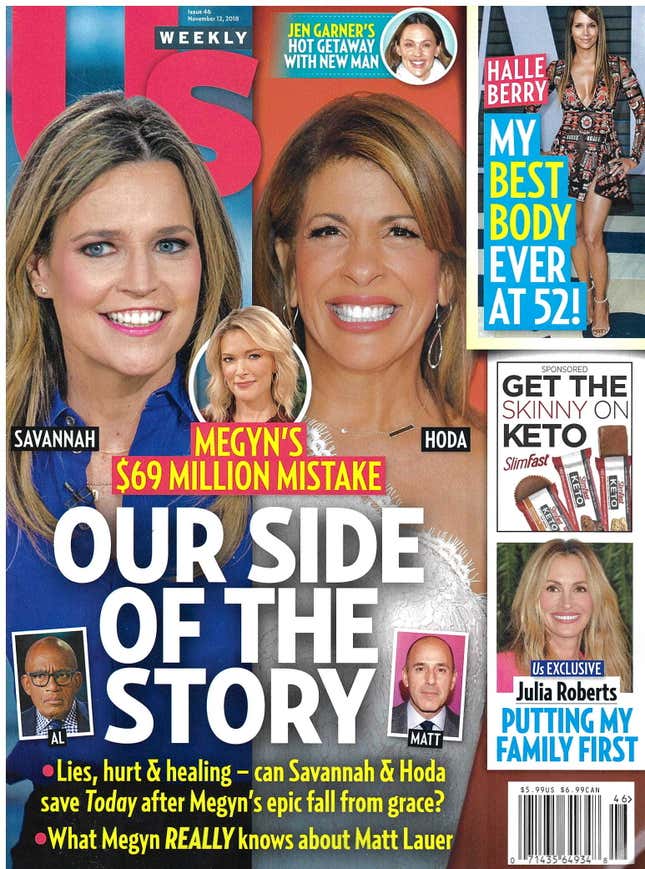 Us published a bunch of photos from Meghan Markle and Prince Harry's trip to Fiji but NOT the one where she's got the price tag hanging off her dress. Do I smell a conspiracy? No… for my nose…… does not work……………… End scene. That was acting, also known as LYING, which is what Us Weekly was doing when they told me they'd take me "inside [Eva Mendes and Ryan Gosling's] private world." I didn't learn shit! They didn't even have the decency to make up some juicy anonymous insider gossip! All we get is some anon source saying that, "they're very private," which, I know??
The insiders on the mag's Megyn Kelly cover story give us a lot more dirt, sharing that "NBC was practically waiting for a reason" to fire the former Fox News host and that nobody liked her. They say her blackface comments "disgusted" Savannah Guthrie, while the thought of upsetting viewers "saddened" Hoda Kotb. Did you know Shamari DeVoe, who's joining the main cast of The Real Housewives of Atlanta next month, is married to the eponymous DeVoe from New Edition spinoff Bell Biv DeVoe? I should've figured because like… DeVoe, but I am a dumb bitch and this is my story. Speaking of stories, Bobby Cannavale says that one time in the '80s he got high and heckled Jay Leno from the front row, and Kim Kardashian's facialist spills the deets on Kim's "golden facial," which involves neither piss nor cum nor a mixture of the twain.
---
Stray thoughts: Pig beats hog. :[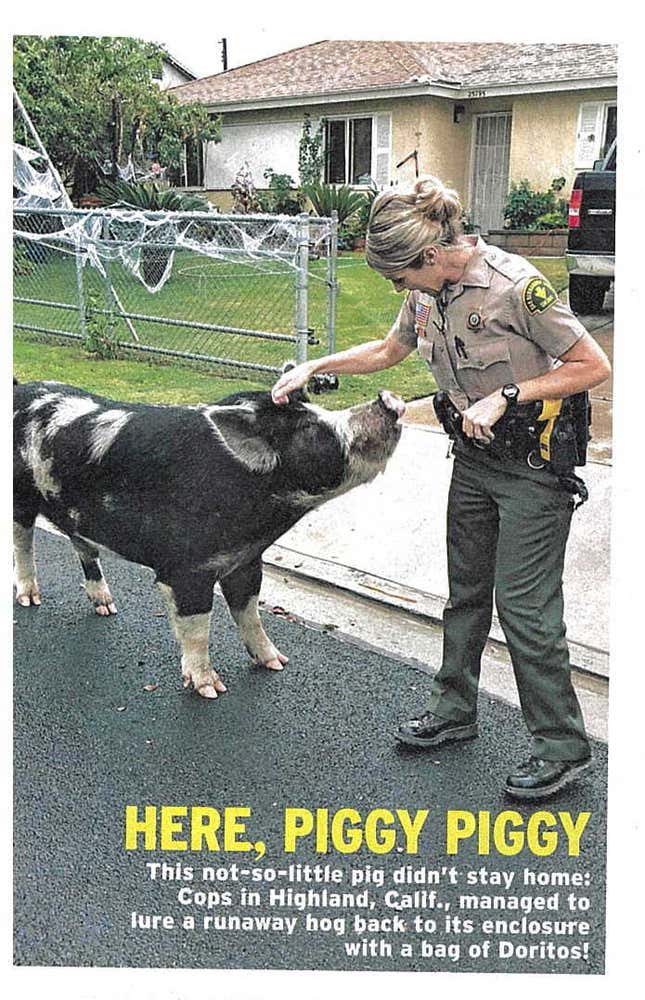 This is Lady Gaga's A Star is Born press tour clip-in, right?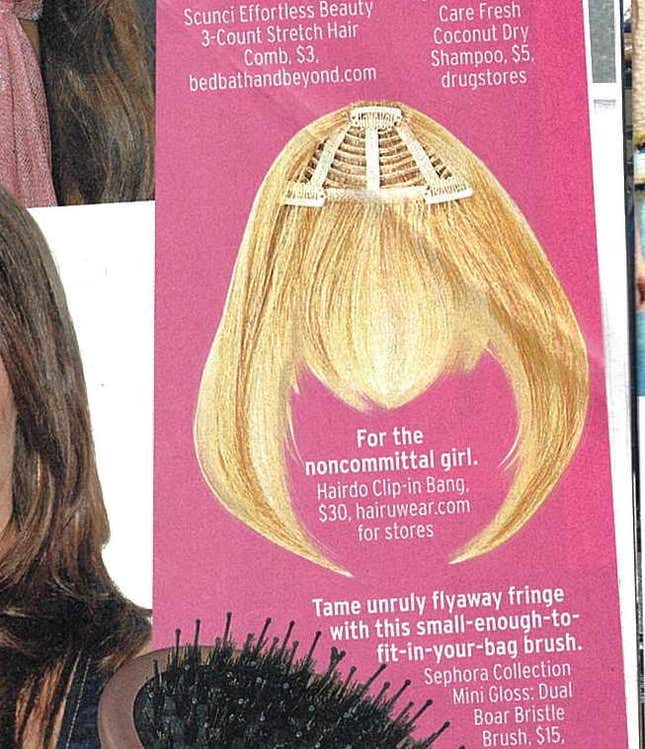 People are so mean to gay men about the whole "boyfriend twins" thing when Justin Bieber and Hailey Baldwin are right there.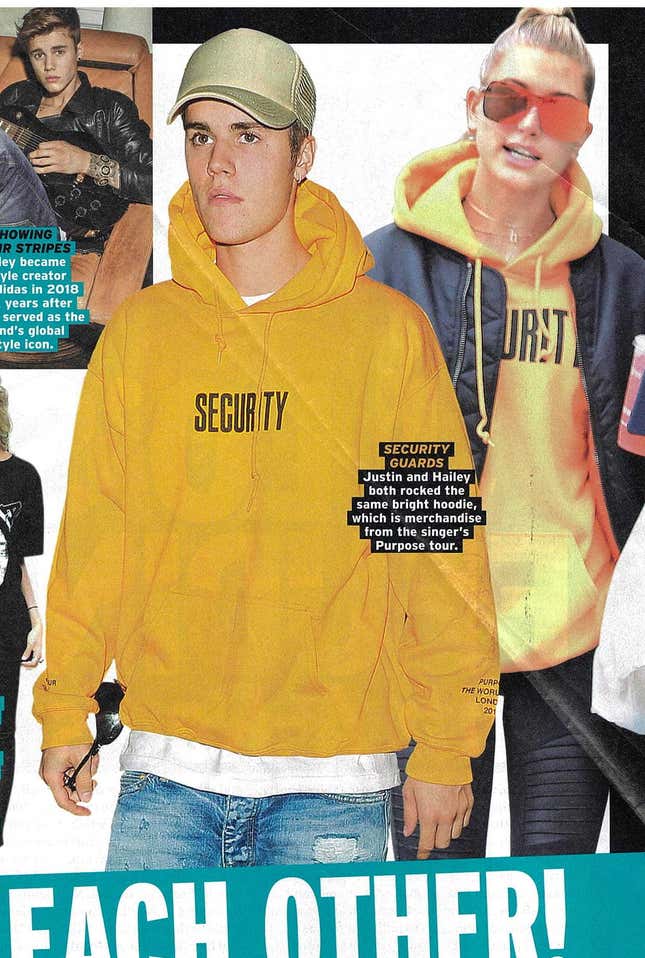 This is good.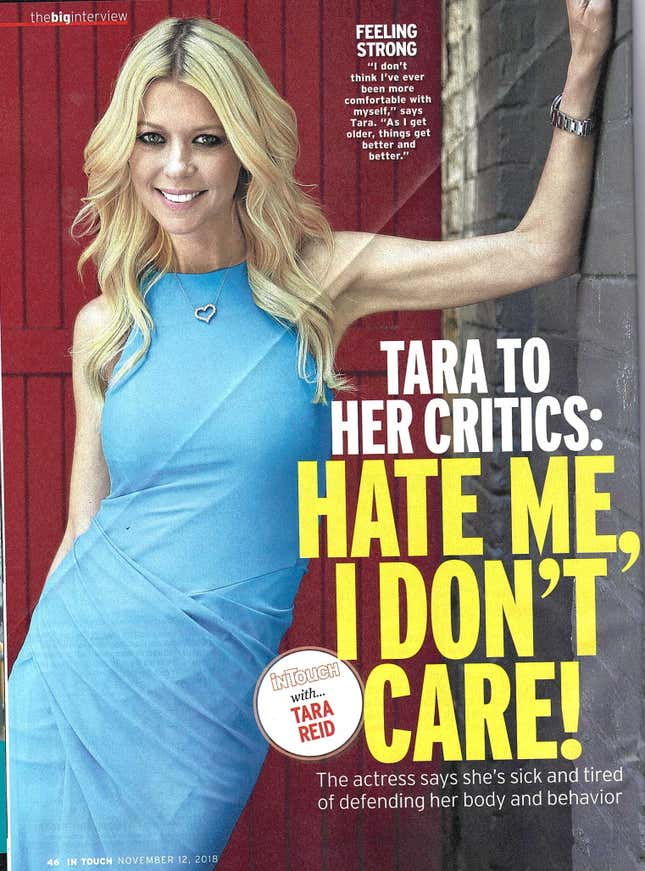 This is rude.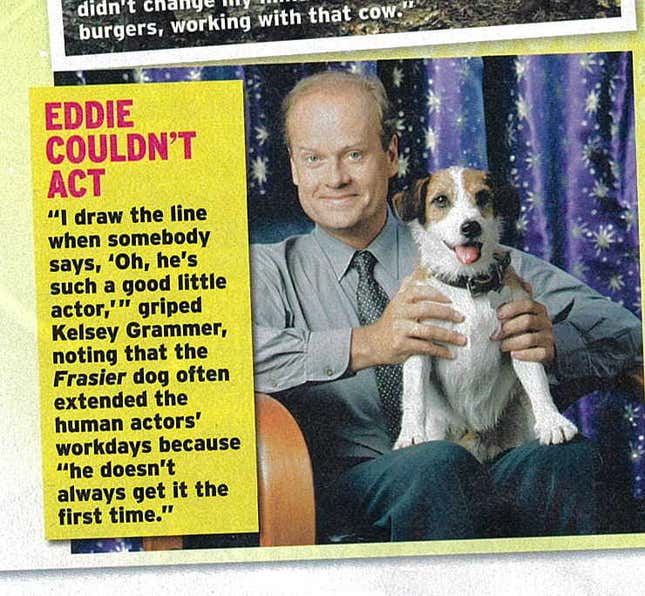 And this photo gave me ovaries just so it could break them.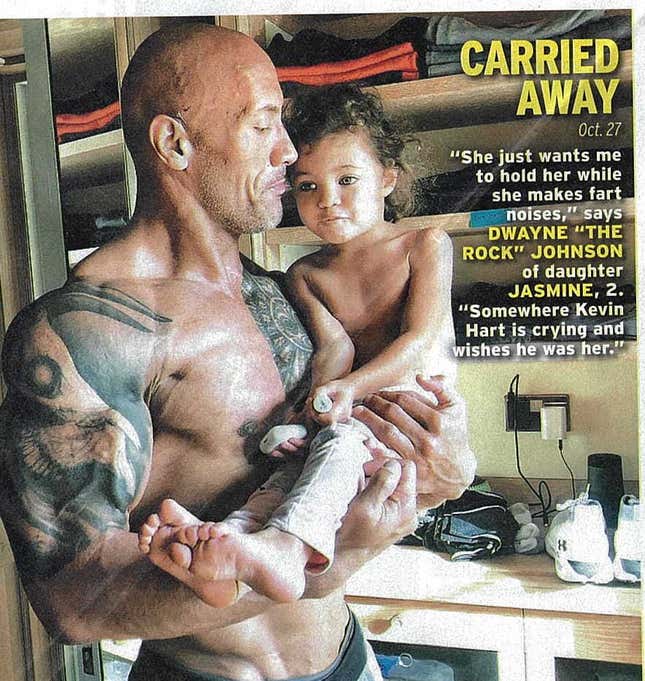 In closing: Straight Halloween must be stopped.