Welcome back to Midweek Madness! Every Wednesday, Callie Beusman heads to the newsstand to pick up the brand-new, just-off-the-truck issues of In Touch, Life & Style, Us, Ok!, and Star, so that together we may "read" the gossip so you don't "have" to. This week was slow. SO SLOW. But we do have a "scandal" involving JLo's boyfriend Beau "Casper" Smart.

---
Us
MY BEST BODY EVER
Miranda Lambert opens up about her "best body ever." It's this one, the corporeal form she was born into, as opposed to all the other human-suits her disembodied consciousness has occupied through the centuries! Haha, just kidding, this is an article about weight loss. It's accompanied by a feature entitled "More Weight Winners," feat. other female celebrities who have lost weight, feat. Jessica Simpson (duh) and Nicki Minaj. Sigh. Moving on: Chris Evans is pursuing Sandra Bullock romantically. One time they went out and she "had wine and did shots!" which means somethin'. She's taking it slowly, says a source, but no one an resist Chris Evans' "sexy charm" for long. K. In other news, Bono and Rande Gerber are pestering George Clooney about getting married promptly. And if those two team up, well, you can't say no to that!!! To Bono and Rande Gerber's chagrin, George and Amal can't pick a wedding location (they're torn between L.A. and Italy). Elsewhere in the mag, Kourtney Kardashian is pregnant with her third child, and she and Scott Disick are excited and happy. The baby will be born in December — a Sagittarius or Capricorn — and also this article referred to Disick as a "reformed 'douchelord,'" which is very notable. Finally, Us interviewed Maisie Williams from Game of Thrones and she said some cute stuff about the actor who plays The Hound: "We have our own 'egg language' that Rory taught me. If the day is getting really long, he'll say, 'Are we nearly finished?' in our language. Everyone else is like, 'What the hell are you two doing?' We have a good laugh." :')
G/O Media may get a commission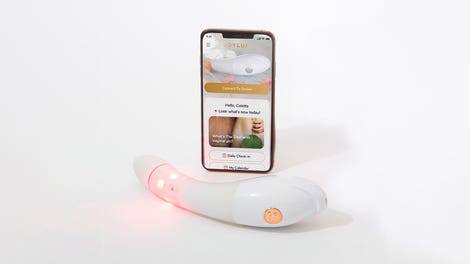 $50 Off
Joylux vFit Gold Device
GRADE: D- (slow as a turtle stuck in tar)
---
Life & Style
DESTROYED BY HIS CHEATING
Beyoncé and Jay Z's marriage is in peril because he won't stop cheating on her, says Life & Style. Among the women he's allegedly cheated with are Rihanna, Rita Ora, Rachel Roy, the former Miss Belgium, etc etc. Also, a rapper named "Liv" (whose website is printed in the magazine in a parenthetical) says that Jay Z asked for her number but nothing happened. Good PR work, Liv! Anyway, this article asserts that Bey is "so sensitive and insecure" and that "her new album is all about [her and Jay'z] freaky sex life and how she'll do anything to keep him sexually satisfied" because of that. Huh. Interesting read on that, guys. It's very weird that this story is happening now, so many blog-years after the Solange Elevator-Gate — I guess it's a really slow news week? Moving on: George Clooney might be running for governor of California in 2018, and he is probably a more appealing candidate now that he has an ideal Political Wife or something. That would be fun, I guess! In other news, Miley Cyrus is "obsessed" with her ex-fiance Liam Hemsworth; this story is mostly anecdotes about that time she went on a drunken rant at a gay club like 2 months ago + a photo of her looking at her phone pensively. Fascinating stuff. Elsewhere in the mag, J. Lo's boyfriend Casper Smart is "accused of a secret relationship with a transsexual." UM. "A transsexual"? Not cool, guys. Anyway, Casper Smart has exchanged flirtatious messages with a transgender bikini model on Instagram, leaving J. Lo feeling "betrayed," as one does when one's boyfriend uses Instagram direct messages — by far the sketchiest form of communication — to send flirty messages to another woman. Also, Kanye West wants to have another baby, says his stepbrother, from which Life & Style extrapolates that he got Kim pregnant on their honeymoon. Makes sense!
GRADE: F (slow as a snail on a conveyor belt moving backwards)
---
In Touch
THEIR DARKEST SECRETS EXPOSED!
Rob Kardashian could get up to $20 million for writing a tell-all book that he seems to have no public intention of writing, but, whatever, he's mad at his family. No one knows what this loose cannon sock designer could do next! Here are some of the "dark secrets" he could reveal about his kin: Kris Jenner has a sex tape; O.J. Simpson is Khloe's real dad and her butt is not her real butt; Kim has gotten plastic surgery on every body part, including her toes; etc. These are less "dark secrets" and more "tabloid cover stories from 3-5 months ago," but oh well! He could do it! He's mad! Moving on: Jennifer Aniston is pregnant, for real this time, and she and Justin Theroux are getting married soon, also for real this time. InTouch says she found out in April and that she's planning an August wedding, at which point she will be seven months along. What a scoop. In other news, the magazine has an exclusive interview with Sofie Vissa, the trans bikini model with whom Casper Smart exchanged flirty messages. Because everything is shit, it's titled "The Other 'Woman' Speaks," with woman in scare quotes. The article also makes sure to mention what her genitals look like — if you're already going to insinuate that she's not a real woman, why not ask her prying information about her body? Might as well fully commit to your shitty coverage. Anyway, Sofie says she and Casper exchanged "racy photos" and made plans to meet before he abruptly stopped communicating with her. As part of the accompanying photo shoot, Sofie poses with a print-out of Casper and J. Lo (Fig. 1). Sigh. Elsewhere in the magazine, Jessica Simpson has shown all the "body bullies" out there... by losing 55 pounds after they lobbed cruel body-shaming comments at her. And so the Jessica-Simpson-weight-loss media cycle maintains its constant hum.
GRADE: F (slow as a whale's heartbeat)
---
Ok!
WEDDING & A BABY!
An actual sentence that appears in this issue: "Now that she's back to her sexy self, Jessica Simpson is ready to complete her fairy-tale family with Eric Johnson and baby number three!" They live together and have two kids but their family is neither "fairy-tale" nor "complete" unless she is A) Skinny and B) Married. Got it. Also inside: Renée Zellweger is in love with a blues guitarist with the intriguing name Doyle Bramhall II. They first met as students of University of Texas and have since reconnected and he looks like if Bob Dylan and Dorian Gray had a baby and that baby had a glam rock cousin so congrats. This Beau "Casper" Smart cheating on Jennifer Lopez "scandal" assumes that asking someone for selfies is cheating and that we'll all be scandalized over the fact that the young woman Casper was interested in is trans. There's a picture with her face and the words, "SHE WAS A MAN!" (Fig. 2) In the Kardashian korner, Kris is pushing Kourtney to get married and hoping that wedding will save the show, according to a source. Apparently Kris has dreamed up a plotline in which Kourtney walks out on Scott and he has to win her back before the wedding. Reality TV is so real. Sofia Vergara and fiancé Nick Loeb are over because he was into "Viagra-fueled orgies with strippers and prostitutes," allegedly, and apparently she is not/was not invited. Finally: George Clooney and Amal Alamuddin may never actually get married — they both have cold feet. Warm them in the waters of Lake Cuomo and lets do this!
GRADE: D- (slow as a drowsy daydreaming sloth)
---
Star
MARRIAGE FROM HELL
Here are some words used to describe Faith Hill in this cover story: overbearing, controlling, badgering, unpredictable, manipulative, and, of course, "a controlling psycho." Also this cover looks like it's for a cowboy-themed romance novel. NEXT. Cameron Diaz and Benji Madden were spotted eating breakfast together at a restaurant and kissing and nuzzling and being adorable. Mazel. A Rob Kardashian story alleges that he didn't skip the Kimye wedding because of Kim but because his mom, Kris, makes him feel terrible. She says he's the only one of her kids who is an embarrassment, and he says she's a monster. Kind of sad. Even sadder is the fact that Rob doesn't "believe in rehab or therapy." In that family, surely you need both? Last, but not least, this mag's version of the Beau "Casper" Smart "scandal" points out that Sofie Vissa, the transgender model he exchanged messages with on Instagram, is "curvier than J.Lo!" (Fig. 3) Clearly it is a competition and a winner has been crowned.
GRADE: F (slow as John Cage's 4'33")
---
Addendum
Fig. 1, from In Touch
Fig. 2, from In Touch
Fig. 3, from Star