Welcome to Midweek Madness, Jezebel's weekly tabloid roundup where the advertorial synergy is apparent and everyone's a SCARY SKINNY!!!! legend.

---
OK!
So, normally I skip over mags like OK! and Star because I already date men—I don't need to bring even more people into my life who don't respect me or my time. But fuck it! Let's read OK! and Star this week why not?

Princess Eugenie might be hiding a child, Sophie Turner might also be hiding a child, and Jessica Simpson is not hiding a child. She's pregnant again "despite years of insisting [insisting!!] her family was complete," the liar. Isla Fisher wore it better, Julie Chen sucks ass, and Bristol Palin's reportedly "keeping it real." Is it called OK! because most of its content just makes me wanna say "…OK!"? I mean, we've got a cover story about Julia Roberts' diet regimen almost entirely sourced to an anonymous "insider," a feature on how Kim Kardashian and Kanye West are living "separate lives" and are basically on the brink of divorce at all times, a new hair trend they're calling "glass hair," a truly unwarranted tip that denim flares are back, and a front-of-book blink-and-you'll-miss-it blurb about how Caitlyn Jenner wants to adopt Paris Jackson, which…………OK!
G/O Media may get a commission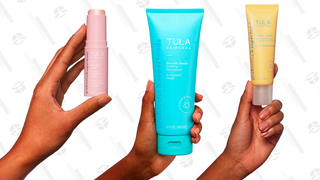 ---
Star………sorry no I can't I just can't yet
---
People
There's a whole lotta food in this issue. Maybe it's because of the Chrissy Teigen (that's Teigen with a "tie" not Teigen with a "tee") cover story pegged to the release of her latest cookbook where she talks about food, family, friends, and having a good time. Or maybe it's because the People sales team had a bunch of food and drink ads to unload before they burn any bridges? I counted at least 16 different ads for things you can eat slash drink—nearly 20, if you include vitamins and HSN's Food & Wine Collection pots and pans. Either way, lotsa food.
Chrissy shares a banana bread recipe, Antoni Porowski tells readers how to make a caesar salad, and Karla Hall's got a delicious looking recipe for broccoli pesto pasta that I probably won't be making as I've been operating at a takeout-only level of depression-impacted culinary resourcefulness for the past couple months and I don't see that changing any time soon! Joanna Gaines shares her recipe for chicken pot pie, Al Roker lets us in on his favorite breakfast spots all over the country, and Kevin Hart talks about being a dad. But just when we're all having a good time, BAM!!!! They hit us with a feature on Dr. Grant Robicheaux and girlfriend Cerissa Riley, the couple from California who were arrested and charged with drugging and raping more than a dozen women. There's a cute-looking Cher retrospective right after that, but I can't even enjoy it. Thanks a lot, People…for…making me read your magazine(????).
---
Stray thoughts: BIG THIS WEEK MOOD.
This is a deeply boring item to appear in not one…
…but TWO different tabloids, right?
"Call Me Your Mom"
Aw, same……in a sense………
Ah, yes! Him! It's him, everyone!
I was gonna ask "What the hell do they have to talk about??" but they tell us right there.
A mighty fine neck rumplin' you got there, Georgetta.
See that shot from Moschino's latest collection? A fashion designer named Edda Grimes has accused Moschino of lifting her designs—you know, in case you missed it!
I…………have so many follow-ups.