Welcome to Midweek Madness, where we head to the cemetery with a Ouija board with Goldie Hawn and Kurt Russell, and unsuccessfully try to contact the spirit of Dear Johnny, after which we go back to LA and get dinner with them and Kate Hudson, who Snapchats the whole thing.

This week, Caitlyn Jenner is getting married and adopting a baby, Gwen Stefani is being dumped by Blake Shelton because she can't have kids, Gwen Stefani is getting married to Blake Shelton because Star is a liar, and Katie Holmes and Jamie Foxx are still planning their wedding.
---
Caitlyn Jenner
Some bullshit artist is trying to convince both In Touch and Life & Style that Caitlyn Jenner is going to adopt a baby boy in the near future and raise it with Candis Cayne, Jenner's close friend who also appears in I Am Cait. Here's why this is unbelievable:
1) Because In Touch and Life & Style (and every other tabloid, for that matter) don't have a very good track record when it comes to adoption announcements. If every celebrity they claimed was getting ready to actually adopt, there would be no children left to adopt. None. Every child on this earth would have a home. This is a nice alternate universe, sure, but an alternate universe nonetheless.
G/O Media may get a commission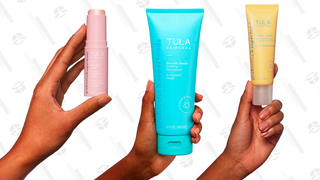 2) I find it hard to believe a 66-year-old who has spent a lifetime hiding her true self would want to deal with raising a baby right so soon coming out. Perhaps becoming a parent again has been Cait's goal all along—her biggest desire—but I doubt it as much as I doubt the fact that Khloe got her ass through nothing but squats, especially given that she already has many children.
Anyway, this liar says Caitlyn's entire family is angry at her for wanting to raise a baby at 66, so thank god for them it isn't actually happening.
Let's move on to the next piece of Caitlyn Jenner gossip! Star makes no mention of an adoption, but did chat with an insider who says we shouldn't be "shocked if" Caitlyn and Candis get married "before the end of the year." I don't believe this either, but it's a bit easier to swallow than some bullshit about having a baby.
Gwake
Star based an entire cover story on a single blurry photo of Gwen Stefani leaving Cedars-Sinai Medical Center (which is more than they base most of their stories on), and came to the conclusion that Gwen either miscarried or was told she can no longer have children. Star apparently believes those are the only two possibilities of outcomes when you go to a hospital, which is both sad and incorrect. When I looked at that photo I thought, "Looks like the face I made when I was told by a doctor that I have to cut back on acidic foods," but what do I know?
The story continues with its bleak tone by suggesting Gwen is worried Blake will leave due to her inability to provide an heir to his fortune of empty Budweiser cans, old issues of Playboy, and shotguns. A source told Star, "He's always wanted to be a dad." Though, to be fair, he's also always wanted to be an astronaut, a firefighter, a pro NFL player, a war hero, and the CEO of Anheuser-Busch.
Meanwhile, down on Life & Style boulevard, everything's hunky dory for Gwake. They're busy planning a "$2 million country wedding" filled with "A-list guests," "carnival rides, barbecue," and a rhinestoned barf bags on every seat. Gwen is allegedly "embracing the cowboy life," whatever that means, and is thinking about contacting "a local designer down in Oklahoma to create her wedding dress."
But the best bit in this story is hidden in the penultimate paragraph:

"Gwen is aware that Miranda [Lambert] still has lots of friends in town who hate her and tell Miranda everything that they see. She doesn't want them to somehow sabotage her wedding."
Keep going with this one, Life & Style. Give me me more gossip about this scheming friends next week. Thanks in advance!
Katie and Jamie
It's been two years, but Katie Holmes and Jamie Foxx are still just weeks away from getting married and having a baby together! OK! provided another bi-monthly report of the couple's perpetually impending nuptials and baby-making with what very well could have been the exact same story they've used 24 times before.

"She thinks he's a fantastic father," said a source who is constantly saying that.
"They cherish the relationship," said an insider. You're on repeat, insider! Go back to shuffle!
"She has no problem being a pregnant bride," said someone close to Katie. You've been saying that for what feels like a century, stranger!
The re-animated bodies of Katie and Jamie will marry in Spring 2182.
Beyoncé and Jay Z
Life & Style has a detailed report of a breakdown Beyonce went through after Kelly Rowland's birthday party last month. She reportedly drank and flirted all night, making it crystal clear that "something was bothering her." Then, "partway through the night," she "broke down and told everyone what was on her mind."
Says a reliable source:
"She took off her wedding ring and held it in the air. Then she told people that it was one of the last times they'd see it. She said she was ending her marriage to Jay Z. Everyone was shocked.
Tina Knowles, her mother, "quickly shifted into damage control mode" and was like, "Don't worry about it! She's just drunk! Nothing to see here!" but the damage had already been done.
Though, let's be honest. Who among us hasn't had an emotional breakdown at one of Kelly Rowland's birthday parties? I remember a couple years ago at her 33rd b-day extravaganza I cried in Tina Knowles's arms for a solid half-hour when I realized Jared Leto was about to become an Oscar winner.
This Is The Rudest Thing In Touch Has Done In a While:
And Also:
Jared Fogle is getting beaten up in prison, and has gained 30 pounds already. "He gorges on cake!"
Blac Chyna is pregnant with Rob Kardashian's baby.

Bennifer 2.1 is having another baby.
Liam Hemsworth wants his wife(?) Miley Cyrus to stop smoking the marijuana.
Kris Jenner wants to ditch Corey Gamble for a younger dude.
Rob Kardashian and Blac Chyna are releasing a sex tape.
Christina Aguilera is quitting The Voice because she can't deal with Blake and Gwen.
Anne Hathaway is pissed off at Disney for choosing Emily Blunt as their next Mary Poppins and not her.
Ashley Tisdale says the key to a successful marriage is "communication."
I want to stand at the bottom of the Grand Canyon and scream, "THE KEY TO A SUCCESSFUL MARRIAGE IS COMMUNICATION!" and hear it echo for days.
Wrong Answers:
---
Appendix:
Fig. 1 - In Touch
---
Contact the author at bobby@jezebel.com.