Welcome to Midweek Madness, where we go to our favorite magazine store (because the crappy one appears to have shut down for good) and are greeted by a kind employee who says, "Hey boss, I know what you want," and hands you an OK!—after which you tear up and feel truly loved.
This week, William and Kate are definitely King and Queen and definitely expecting baby #3, Jamie Foxx is definitely marrying Katie Holmes, and Angelina Jolie is a nightmare to work for.
God save the madness.
---
OK!
PALACE CONFIRMS: WILLIAM & KATE NAMED KING & QUEEN
This week, OK! has decided to break major global news with its revelation that William and Kate have been named King and Queen of the United Kingdom. Queen Elizabeth II apparently "forced Charles to give up the throne" because he "knows how popular Wills and Kate are." (Wills?) The once and future king and queen reportedly "started crying when they found out," and after telling wee little George the good news, he allegedly "went off to draw a family portrait and castle." Additionally, "some rooms" in Buckingham Palace are already being redecorated. I believe all of this.
G/O Media may get a commission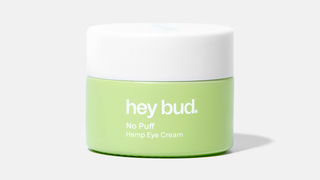 15% off
Hey Bud - No Puff Hemp Eye Cream
The Hadid family is in the middle of a major "breakdown" due to a "perfect storm of their mom's illness and divorce, dad's illegal activities, and their chaotic modeling careers." Gigi has "gotten in with a bad crowd" in New York, Bella is sick of modeling gigs being dependent on her sister's presence, Mohamed's 30,000 square-foot mansion in Bel Air might destroy the cliff it's being built on, and like 3/4 of the whole fucking family has Lyme. Anyway, they're imploding.
Jamie Foxx and Katie Holmes, who have been a ~secret~ couple for for two years due to a single blurry photo of them holding hands, are reportedly getting close to taking their relationship public...by getting engaged!!! An insider says "Tom was initially furious with Jamie" after finding out, given the fact that they're "longtime friends," but that he has since come around and given them "blessings." The blessings, I presume, came in the form of a 2-for-1 E-Meter reading coupon.
OK!'s Interviews Are Astonishing, Daisy Ridley Edition:
And Also:
Emily Blunt and John Krasinski's marriage is "in crisis" because the Benghazi movie he bulked up for is probably going to flop.
Anna Kendrick is dating Diplo, which is a match made in heaven? Hell? The bathroom at some rave? I can't figure it out.
Olivia Munn and Aaron Rodgers are getting married, but I still see right through it.
Keith Urban hates Nicole Kidman's children because they're so rude to her.
Grade: C+ (You get a 2-for-1 E-Meter coupon from Tom Cruise.)
---
In Touch
KATIE SHOCKER: SECRET WEDDING RUINED!
OK, scratch what I said about Tom being chill with Katie and Jamie's engagement, because apparently he "doesn't want another man raising Suri," despite the fact that he only sees Suri every other election year. A source says Katie is "afraid he'll come crashing back into her and Suri's lives, take her to court to get more custody, and try to sway Suri to move over to Scientology." So will the marriage actually happen? In Touch seems to think so. "They've discussed eloping or having a small, quiet wedding in an out-of-the-way place," said a source. Katie is apparently sick of hiding and wants to get the wedding over with. Though, as Shelly Miscavige would tell you, hiding is pretty easy to do once Scientology gets involved!
Hahahahaahahahaha. Ashton Kutcher was seen leaving a "dingy" massage parlor "known for giving happy endings" without a wedding ring on his finger! The parlor reportedly advertises "hour-long massages for $50, plus 10-minute bonus," and sources say they have "never" seen any women go inside. "It's for the men, if you know what I mean," the source continued. Oh, I know, source, I know! Kutcher's rep says "nothing inappropriate happened and nothing inappropriate was offered to him," which is far too vague for me to take without squinting my eyes and saying, "Mmmmmmmmm hmmmmmmmmmmmmmmmmmmmm."

And Also:
Kris Jenner is drinking herself to death.

Rob Kardashian is eating himself to death.
Miley and Liam loving each other to death.
Sandra Bullock will not be marrying Bryan Randall anytime soon.
Teresa Giudice is going to open a restaurant once she's "done with house arrest."

Wear plum or be a prune.
Wrong Answer:
Grade: D- (The dry cleaner ruins your only plum gown.)
---
Life & Style
KATE'S CHRISTMAS ANNOUNCEMENT: I'M PREGNANT AGAIN
Oh look, the royals are on the cover of two tabloids! That usually means American celebrities are too boring to even make stuff up about—but it's what we have to work with, so let's work with it. So. Kate announced her pregnancy to her family on Christmas, and now I'm imagining her handing William a little box, saying, "Merry Christmas, King William," (they're King and Queen now, remember?) and watching him open it up to find a positive pregnancy test inside. An insider says "they keep joking they want to have a bigger family" than Queen Victoria, who had nine children. This story is completely bonkers, even by Life & Style standards. I believe none of it.
Life & Style has an exclusive report about Scott being back on the bad shit. The troubled reality star was reportedly seen "drinking heavily and doing lines of cocaine" on December 19, after which he went to a "friend's place with some teenage girls" and did even more coke. The next morning, he didn't remember a second of it. Friends say "he still hasn't hit rock bottom" and that "he's at the point where he could kill himself." OK, let's just...let's just move on.
And Also:
Brad Pitt and Angelina Jolie went on vacation recently to "kick back and reconnect."
Joe Jonas rents a home in Hollywood for $78,000 a month.
Bachelor Ben has "a really hard time figuring out" which Bachelor contestants are just there to get famous.
Wear chunky ankle boots or I'll start calling you "Chunky Ankle Boots."
Wear burnt orange or watch Burnt.
Grade: D+ (Kate Middleton gives you a used pregnancy test for Christmas.)
---
Star
33 PERSONAL ASSISTANTS TELL ALL!
Let's end this week on a high note, shall we? This very special issue is absolutely filled with wonderful little nuggets of personal assistant gossip from a host of A-list celebrities, so I'm going to run through all of it.
Christina Aguilera pulls out her hair extensions constantly, and her assistants have to pick them all up.
Lady Gaga is "helpless as a baby" and would "wake [her assistant] up in the middle of the night to change DVDs."
Matthew McConaughey "gets turned on by food."
Kim Kardashian keeps all the fat she's gotten removed via liposuction in a freezer, in case she wants it injected somewhere else.
Christian Bale "lectures young fans about being rude and intrusive" to the point that "tears stream down their faces."
Cher is "always chanting and practicing strange spiritual exercises."

Brad Pitt draws poop on everything.
Elton John is so lazy that he asks to be wheeled around everywhere.
Angelina Jolie forces her staff to watch all her movies—even the flops—and demands positive feedback.
Mickey Rourke gives a lot of money to homeless people.
Scarlett Johansson is constantly screaming at her mother.
Jennifer Aniston forces assistants to carry fans around so she doesn't sweat.
Jamie Dornan is constantly needlepointing when alone.
Julia Roberts "hoards" her old costumes, and wears her famous Pretty Woman prostitute outfit for Danny Moder "once a year."
Madonna forces her staff to wipe down every dressing room bathroom with antibacterial wipes before she enters.
Justin Bieber straight up fucks a lot of his staffers.
Jessica Simpson "acts as if the world is one big open bar."
Selena Gomez is "such a slob" and leaves her dirty underwear all over the place.
Sarah Jessica Parker "religiously celebrates the New Moon every month" and believes crystals "will bring her good luck and keep evil spirits away."
Mariah Carey cannot operate a microwave, and makes her assistant wash her hair in the shower.
And Also:
It's really starting to look like Ashton Kutcher got a handie at that massage parlor.
Kylie Jenner is "out of control."
Fame has "gone to John Boyega's head."
Britney Spears was spotted dining alone in Calabasas, "staring into space and looking depressed."
Jay Z is "not comfortable" with how close Beyonce and Chris Martin have become.
Wrong Answer:
Grade: A (You're Mariah Carey.)
---
Appendix:
Fig. 1 (In Touch)
---
Contact the author at bobby@jezebel.com.