Welcome back! Every Wednesday, we do Midweek Madness, in which Callie Beusman heads to the newsstand and picks up the latest issues of OK!, In Touch, Life & Style, Star and Us so that together we may bathe in the sweet waters of gossip. This week: Kim's wedding was humiliating; KMiddy is 98 lbs. and pregnant; Beyoncé's behind the partition with her bodyguard. Let's do this.
---
In Touch
HUMILIATED AT HER WEDDING!
Kim Kardashian was humiliated at her wedding, for a variety of probably-gleefully-fabricated reasons. Here they are (glorious side-note: the mag refers to its source as "one of her frenemies"): Kris Jenner got drunk and yelled at Rob for gaining weight, causing him to flee the country; Bruce Jenner was started "crying like a little old lady" while walking her down the aisle ("He was making these noises," says the frenemy. "It was weird and made people uncomfortable."); Kim got bad plastic surgery the night before; there were LITERALLY NO A-LISTERS THERE (In Touch cites known non-A-listers, including Ryan Seacrest, Mario Lopez and Eva Longoria as no-shows). Also, being shuttled around in a private jet from Paris to Florence and back again was soooooooo hard on the guests :( Quoth the frenemy: "[The guests] were meant to feel special, but they were herded like sheep and treated like prisoners." Mmmkay. Next: the editors have come up with an especially cruel and unnecessary article about Tom Cruise's weight gain, with accompanying diagram (featuring a lil' blimp icon) (Fig. 1). "He has a gut," says a source. "It's startling." WHATEVER, LET THE MAN EAT LOBSTER AND ICE CREAM IF HE WANTS (the article states that that is, in fact, what he does want). Moving on: Sofia Vergara has dumped her "condiment entrepreneur" fiance, who probably cheated on her a ton and seems like a real dick. Good riddance, condiment entrepreneur! Elsewhere in the mag, a former Bachelor contestant, who was the Resident Villain on Ben Flajnik's season, "tells all." Most importantly, she says that several contestants had trouble pooping on the show. Being one of the afflicted, she took a laxative, triggering fears she would "blow" on a date. We love this story so much. And, finally: Selena Gomez is turning to religion in the wake of her breakup and is now a born-again virgin. The evidence for this, mostly, is that she's been Instagramming Bible verses. Ok.
G/O Media may get a commission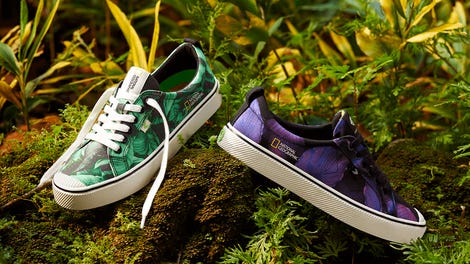 New New New
Cariuma + National Geographic
GRADE: F (washing hair with vomit)
---
Us
KIM'S WEDDING
Us Weekly has a different (i.e., not "HUMILIATING") take on the Kimye nuptials: they were expensive, stuff happened, hooray. None of the information included here is new to anyone who's gazed even momentarily upon the Internet this weekend, but here are the most interesting tidbits nonetheless: all the guests sat at a custom-made $478,000 230-foot marble banquet table; instead of place cards, their names were engraved in gold on the surface; Jay Z and Beyoncé reportedly didn't show up because Rachel Roy, who may or may not have caused the Elevator Scuffle, was there; Jaden Smith apparently wore his white Batman costume to the actual ceremony (Fig. 2); Baby North West ate vegetable tempura at the Valentino pre-wedding brunch. Fascinating stuff. In other news, Uma Thurman and Quentin Tarantino are secretly dating now that she's newly single — "He's loved her for years," says a source. There is pretty much nothing else contained in this magazine. There's a page devoted to the idea that "Prince Charles — He's Just Like Us!" He blows his nose!! Just like us!!! (Fig. 3)
GRADE: D- (sitting in a bathtub of white cake frosting)
---
OK!
WHAT TORE THEM APART
OK! has penned an elaborate fanfiction detailing the varied reasons behind Sarah Jessica Parker and Matthew Broderick's divorce, which is not a thing that's happening. According to a "source," friends of the couple think that "a divorce announcement seems imminent." K! Here are the reasons: he maybe cheated on her in 2008; they don't have anything in common anymore; they rarely see each other because they're both so busy. Sure, sure. In other news, Selena Gomez is heartbroken about Justin Bieber, and the magazine has roped her grandparents into it somehow? But Grandpa Gomez exclusively tells OK! that Bieber used to be "a nice little fellow," but not so much anymore. He also says he thinks the former teen stars' managers are pressuring them to stay together. Sure. Elsewhere in the mag, Miley Cyrus' friends are worried that she might commit suicide, which is just a gross extrapolation from the fact that Miley is really sad that her dog has died. Trivializing mental health issues is always in horrible taste, especially when doing so involves the following sentence: "While riding on an inflatable hotdog on stage in front of thousands of fans every night looks like a blast, it's actually incredibly lonely for Miley." Nope. Just nope. Moving on: Kanye is furious because Kim doesn't want to have another baby immediately. "Kanye boasts that he and Kim are both incredibly fertile, and he even refers to himself as One-Shot West," says a source; thus he's really mad about not being able to put that "one shot" to good use, i.e., creating a mini-Kanye. Ooookay. Moving on: Sandra Bullock has found love with Chris Evans, who plays Captain America. This would be a sweet story — he's had a crush on her since he saw her in Speed! — if it weren't framed as "Captain America to the rescue!" Sandra Bullock does not need "rescuing" from her divorce, which happened 1000 tabloid years ago. She is in like a billion movies and beloved of the world and has a great kid. Whoever dates her isn't automatically a knight in shining armor, saving her from singledom. Sigh.
GRADE: F (showering with curdled milk)
---
Life & Style
98 LBS. & PREGNANT
The copy here claims that Kate Middleton is "dealing with the scary side effects of early pregnancy — including losing a shocking amount of weight." According to insiders. Of course, William is "very concerned." It should be noted, of course, that we have no official Unsolicited Uterus Update from The Palace, and the 98 lbs. figure comes from an "fitness expert and wellness author" who estimates that as Kate's weight. Additional proof of pregnancy: "All insiders know is that the normally bubbly duchess has not been herself." In other words: None of this is true. Moving on: French Montana was seen partying with "an attractive brunette" at a club in Miami and so the mag offers advice: "Be careful, Khloe!" Erin Andrews will probably be replaced by Maria Menounos as the lady who stands next to the guy hosting Dancing With The Stars. The next story wants us to believe Kim and Kanye spent the days leading up to the wedding "fighting over how to handle their daughter's money if they split" and not gazing into mirrors and perfecting their squinches. Last, but not least: Because a "man's view" is important in a magazine for women, we are informed that 83% of dudes like Adele better with a nose job. Adjust your schedule accordingly. (Fig. 4)
GRADE: F (gargling with the contents of a pub spittoon)
---
Star

STARS WITHOUT MAKEUP!
This issue is a celebration of women! See, we live in a society that requires women to feel as though they must present a flawless, blemish-free exterior at all times, no matter how much time, effort and products are involved, and then, when, for a moment between the gym and the car, a female celebrity is snapped by a lurking, stalky photographer, that microsecond is documented digitally, blown up and distributed for other women to inspect and judge. WOO HOO! (Fig. 5) There are six pages of this toro caca. Sample captions: "A little lipstick would go a long way"; "give the woman a sandwich and a spa day"; "one haggard-looking mom." And 73-year-old Academy Award-winning Faye Dunaway "doesn't look ready for prime time sans makeup." Sigh. Also inside: Kim Kardashian has "no plans to get pregnant again" and Kanye is pissed because he wants to "make a honeymoon baby." The article ends: "She would rather have a hot body than another baby." Next, this might be Maddox Jolie-Pitt's first love-gossip item? Apparently he has a crush on 16-year-old Elle Fanning, his mom's Maleficent costar. She gave him her number because she thinks he's adorable, and he's been texting and calling her all the time," says a source. "She adores him but he's too young for her." Um, yeah: He's TWELVE. What else? Blake Lively and Amber Heard are both vying to be in the next James Bond movie, since the plot calls for "a gorgeous Scandinavian woman" and there are only two blondes in Hollywood. Khloe Kardashian's ersatz boyfriend French Montana was flirting with a "dark-haired beauty named Annabelle" on a video set, so the headline is "HE'S CHEATING!" Here are some actual words from the piece: "'And when she'd walk off to get something, he would just stare at her ass,' the source says. 'It was like he was in love.'" Wait, is that what love is ? We've been doing it all wrong. Teach us, oh wise one. Finally, there's the story titled "Beyoncé's Secret: Is She Cheating Too?" A source claims that Jay-Z is suspicious of Bey's bodyguard Julius — also known as the man who held Solange back in the elevator fight — and thinks something romantic may be going down between Julius and Beyoncé. Jay wanted to fire Julius, but Beyoncé would not let him. Once in 2009 (??) Julius was seen leaving a hotel with Beyoncé, "his lips apparently stained with lipstick in the singer's signature red." A source points out that Julius and Beyoncé have "spent a lot of time together behind closed doors" and that "he's even stayed in her hotel room," to which we point out: Is that not the job of a bodyguard? Also, the cover blares "CAUGHT WITH BODYGUARD!" but seems to mean: caught in a photo with a bodyguard? Not very damning. Anyway, if anyone has footage of Julius cutting Beyoncé's silk scarf with a samurai katana, you know where to send it.
GRADE: D- (exfoliating with discarded nose cartilage)
---
Addendum
Fig. 1, from In Touch
Fig. 2, from Us
Fig. 3, from Us
Fig. 4, from Life & Style
Fig. 5, from Star