Welcome back to Midweek Madness. Every Wednesday, Callie Beusman heads to the newsstand to purchase the new issues of In Touch, Life & Style, Ok!, Us and Star, so that together we may dig into moist, rich celebrity tabloid dirt. This week: Tom Cruise is wearing his midlife crisis on his face; Kim Kardashian spent $23K on "fat-blasting"; and Angelina and Brad give their kids free reign. How bizarre. How bizarre, how bizarre.
---
Ok!
DIETS THAT WORK
Nothing shocking here. Kim Kardashian kwit karbs. Atkins for the win. Jessica Simpson is on Weight Watchers, which you knew. Britney Spears makes "smart choices," which is shorthand for more proteins and smoothies. Melissa Joan Hart does Nutrisystem, Khloe Kardashian is a kalorie kutter, and Miranda Lambert is doing "good, clean livin." Whoop de fucking doo. Also inside: Lindsay Lohan is desperate for money and Spongebob gets better ratings than her show. Finally: Katie Holmes and Jason Segel are dating and "she thinks he is wonderful." Yawn.
G/O Media may get a commission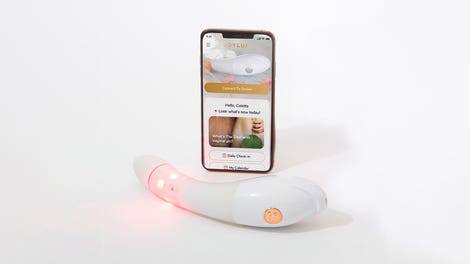 $50 Off
Joylux vFit Gold Device
Grade: F (light/air diet)
---
Us
WEDDING DIET
Lots of celebrities are on wedding diets, and since you're DYING to hear about their eating and exercise regimens, here you are: Lauren Conrad eats kale and goes hiking; Jessica Simpson walks six miles a day; Kim Kardashian does 100 morning squats. Riveting stuff. In other news, the Royal Family traveled to New Zealand with an 11-person entourage that included Kate's Royal Hairdresser (duh). The baby got testy because he is a baby who was made to go on airplanes. In other news, Courteney Cox and the guy from Snow Patrol moved in together and are "enjoying being in love." That's nice! Next: Rob Kardashian is in a "really dark place," says a source — last week, he cryptically tweeted "No one will ever understand how much it hurts." Yesterday he wrote "Life of Pi is on :)" so maybe he's feeling better? Aaaaand nothing else remotely of note is contained in this magazine pages.
Grade: F (tapeworm diet)
---
In Touch
3 BABIES ON THE WAY!
Kourtney Kardashian, Snooki and Jennifer Aniston are all pregnant, says In Touch. THE 3 WOMBSKETEERS. The only one who has officially announced her pregnancy is Snooki, who will give birth about a month before her wedding next year.InTouch frets about her ability to lose the baby weight in time because of course it does. Kourtney Kardashian has been carrying around large purses, wearing big coats, and one time she ate a lot of churros, which is basically a statement from her rep. And Jennifer Aniston allegedly used IVF to get pregnant — but the cover photo of her "first bump pic!" is from the August 2013 premiere of "We're The Millers" and it has been used as proof of her burgeoning pregnancy for literally six months. So. Giant grain of salt. In other news, Kate Gosselin is still around and on the Celebrity Apprentice, which is also mysteriously still around. She might be in a secret relationship with her married body guard. Yawn. Elsewhere in the magazine, French Montana is Khloe Kardashian's "dangerous new romance" because he comes from a "troubled background" and also raps about coke. Ok, grandma, whatever.
Grade: D- (cabbage soup diet)
---
Life & Style
FORCED TO SPILL JUSTIN'S SECRETS
Selena Gomez has been subpoenaed to testify in Justin Bieber's three civil cases and two criminal cases (which is a really impressive resume for America's Next Top Menace; good work, Biebs). Anyway, this apparently amounts to her "being forced to betray the love of her life," and there's a chance she'll be asked about his wild behavior, his Sizzurp use, and his cheating. Bieber is truly the Bad Seed. Moving on: Kim Kardashian spent $23,000 on fat-blasting, which is apparently a real medical procedure, but still wants to lose 10 additional pounds before her wedding. Wedding diets. So newsworthy. In other news, the Jennifer Aniston-Justin Theroux impending breakup rumor drags on. He let a woman touch his butt at a bar, which is a harbinger of end times for sure. Elsewhere in the magazine, Miley Cyrus has once again "hit a new low" — for being too sad about her dog dying. She sent out a series of extremely depressed tweets, which Life & Style had a psychotherapist analyze; they also engage in some analysis of their own: "She adopted Floyd [the dog] in 2011, when she and Liam [Hemsworth] were deeply in love and planning their future. The... pooch was Miley's last connection to those happier times." OR MAYBE SHE JUST MISSES HER DOG. Finally, Shailene Woodley is the new Jennifer Lawrence, because we as a society can only have one likable female celebrity at a time and they must all be modeled after a single prototype. "Both stars are down-to-earth, jeans-and-tee-loving girls," notes the mag. "Shailene... makes her own toothpaste out of clay." ♫ That's So J-Law ♪
Grade: D- ("cleanse")
---
Star
INSIDE THEIR BIZARRE WORLD
What's actually "bizarre" is this story trying to convince you that Angelina and Brad are bizarre. The copy promises to let you inside their "unique, mysterious world" in which Angie is "a bitch and supervindictive" and Brad is a "huge stoner." The tale morphs into a scolding of their "unorthodox lifestyle" and the "free reign they give their six children"; apparently, according to a source, there are empty candy wrappers, piles of toys and clothes in their house "and a housekeeper is expected to clean it all up." How bizarre? There's a cute story about how Brad once helped the kids "zombieproof" their French chateau by building a bunker — and lots of info about the three full-time tutors and the six "principal" nannies and the two night nannies and the team of bodyguards and how much all they make; then it gets into all the different languages spoken in the house and so on. The only truly "bizarre" part is that Angelina does scream therapy. Allegedly. According to an "insider": "She runs a bath and screams under the water, drives to the ocean and screams or just sticks her head in a sink full of water. It seems to be doing her a lot of good." Okay! Also inside: The story about how Giuliana Rancic is "stick thin" claims that she "looks mantis-like" but does not mention that she is a cancer survivor. Rob Kardashian is in a wellness center, "dealing with his depression," according to a friend. Best of luck to him. Naya RIvera's wedding to Big Sean is off because he cheated. Naomi Campbell and Michael Fassbender are dating, which the mag calls a "new power couple alert." Tom Cruise is maybe having a midlife crisis because his "face looks like a puffy pillow." A doctor who has never treated him says "He may have had his cheeks injected with fat from his love handles" or "his face could've been stung by bees." Ouch. But hey, at least they're treating a man the way they usually treat women? Equality? (Sobs.) (Fig. 1) Finally, a piece about Khloe Kardashian's "bad news boyfriend" French Montana details his multiple arrests and domestic violence charges. Noted.
Grade: D (baby food diet)
---
Addendum
Fig. 1, from Star