Welcome to Midweek Madness, where we think we know, but—in fact—we have no idea. This week, Amber Heard is pregnant with Johnny Depp's baby, Khloe Kardashian is pregnant with ????'s baby, Prince Harry is moving to the States, and Brad Pitt and Jennifer Aniston are leaving their spouses...for each other?!?!?!?!

Who the hell knows! I certainly don't.
---
Amber Heard
Here's something to talk about at the water cooler today with all the coworkers who hate you for always bringing up celebrity garbage: Amber Heard "could be" pregnant with Johnny Depp's baby, and insiders are saying Depp "would flip out" if he ends up being a new daddy.

This is just speculation from "sources close to the couple," of course, but please give me a moment to explain why we shouldn't dismiss this story just yet.
G/O Media may get a commission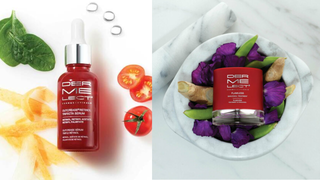 Save $19
Retinol Renewal Kit
Every Wednesday, soon after the tabloids are released, the good people at Gossip Cop begin sending updates to the major cover stories. If Star writes that Jennifer Aniston is pregnant with twins, you can expect an email from GC that says something like "EXCLUSIVE - Jennifer Aniston Is NOT Pregnant With Twins, Despite Report."
This morning, I received the following emails regarding the most dramatic headlines from this week's crop of tabloids:
EXCLUSIVE - REP: Richard Simmons Did NOT Transition Into Woman, Despite Report

EXCLUSIVE - Prince Harry "Moving To America" Claim Is False

EXCLUSIVE - REP: Khloe Kardashian NOT Having A Baby, Despite Report

But you know what email I haven't received yet? Something along the lines of: EXCLUSIVE - Amber Heard NOT Pregnant, Despite Report.
So.
Think about it.
---
Khloe
Life & Style has "exclusively" learned that Khloe Kardashian, "froze her eggs last year," and that she's been going around telling friends, "I'm having a baby!" (Whether she drunk with a pillow in her waist trainer when saying that, we'll never know.) The magazine goes on to say that there are five men still in the running towards becoming Khloe's baby's next top daddy: Odell Beckham Jr., French Montana, James Harden, Lamar Odom, and Scott Disick.

First of all, that is a rude list of options! I'm sure Khloe could request the sperm from dozens—no, hundreds—of her male acquaintances and happily receive a warm cup in like 10 minutes. She'd send a mass text like:
---
Prince Harry Is Coming To America
I always assume a tabloid magazine puts the royals on their covers when there's either A) nothing else exciting in the news or B) they assume everyone's going to be covering the "big story" and want to stand out. In this instance, I think it's a B situation. Wanting to set themselves apart from the rags covering Amber/Johnny, OK! has decided to focus their attention on the rumor that Prince Harry is moving to the United States.

Sources claim William's hot brother will be renting a home on the beach in Malibu "for a few weeks in July" so that he can "relax," "have fun," and "meet beautiful women, of course." Of course.
Most of this is dreadfully boring, but wait! What's this? Insiders claim Harry is super excited to "meet new people," but apparently he has at least two friends in Los Angeles who will keep him company when he's not relying on the kindness of strangers. Those two friends are Mila Kunis and Ashton Kutcher. "He'll definitely spend time with" them, a source said. Imagine going to Los Angeles and, when asked by friends what your plans are, beginning with, "Well, we're definitely going to spend time with Mila Kunis and Ashton Kutcher."
Here's what they'll talk about. Maybe.
ASHTON: Hey bud!

MILA: Look who it is!

HARRY: Ash! Mil!

ASHTON: Welcome to the States, my dude.

MILA: We're so happy to see you.

HARRY: Thanks so much for letting me lay low here while I look for a place.

ASHTON: Oh...wait....

MILA: You're staying here? We thought you had a place.

HARRY: No, no. Not yet. Is that a problem!

ASHTON: No! No. Well. Maybe.

MILA: Yeah. It might be. It is, actually.

HARRY: Oh, I thought...

ASHTON: Yeah...maybe a couple years ago...but...with the kids...

MILA: Yeah, it's a little more hectic here these days...

HARRY: Well. OK. I guess I'll just, you know, find a hotel.

ASHTON: There are some GREAT hotels in this city.

MILA: GREAT ones. Yes. Just let us know when you're checked in and we can do an early dinner maybe?

HARRY: Early?

MILA: Maybe 6:00? 6:30? We just want to be home by 8:00.

ASHTON: 20:00.

MILA: Right. We want to be home by 20:00.

HARRY: Ok! Yeah. Maybe. I might have plans. Good seeing you though!

ASHTON: Yeah! Great!

MILA: Later, bud!
---
Brad Pitt and Jennifer Aniston
Though it's exciting to think that Brad and Jen are leaving their spouses to restart their 90s romance, this isn't nearly as fun as InTouch's headline made it seem. No, they're just combining two of the oft-discussed divorce rumors of late and packaging them as a single connected story.

Jen is leaving Justin because he's so busy at work on The Leftovers (which is filming its final season in Australia), and Brad is leaving Angie because he's sick of "clashing" with her over every little thing. Though he reportedly sent Jen a "thoughtful note" after the recent death of her mother, it doesn't mean they're going to get together once the fake divorces are finalized. "It would really be the perfect Hollywood ending," says a source. "For now, however, their only bond is that they are both dealing with the end of their marriages." What a bond.
JENNIFER: Thanks for the note.

BRAD: Of course.

JENNIFER: You didn't write it, did you?

BRAD: Not the first draft, no.

JENNIFER: Well. I appreciate it regardless. The thought is what counts, and all that.

BRAD: Exactly. And I think of you a lot.

JENNIFER: I...I do, too.

BRAD: Do you ever think that we could...you know...do you ever think that would work again?

JENNIFER: Sometimes. But then I slap myself in the face and tell my brain to stop thinking.

BRAD: Yeah. It probably wouldn't work out.

JENNIFER: You're probably right.

BRAD: We could still fuck though, right?

JENNIFER: Oh, of course.

BRAD: Great. Cool. Cool. Well let me know when you're free?

JENNIFER: Yeah I'll have Jack check my schedule and ping Henry.

BRAD: Oh, I got a new guy. Devon. Whatever, I'm sure Jack will find him.

JENNIFER: Let's plan on two weeks from now?

BRAD: Great. Have a good one.

JENNIFER: You too.
---
Here's What Bobby Said to a Story Called "PATRICK DEMPSEY: HOW I SAVED MY MARRIAGE":
Pffffffffffffffffffffffffffffffffffffffffffffffffffffffffffffffffffffffffffffffffffffffffffffffffffffffffffffffffffffffffffffffffffffffffffffffffffffffffffffffffffffffffffffffffffffffffffffffffffffffffffffffffffffffffffffffffffffffffffffffffffffffffffffffffffffffffffffffffffffffffffffffffffffffffffffffffffffffffffffffffffffffffffffffffffffffffffffffffffffffffffffffffffffffffffffffffffffffffffffffffffffffffffffffffffffffffffffffffffffffffffffffffffffffffffffffffffffffffffffffft!
---
And Also:
Anne Hathaway was so pissed off when she noticed Sonja Morgan and Kyle Richards at her movie premiere.
Here's an insider on Anna Kendrick: "Anna was so incredibly annoying."
Faith Hill and Tim McGraw are in marriage counseling.
Tobey Maguire is such a strict dad that their home is "a borderline Amish environment."
Rob Kardashian wants surgery to get rid of his "moobs."
Gwen and Blake may buy a ranch in Ojai.
Kelly Ripa does NOT want Rob Lowe to have Michael Strahan's job.
Tom Cruise takes secret trips to Switzerland for plastic surgery.
Robin Thicke's partying is "out of control."
---
Wrong Answer:
---
Appendix: