Welcome back to Midweek Madness, your spelunking trip into the dark caves of the celebrity gossip tabloids. Every Wednesday, Callie Beusman heads to the newsstand and picks up the new issues of In Touch, Ok!, Life & Style, Star and Us, and together we navigate the stalagmites masquerading as "news." This week: Angie and Brad are fighting and having hot dates in luxe hotels; Kim and Kanye will get married at Versailles; and Ke$ha's "fresh faced" new look is all thanks to plastic surgery. Down the hole we go.
---
Star
"WORST FIGHT EVER"
Angelina and Brad got into the worst fight ever, guys. The cover image of Angelina crying is from the Sarajevo premiere of In The Land of Blood and Honey, where she broke into tears while describing the plight of the people in Syria, but that's not what the fight was about. The fight was way worse than that. The fight was because Brad "canoodled" with a petite brunette at a bar in Telluride. Ooookay. In other news, Orlando Bloom and Liv Tyler are secretly dating. The couple were spotted "getting cozy" during opening night of Waiting for Godot. Is that even possible? Later they were spotted tickling each other and gazing into each other's eyes. Moving on: Kate Gosselin is blowing through her kids' college funds to pay for plastic surgery and vacations for herself. She is the worst. The end. Next: Jennifer Aniston and Justin Theroux's relationship is in SHAMBLES. Evidence one: he was not Instagrammed at her Thanksgiving. Evidence two: he is shooting a movie in New York City, where his ex-girlfriend lives (along with a mere 8 million other people). They're doomed.
G/O Media may get a commission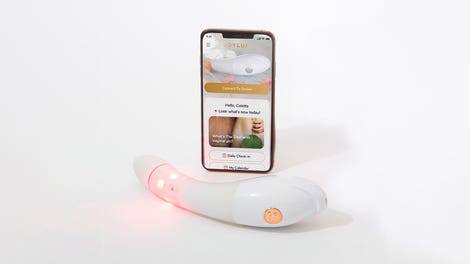 $50 Off
Joylux vFit Gold Device
Grade: F (cave collapse/crushed by rocks)
---
Ok!
"OBSESSED WITH PLASTIC SURGERY"
Someone at the mag crafted a lovely collage of Before and After plastic surgery photos of all your favorite celebrities, but probably half of them haven't really had that many procedures. Kim Kardashian might have just gotten freakishly good at contouring, and Angelina Jolie looks exactly the same as "before," only 15 years older (Fig. 1). But, yeah, rich and famous people get cosmetic procedures. Who would have guessed. The rest of the magazine consists of boring stories that everyone read last week: Kendall Jenner and Harry Styles went on a date (we know), Angelina Jolie bought Brad a heart-shaped island (we heard that forever ago, and it's not true), blah blah. The only good bit: Kate Middleton is terrified because her family has been invited to spend Christmas with Queen Elizabeth II. She is worried that her mom will get drunk and engage in class warfare and upset the queen. Off with 'er head!
Grade: F (trapped in underwater cave with a posse/shiver of sharks)
---
Life & Style
"MY DIET IS BETTER THAN GASTRIC BYPASS!"
Here's the deal: Miranda Lambert lost 30 pounds in eight weeks. She did so by cutting sugar and getting into juicing and working out a whole lot. If any of this sounds familiar it's because Us did this exact same story November 13th. Same quotes, same details about push-ups and "signature" margaritas made with Sprite Zero. And it was boring back then, too. Recycling is good for the environment but bad for tabloids. Moving on: Liam Hemsworth wants to date Jennifer Lawrence, but she's happy in her relationship with Tony from Skins, so it's a no-go. Yawn. Kris Jenner sees Kylie and Kendall as her "newest moneymakers," and is "pushing" them to date stars, "making them" live public lives and "forcing them" to show skin in photo shoots. Surely no harm can come of this. Finally: Ke$ha did a no-makeup makeup look at the American Music Awards and looked beautiful. But! a "doctor" in cahoots with the mag claims Ke$ha got a brow lift, a nose job, cheek implants and a chin implant. Look, we're always willing to call rhinoplasty!!! when we see it, but this just seems like excellent macquillage artistry, non? (Fig. 2)
Grade: F (attacked in a cave by dark cloud of rabid bats)
---
In Touch
"WHAT BRUCE KNOWS"
Bruce Jenner could potentially get a $15-million dollar advance to write a tell-all, which he is probably not going to do. But let's speculate about what would go in it anyway! Affairs! Greed! Pushing Kendall and Kylie to do racy photo shoots and have fake relationships with A-Listers! Hooray! Moving on: Miley Cyrus and Lady Gaga are locked in a feud because attention is a limited resource or something. Miley was annoyed when Lady Gaga rode a giant fake horse to the AMAs. Miley misses the halcyon days (the VMAs) when she got all the attention. But also: maybe Miley Is Just Jealous (Fig 3). In other news, Justin Bieber's mom is planning an intervention to keep her son from completing his metamorphosis into unstoppable monster-brat. It may be a bit tough to do, if this sentence is any indication: "Pattie [his mom] breathed a sigh of relief this summer when her son got a tattoo of her eye on his arm." If your son's creepy forearm tattoo is something you can take as a highly positive sign, then you've probably got some work to do? Next: A moment with Heidi and Spencer and finally solves the mystery of how they went through $10 million so quickly. "Every time we'd go out to eat, we'd order $4,000 bottles of wine. Heidi was going to the mall and dropping $20,000 to $30,000 a day," says Spencer. Now, he says, they eat Mexican food from food trucks instead. Such austerity.
Grade: D- (spending the night in a cave filled with eyeless Mexican scorpions)
---
Us
"FAST LIFE, TRAGIC DEATH"
Two weeks before he died, Paul Walker did an interview with Us and discussed his new movie Hours and his daughter Meadow. There are just a couple of short quotes here, in addition to the already-reported information about the terrible car crash that took his life. Sad stuff. Also inside: Angelina Jolie and Brad Pitt have been having some "hot date nights" in which they drive to go have dinner, drink a bunch of wine, and then have security meet them and drive them home. For even steamier encounters, they get a room — to be specific, the $16,000 a night presidential suite at the Hotel Bel-Air. Fuck that sounds good. Room service and thick robes. Yes. Next, the mag claims that Liam Hemsworth wants Miley Cyrus back, which just seems too ridiculous to even pretend to contemplate. Finally! Kanye West wants to marry Kim Kardashian at this little shack, you may have heard of it, it's called Versailles? Thrones, servers in period costumes with tricorn hats, foie gras and veal. This report has already been denied, but it's fun to picture Kanye in ermine and high heels. If someone out there (Kehinde Wiley?) wants to paint/Photoshop Kanye's face onto the Sun King's body, we will be forever in awe of thine glory.
Grade: C (24 hours alone in an ice cave)
---
Addendum
Fig. 1, from Ok!
Fig. 2, Life & Style
Fig. 3, Star