David Foster, award-winning composer/producer and Hollywood patriarch, never came off particularly well when he appeared on the Real Housewives of Beverly Hills, which starred his now ex-wife Yolanda Hadid. He was portrayed on the show as sort of slimy and self-important; Yolanda fluttered around him, exerting a wild amount of energy to appear the perfect hostess and companion, and then she got sick and he left her.
A new Vanity Fair profile of Foster—who at one point wore "jeans, Ugg boots, chunky eyeglasses, and the sort of asymmetrically embellished sweater that Barneys sells fewer of than expected every autumn"—doesn't do much to lift this impression.
You'd think that Foster, now 67, would have had enough of silly love songs. But his personal life, much like his oeuvre, is an unbroken chain of romantic folly. Foster has been married four times, most recently to Yolanda Hadid, a former model and a co-star of The Real Housewives of Beverly Hills, from whom he is currently in the middle of what will be his fourth divorce. "I tend to go from marriage to marriage—leaving one wife for another," Foster said. "This is the first time in my adult life that I've been single. It's a very powerful feeling, but I'm not used to it. Someone said to me recently that you need to be very careful about the person you pick to spend the rest of your life with. It's kind of weird that I'm hearing that now and thinking, Oh, right." At the end of 2016, Foster began dating Christie Brinkley.
How refreshing! Elsewhere in the profile, Foster's daughter Sara appears to criticize her father (although context here is sort of lacking) for this "romantic folly":
It took Foster's own daughters a long time to get over their resentment about how devoted he was to the Hadid and Jenner children. "It's hard as a kid looking at your step-siblings and asking why they each had three cars when we didn't," Sara Foster said over breakfast with her father the following day. "By the way, it's a lot worse leaving a woman with a five-year-old, a three-year-old, and an eight-month-old than leaving a woman with Lyme disease"—Yolanda Hadid has detailed her bout with the illness on her TV show and in an upcoming memoir. "When they were dating, my sisters and I sat him down and said, 'If you don't marry her, you're the biggest fool on the planet.' "
G/O Media may get a commission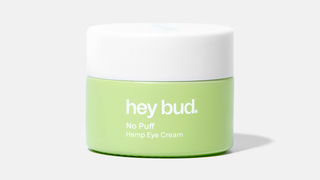 15% off
Hey Bud - No Puff Hemp Eye Cream
Since he's been married so many times, David Foster has a lot of kids and step-kids, many of whom run in A-list Hollywood circles; the Vanity Fair piece includes a pretty good chart, although one picture that's supposed to be Jordan Foster appears to actually be Erin Foster. Amongst his former stepchildren are Bella and Gigi Hadid and Brandon and Brody Jenner; his daughters Erin and Sara have a satirical "reality" show on VH1 called Barely Famous. Mohamed Hadid, the real estate billionaire who introduced Foster to Yolanda, Mohamed's ex-wife, said in the profile that Foster has "turned out to be one of the best stepfathers to my daughters."
For some reason, author Eric Konigsberg claims Foster only agreed to appear on one episode of The Real Housewives—this is inaccurate, unless the piece is claiming Bravo filmed him without permission; Foster appeared on multiple episodes. Scenes like the following were definitely cringe-y, but Yolanda was certainly not the only one making it so:

On the lone episode of her show in which Foster agreed (reluctantly) to appear, Hadid presented her husband with an anniversary gift of "racy" beach shots of herself; he thanked her and promised never to reciprocate.
In fact, David Foster can make us cringe all on his own, as one scene in the profile, involving "a late dinner at Nobu Malibu with John Mayer," evidences:

At Nobu, Foster got uncomfortable when John Mayer called his work virtuosic—"David's songs are never low-hanging fruit, but they'll hold up forever"—and cut him off.

"John, my music is schmaltzy," Foster said. "You ought to say it."

"Do you think that?," Mayer asked.

"No," Foster said. "No, I don't."
Cool. Read the full profile here.