Have you ever looked at Texas Senator and Republican presidential candidate Rafael Edward "Ted" Cruz and thought, "Huh, I wonder what's going on with him, sexually?"

Most of us, when faced with this evil yet inevitable thought, make the instant reflexive decision to shove it right back where it came from, deep into the most reptilian recesses of our subconscious, right next to our traumatic birth memories and that thing we did to our doll in 1st grade. Most of us really, really, really don't want to think about Ted Cruz's horrible dick.
Lacey Noonan, author of A CRUZMAS CAROL: Ted Cruz Takes a Dickens of a Constitutional (and also recently A Gronking to Remember), tried to strain against this preservative instinct with a sexy fan fiction story loosely (extremely loosely) based on A Christmas Carol. What results is one of the strangest things I've ever read.
[Spoilers ahead!]
Feeling fresher and looking cooler than a head of iceberg lettuce on the first day of harvest, Senator Ted Cruz walked into the back room of the exclusive D.C. establishment Fizzywhigs, scanning the room for pussy.

"What's up, y'all!" he twanged into the crowd, using the honeydew Texas drawl he'd picked up at Princeton while studying for his Bachelor of Arts in Public Policy.
G/O Media may get a commission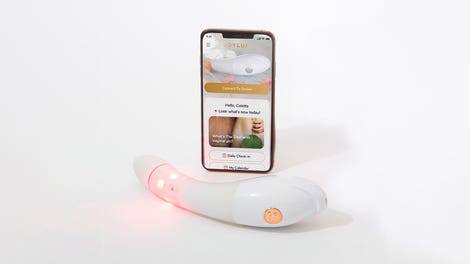 $50 Off
Joylux vFit Gold Device
This is an extremely strong and promising beginning. The setting: Ted Cruz's retirement party, after which he believes he will be leaving political office. IRL, I have a creeping feeling that our pal Ted would push me, you, and all of his loved ones into a hole in a frozen lake and sprint away before relinquishing one inch of his extremely unlikely and hard-earned influence, but this is fan fic! We are going with it.
Ted smiled and waved, walked into the crowd, shook hands. It was a place where the virtuous and powerful had quietly decided the fates of millions. Well... tonight it was going to be a Red Bull-and-Vodka-fueled bone zone, Ted thought, where the fates of hundreds of orgasms hung in the balance.
I'm not sure that Ted Cruz has ever actually, in his own mind, thought frat-tastic phrases such as "bone zone"; seems more likely that he overhears such slang somewhere and says it over and over and over again in front of a mirror so he can sound convincing just in case a man tries to be friends with him someday, but again, we're going with it.
"Is there... anything I can do... to... persuade you to stay in the public sector?" she cooed like a lioness. The hairs on the back of Ted's neck stood on end. A chill thrilled his spine. In his lap his President Johnson hardened with utmost urgency, as did President Johnson after the Gulf of Tonkin incident, and it pressed against the underside of the table. That's how big he was. Big as a Texas bull. The table lifted from the floor ever so slightly and wobbled as if they were at a séance.
The leading lady is a made-up staffer named Roberta, who has gigantic boobs and longs for Ted Cruz to remain in office and dismantle Obamacare.
Good old Roberta, he thought. Wow. Just look at those tits. Big. Nice big boobies. Great Chief of Staff. I bet she has a wonderful vagina. Just wonderful. Warm, inviting. American. Cherry. Like Martha Washington. Like a colonial bonnet for a dick. Wow. Just wrap it up snug like a weary traveler in a good, honest American home, guarded against unlawful entry or the quartering of occupying armies by the Constitution of the United States. And yet... How wonderful it would be to quarter my soldiers in thine thatched hut, Yankee wench, 'gainst thine wishes. Wow.
Wow. What happens next is: Roberta eats an oyster, then kisses it back into Ted's mouth, then Ted gets explosive diarrhea, and then is confronted in the bathroom by a pantsless Karl Rove, who tells Ted that he needs to stay in politics.
"No. I'm going to vomit up this oyster, then I'm going to bone Roberta, then I am going to K Street."

Karl's face darkened. "Well, fine by me. But if you refuse to learn from a pantsless bathroom attendant like me, you will be visited this night by three other bathroom attendants. One immediately after you've thrown up your seafood platter, two immediately after, at the stroke of... oh, I don't know... whenever it floats their boats to teach you a lesson and some freaking manners."
Then Ted gets locked in the bathroom stall, and shit gets really weird:
"I'm the Bathroom Attendant of Constitutionality Past," the voice said through the glory hole. There was also the sound of tiny fifes and drums.

But before Ted could do or say anything else, the Ol' Glory Hole began to glow, Ted's pants magically unzipped, his dong flung out, pulled itself like it was trapped in a gravity beam to the Ol' Glory Hole, and to the sounds of teeny-tiny fife and drum (John Phillips Sousa meets Spike Jones) and a radiant blast of magical light, Ted's thang and his entire body was sucked through to the other side.

From this point on, the story is almost impossible to explain. Basically, Ted Cruz has to stick his dick into a glory hole a bunch of times to be transported into another dimension so a series of talking birds can fly him around Washington and show him his past, present, and future, in which Chelsea Clinton is crowned Queen, Obamacare is mandatory, and everyone is Muslim.
The first bird is really horny, for some unexplained reason, and won't let Ted put his pants back on:
"I said 'Leave it out,' dude," the turkey said. "Turkey likey."

When Ted finally makes it back to the present and decides to run for President of the United States, the toilet overflows and floods Washington. He rescues Roberta, and they make love on a floating table in the Chesapeake Bay.
Not that I wanted her to or anything, but Noonan doesn't even write out the long-hyped boning:
"That so?" Ted said reaching around her and holding Roberta close.

They made love on the table and then the table sank slowly below the rising waves.
There is only one real takeaway worth digesting from A Cruzmas Carol, and it is this: not even the author of an erotic fan fiction story about Ted Cruz can bear to properly visualize Ted Cruz having sex.
Join me as I explore our presidential candidates' sexuality this election season via an ever-expanding crop of fan fiction. If you spot a work of political erotica that deserves literary review, email us at tips@jezebel.com or ellie@jezebel.com.
---
Contact the author at ellie@jezebel.com.
Illustration by Sam Woolley.