We're in an era of Korean skincare and highlighter overload, where contouring sort of appears to be falling out of favor in lieu of a complexion that looks as bright and hydrated as a drop of dew on a morning orchid. Bask in the luminosity of it all!

I've fallen for this look too, mainly because it's easy. I've never taken to contouring, mainly because it seems somewhat complicated and I've never been very good at art, but for dewy skin I've just been mixing up some Revlon Photoready Skinlights with my normal spots of Clinique CC Cream, all of which is amplified by the fact that in the summer, my face is naturally sweating profusely at all times. (I suppose I get that from a product too—a fun side effect of my SSRI.) But I've been wanting to step it up a bit, and I ended up at the point of the glossy eye after a rather monetarily frivolous jaunt to Sephora, when I discovered the Milk line, and this Eye Vinyl stuff, which I truly love.

First off, I am well aware that glossy eyes are nothing new; it's been a popping trend stateside since at least the early '10s, and even longer than that in Japan, and MAC's been selling pots of eye gloss for a couple of years. Until now, though, I've been mostly DIY'ing it, painting my lids with any old clear lip gloss or rubbing them with Rosebud Salve—which has worked fine on one hand, in that I have a high tolerance for my eyes feeling goopy, and not so great on the other, because the product tended to slide off after a few hours.
But lately, with the resurgence of my voluminously sweaty face, I've figured I should at least go for some consistency. Milk's Eye Vinyl, which I bought in "Bridge"—a peachy-clear shade—comes in a little pen with a felt tip so you can squeeze it right out, making for a super-easy and pretty consistent application. (In the shot above, via Sephora, model Samantha Urbani applies the black hue to nice effect.) I've been topping it all off with some Maybelline Brow Pomade and no liner but today I decided to ditch the heavy brow; the point is to brighten up my eyes underneath the heavy glasses I tend to wear and project a clean, fresh look for summer, or at least camouflage the fact that I perspire more than a collective high school rugby team. It makes me feel a little bit like I'm bedazzling my eyeballs, which is glamorous.
Milk has that Glossier vibe of being pretty trendy and also nailing the types of formulas that work for women who aspire to a more elevated, runway beauty look but are either incredibly lazy or incredibly make-up inept or incredibly time-strapped or all three. (I like to think of myself as all three.) Therefore, Eye Vinyl's sold out on Milk's website, so if it becomes equally scarce from Sephora, here are some products for a similar look. (NOTE: I haven't tried any of them!)
G/O Media may get a commission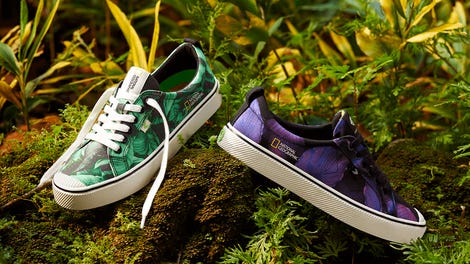 New New New
Cariuma + National Geographic
-Mac Studio Eye Gloss ($18.70, Nordstrom)
-Paul & Joe Eye Gloss Duo ($33, Dermstore.com)
-Elizabeth Arden 8-Hour Cream ($21, Elizabeth Arden)
-Any fucking lipgloss, any lipgloss!
HAVE FUN DISGUISING THAT FACE SWEAT!
---
Image via screenshot/Milk