Do you ever click on something, not fully understanding why you made the decision—sort of an out of body experience where you're telling yourself, "Self, don't do that," but then you do it anyway? That was me this morning opening an email promising a "Side Chick" anthem and I'm sorry but, how can you turn that down?
A young lady by the name of Diana Espir, who, according to a press release I received, was a contestant on season two of The Voice France, released the video for her single, "Side Chick," and it's definitely worth viewing once and then probably never again.
As you can probably imagine, "Side Chick" is a bubbly pop track about being a mistress.
"Side Chick" is a pop-rhythmic female anthem track that will have you pressing "replay" again and again with its contagious pop hook and irresistible melodies, about a girl demanding love and loyalty from her tricky guy that is all tied up with another girl.
In this case, the other girl your man is tied up with happens to be the First Lady. The premise of the video is a modern-day retelling of President John F. Kennedy's supposed affair with Marilyn Monroe. It is a very believable retelling if you imagine JFK as a bartender in Williamsburg and Marilyn as a Kat Von D cosplayer.
"I deserve the finest things and pearls," she sings. Now, I don't know much about being a side chick, but if you're not at least getting some nice stuff out of it, I feel like you're not playing the side chick game very well.
G/O Media may get a commission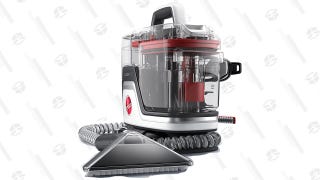 Save $10
Hoover CleanSlate Plus Carpet & Upholstery Cleaner
What I most appreciate about this song is its positivity: "If your girl found out that we been screwin', your life it would be ruined/Then you'd be all mine so let's just do it." Hard to argue with that. Yes, you might be a broken man, having lost the presidency, your wife and the respect of the nation, but now we can have sex in this basement without a care in the world.
Unfortunately, not long into this journey, things start to get a bit confusing. Diana sings: "I ain't nobody's side chick," even though she quite obviously is the side chick.
"Side Chick" is also billed as an empowerment anthem for women.
"'Side Chick' is about spreading the empowering message of liberation and that all women deserve to be loved. In this day in age, young girls don't have to settle. They can command respect and not be afraid of going after their dreams of happiness," says Diana Espir.
Hm. What I gather is that this is supposed to inspire side chicks to become main chicks. But then where does that leave the main chick? And then, what if, after going from being the side chick to being the main chick, your man gets another side chick? Are we then supposed to root for that side chick to become the new main chick even though the previous side chick has been empowered to reach her dream of becoming main chick?
Alternatively, should all the women involved in this scenario just dump this idiot and go eat cake together?
---
Contact the author at kara.brown@jezebel.com .
Image via Diana Espir.