Azealia Banks and Sarah Palin, two of America's most confused citizens, have finally found each other on social media—and friends, it is a thing to behold.
Rapper and reliably unhinged person Azealia Banks (remember "When I use the word 'faggot,' it comes from a feminist point of view"?) recently recommended that the Twitter community round up "the biggest burliest blackest negroes" and "let them run a train on [Sarah Palin]," in apparent reaction to a satirical news story that "quoted" Palin as saying black people "willingly accepted slavery." Palin has said many, many terrible things, but this was, again, not an actual quote.
Banks deleted the tweets, but here are some screenshots, via Mediaite:
G/O Media may get a commission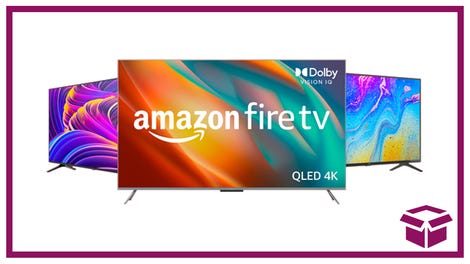 Ooh. stunning.
New Amazon Fire TVs
Azealia Banks, angered into an offensive rant by a fake news story, has gifted Sarah Palin with truly a once-in-a-lifetime opportunity—the chance to win an argument. Of course, as we can see in just the first line of this response and one very hip incorporation of the phrase "wigging out," Palin could not help but be equally stupid in the process.
Linking to a Breitbart article that declares "Rapper Azealia Banks Calls for Sarah Palin to be Gang-Raped by Black Men," Palin writes:
Hey Female Rapper - listen up, little darling. No one has any idea what you're wigging out about in these bizarre, violent rants against me, but you're obviously not exercising enough intelligence to acknowledge you've been sucked into believing some fake interview in which I supposedly offered comments representing the antithesis of my truth.

In this life, you're blessed to have been given an influential platform. So have I. Why don't we strengthen both our platforms and work together on something worthwhile - like condemning racism, along with empowering young women to defend themselves against a most misogynist, degrading, devastating assault perpetrated by evil men - rape.

Thanks. And now I'll go through my young daughter's playlist to make sure there hasn't been any inadvertent addition of any anti-woman, pro-rape garbage that you seem to endorse, which perpetuates the cultural challenges we face in America. I encourage other parents to do the same.

God bless you Ms. Banks, as you consider a change of heart.

- Sarah Palin
In the original version of this post, which has apparently been edited, Palin wrote "condoning racism" instead of "condemning racism." Easy to get the two mixed up!
Ah, this was fun.
---
Images via Getty.