It's been 20 years since the world was introduced to the antics taking place in the unisex bathroom of Cage and Fish, and the tiny, divisive skirts of Calista Flockhart in her role as the titular character in Ally McBeal. What a weird freaking show.
Most of the enormous cast was assembled by The Hollywood Reporter to reflect with creator David E. Kelley on what the experience of Ally McBeal's wild success was like in real time. The show was the first and so far only hourlong program to win an Emmy for best comedy series, and pulled an average of 13 million viewers during its heyday. It was also a magnet for what would eventually come to be called "think pieces," because McBeal's journey to love and that journey's overlap with the workplace drew such frequent criticism.
After Greg Germann, who played the notorious Richard Fish, brings up the Time cover that pictured Flockhart as the death of feminism, Kelley denies there was ever any intention of making feminism an issue central to the show to begin with:
Grushow: One of the things that became so extraordinary about Ally McBeal was when Time ran that cover story questioning whether feminism is dead with Calista's picture. It was so ironic because if you really looked at the show, David was launching the careers of women like Calista, Lucy, Jane and Portia.

Kelley: I remember a lot of heightened scrutiny and silliness that went with the show. It was amusing when we saw Ally being looked to as a posterwoman for feminism because nobody at the show took themselves that seriously. The show was really about love and loneliness and personal connections, not just Ally finding a man. We never set out to make the character as one that would be emblematic or symbolic of womankind.
Germann: Maureen Dowd wrote an opinion piece in The New York Times where she was complaining that the role models in Ally McBeal were not worth looking up to. I wrote a letter to the editor saying we should look for leaders to lead and entertainers to entertain. And they printed it. That was a bigger deal than anything else for me!
And Jane Krakowski chimed in to say that they all wanted to protect Flockhart from what was perceived as unnecessary scrutiny about her body and looks:
Krakowski: There was a turning point when the fame of Calista became bigger than what the fame of the show was. We'd had a honeymoon period where people focused on the creative intent. Then more and more articles were written about the length of her skirts or her weight or her effect on feminism. People became more interested in those outside stories than the show itself, but we always felt very protective of Calista.
G/O Media may get a commission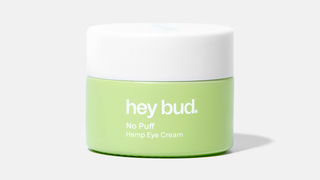 15% off
Hey Bud - No Puff Hemp Eye Cream
None of that is particularly shocking, but it is quite surprising to read that they're still defending that hideous dancing baby:
Grushow: I remember seeing a rough cut with the Dancing Baby when I was at home one night and I nearly fell out of bed. It was somewhere between creepy and charming.

Kelley: The Dancing Baby scared and inspired us all! My assistant had come into my office one day and showed it to me on the computer. As soon as I saw it, I asked, "How do we get it into show?" It may have been terrifying and hypnotic but it was also perfect for Ally. It tapped in to her internal war. She knew that on paper, a woman her age was supposed to be married with a child, but that wasn't how she felt she wanted to be. The Dancing Baby represented that feeling.

Flockhart: I went into David's office and he showed the dancing baby to me on the computer screen. I had to mimic the baby's dancing and thought it was really brilliant — and the baby was a bit creepy but it worked well. It was pretty imaginative to get that.
The cast also discussed how the series story arc got thrown into disarray following Robert Downey Jr.'s real life arrest and substance abuse issues:
Grushow: It had been a stroke of genius casting Robert until that one weekend in Palm Springs, I think it was, where he fell off the proverbial wagon and that changed everything for the show again. To see Robert submit to his dark influences was very painful for everyone who worked with him, and simultaneously, we had to figure out what it meant to the series because it was right before we were going to film the episode where his character married Ally.

Krakowski: Robert was arrested over the Thanksgiving hiatus and I remember thinking, "Why didn't any of us invite him to Thanksgiving dinner?" Maybe if we had, he would have had other plans and nothing would have happened.

Kelley: We were ending with the wedding and season five was arced out as their married life. All that was thrown to the side when Robert had to take his leave. It was disappointing not to get to do that ending. He'd been so good; he left a huge void, and there was a concern that we'd never rise to the same level again. But these things happen, and there was a lot of rewriting that always went on with Ally anyway. [Editor's note: Downey declined to participate in this oral history.]
You can and should read more about all the drama, bad haircuts, dancing to the Commodores, and hugs that Billy got from strangers after he "died" here.