A meteorologist for a Syracuse news station just really wasn't in the mood to have her outfit critiqued by an anonymous hater early Saturday morning. But, surprise! According to the third law of Haterdynamics, "when you're not in the mood" is precisely when they're known to strike.

Molly Matott was just trying to get through her day, like we all are, when she received the following helpful assessment of her appearance:
"I don't know, of course, who dresses Molly and I'm not trying to b mean or unkind but the way she is dressed today looks very much like she came directly from a night on the town to work!"

Good grief, have a little decorum and be more understated and conservative in your attire. There are so many things going on here and none of them are good, the range is from underarm boob fat, garish jewelry, clashes in color, AND makeup....I just turned on my television set and was shaken to the core (almost) at the sight of all of that going on this early on a Saturday morning!"
That must have been very hard for you, hater, watching the broadcast from the comfort of your couch while Ms. Matott delivers you the weather at the ungodly hour of Ass Early.
Luckily, Matott was not keen to let this one go. Not today.
G/O Media may get a commission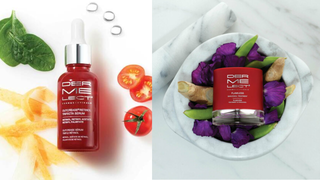 Save $19
Retinol Renewal Kit
In some accompanying text, the anchor writes:
I was feeling WAY TOO GOOD about myself today to NOT reply to this nasty email (top left). If anyone else has any comments on my "underarm boob fat," I'll take them now.

UPDATE: this person wrote back and could not understand my reaction to their "constructive criticism." Girl bye.
Girl bye, indeed. You look great, Molly.
(h/t Kayla/Image via screengrab/GIF via Giphy)