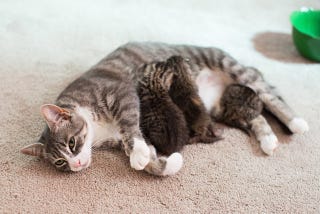 Meet Mikey, a new mom cat who is having a very good Mother's Day thanks to the help of a cat rescue non-profit called Dori's Darlings.
Initially, it wasn't looking like Mikey would have much to celebrate at all: she gave birth to three kittens that sadly passed away from complications related to being born prematurely. Her owner, Hilary, told Time that Mikey "started acting depressed and would search the house for her kittens." Heartbreaking.

If you haven't grabbed a box of tissues yet, I suggest you reach for them now: Dori's Darlings was able to connect Mikey with three abandoned kittens named Teddy, Abby and Lily; the four (pictured above) bonded almost immediately, and the organization was successfully able to transfer the ownership of the kittens from a pair of women who'd been taking care of them before connecting with Dori's Darlings to mom of the year, Mikey.
And with that—a good night to all, and to all a good night.
[Time]
Image courtesy doridarlings.com via Time