Traveling—comfortably, anyhow—requires bringing a lot of little stuff. This, in turn, requires a lot of sifting through your bag(s) to access said stuff, which can be exasperating, a little time-consuming, and straight-up frustrating. But via a well-funded Kickstarter project comes a beacon of hope.
The BauBax jacket—which CNN quite accurately refers to as "the Swiss Army knife of travel wear"—which debuted on Kickstarter last week with a goal of raising $20,000. They have since raised over $600,000 because it is a stunningly good idea. The jacket contains 15 pockets and a slew of built-in doodads:
Inflatable neck pillow (two second inflation, one-press deflation)

Eye mask
Insulated drink pocket

Microfiber cloth

Sunglasses pocket

iPad pocket

Hand warming pockets

Earphone holders

Phone pocket

A pen and stylus (these detach from the jacket's zipper)

Passport/ID pocket

Blanket pocket with a 40x60" blanket that folds up into something miraculously compact

In-sleeve gloves

Hood
Portable charger pocket

Breathtaking. Not convinced this is a wonderful product? Check this out:
My god. What a thing of utilitarian beauty, perhaps mankind's most marvelous achievement.
The BauBax isn't cheap (prices range from $160-$200), but if you pledge $99 or more during the Kickstarter phase, you can receive the garment at a steep discount when it hits the market. The jacket will be available in four different styles: sweatshirt-style hoodie, windbreaker, bomber jacket, and wrinkle-free blazer.
G/O Media may get a commission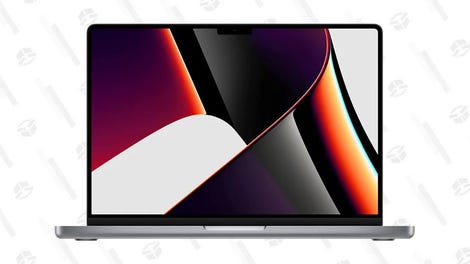 Save $300
2021 14" 1TB MacBook Pro
(These images are just prototypes; the site notes that we can "expect the final product to be more polished and of supreme quality.")
This jacket is handy for any traveler, but particularly so for regular commuters. In fact, the idea for the BauBax comes from Hiral Sanghavi and his wife Yoganshi, whose long-distance marriage required Hiral to regularly fly from Chicago, where Hiral is in business school, to San Francisco in order to be with his wife. When you're flying this much, you realize that a well-stocked bag is the best weapon against losing your mind and regularly sobbing in airport terminals like a lunatic. When I was commuting from Chicago to NYC every single week, I carried not just my wallet and phone and the other usual stuff you'd find in my purse—sunglasses, kleenex, hand lotion—but also my laptop and its charger, iPad and charger, eye mask, travel blanket, pen, extra pair of socks, granola bar, bottle of water, and headphones. (If you've ever been stuck on a runway for an hour or regularly take long-distance flights, this doomsday-prepper list is totally reasonable.) The idea of moving the majority of that stuff from my giant, disorganized, shoulder-bruising purse—and shifting the collective weight of this crap—to my body, in a jacket, is so beautiful that I'm moved to tears.
The jacket will be available in November; every day until then will be spent in a state of longing.
---
Images via BauBax.
Contact the author at jessica@jezebel.com.
Flygirl is Jezebel's travel blog dedicated to adventures big and small, tips and tricks for navigation, and exploring the world at large. Have a story or an idea? We're always taking submissions; email us with "Flygirl" AND your topic in the subject line. No pitches in the comments, please.