Random celebrities showed up for the Third Annual Veuve Clicquot Polo Classic held in Los Angeles on Saturday; and in case you're wondering what one wears to a champagne-sponsored polo event in LaLaLand, here are some answers: A turban, a jumpsuit, and some platform wedges.
Turban. Waist wallet belt. Armband. Fedoras. Rachel Zoe and her family are fully accessorized.
At first I thought I didn't like these shoes that Ashley Madekwe , aka Ashley Davenport on Revenge is wearing, but now I think I love them?
G/O Media may get a commission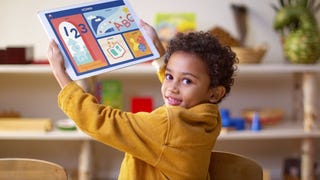 30-Day Free Trial
Homer Learn & Grow Program
If Lauren Conrad were a shoe, she would be a flesh-toned Mary Jane.
Alessandra Ambrosio looks stunning and summery, and since I am typing this while shivering in a cardigan, I am jealous.
Love love love love love Minnie Driver's shoes.
Monochromatic, long sleeves, shorts? Selma Blair looks like a very chic mechanic.
Twilight's Ashley Greene has some kind of bandagey exoskeleton on her dress. Not that that's a bad thing.
Rose McGowan's jumpsuit looks comfy. Rebecca Romijn might be the classiest one here. Dania Ramirez makes a denim dress look adorable.
Colbie Caillat wore some supercute sandals. Nikki Sixx and his unnamed guest want you to know that polo is so rock and roll.
Garcelle Beauvais is very cinched-in. Ellen Pompeo's attempting "edgy" in black shirt that goes sheer under bright lights and giant zipper pants. Ali Larter stole someone's junior prom dress and then paired it with boots, and the results are yikes. Terrible.
Polo super star Nacho Figueras makes a black eye sexy. His wife, Delfina Blaquier, is some kind of fishnet sea goddess. She's cooking up their fourth child, btw.
Mandy Moore is flawless in berry-hued lace. A+. Getting a Diane Keaton vibe from ever-quirky Bijou Phillips, with the oxfords and the hat. Actress Georgia King has a 1940s thing happening.
Also, polo happened.